OPINION-The success of Azerbaijan's multi-vectored foreign policy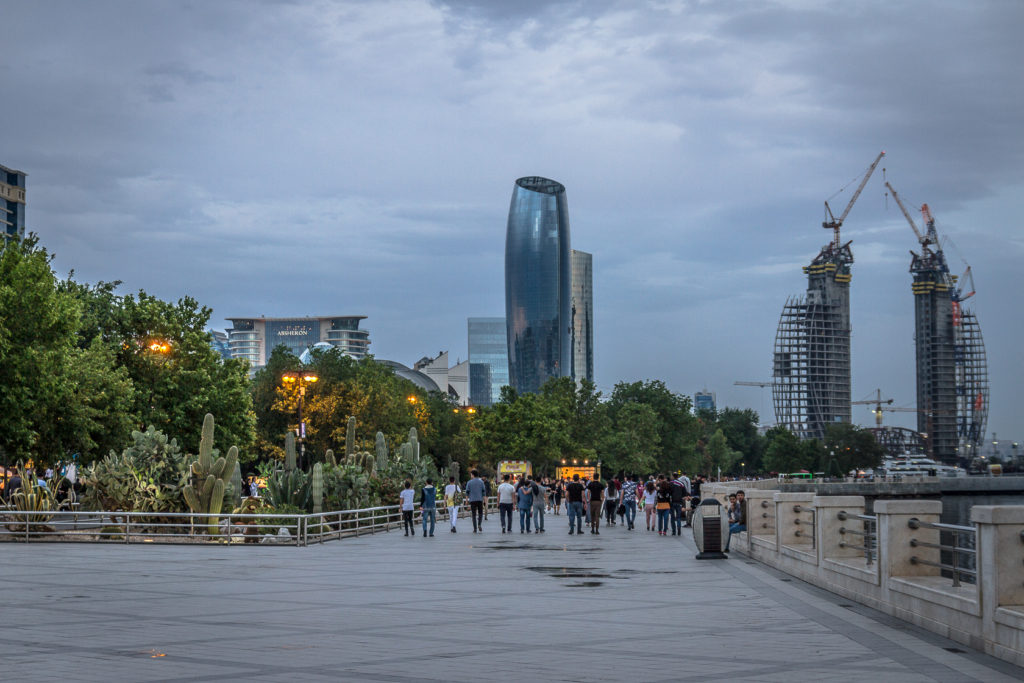 ZUMA/globallookpress.com
The views expressed are those of the author. They do not necessarily reflect the views of The Tribune.
by Dr Esmira Jafarova
AIR CENTRE, BAKU, AZERBAIJAN
Azerbaijan's multi-vectored foreign policy has become one of the successes of its independent state-building process. To fully fathom Azerbaijan's choice in favour of a balanced and multi-vectored foreign policy, one has to understand the realities, predicaments, and perspectives of being an independent post-Soviet republic with a Muslim-majority population and located between regional powers, such as Russia and Iran, and, most notably, with a history of the decades-long occupation of its internationally recognized territories. Apart from the three-decades-long territorial conflict with Armenia, Azerbaijan's foreign policy was also shaped and impacted by its openness to cooperation with global, Euro-Atlantic, Islamic, and other regional and sub-regional institutions. Its success in decoupling religion from the state, i.e., being a secular state with Islamic traditions, also impacted on Azerbaijan's choice of allies among countries of similar as well as different faiths.
The foundations of Azerbaijan's pragmatic foreign policy were laid by late President Heydar Aliyev in the early 1990s and, today, this has become Azerbaijan's brand, i.e., the so-called "multi-vector" or "balanced" foreign policy strategy. Perhaps it would have been hard to believe at the time that Azerbaijan would manage to strike the right balance among the competing interests of regional as well as external players. Nonetheless, this multi-dimensional foreign policy course, set by Heydar Aliyev and which stemmed from understanding the benefits of engaging with everyone based on one's national interest, has remained a successful foreign policy course for Azerbaijan ever since.
The complex neighbourhood and history of domination by the Soviet Empire have made Azerbaijan a truly unique place where Islam meets other religions and the Orient meets the West. Moreover, since the early days of its independence, Azerbaijan has enjoyed rather close ties with other Islamic countries and became an active member of the Organization of Islamic Cooperation (OIC), which nevertheless did not impede it from also building an alliance with Israel, regardless of the animosities existing towards the latter in most OIC states.
Azerbaijan also stayed on good terms with Russia and Iran, despite the relationship not being completely free of nuisance. After the dissolution of the Soviet Union, Azerbaijan staved off the prospects of Russian forces relocating to Azerbaijan, without, however, antagonizing Russia over that matter. Relations with Russia were on cooperative terms, but it was also clear that Azerbaijan did not concede on the issues of utmost importance, as some past examples testify, for example, Azerbaijan's principled stance on helping Georgia during the 2006 gas crisis and the final closure of Gabala Radar Station in 2012, for which financial and environmental reasons were cited.
Azerbaijan opts for neither bandwagoning with nor antagonizing Russia and thus manages to sustain cooperative relations with the country. Despite occasional disagreements between the two over free-of-charge military shipments to Armenia, the overall tenor of relations between Russia and Azerbaijan has been consistent, especially in the wake of Azerbaijan's victory in the Second Karabakh War and Russia's general support of Azerbaijan's territorial integrity. With the deployment of Russia's peacekeeping contingent in Azerbaijan, in accordance with the November 10, 2020, trilateral agreement, relations between the two countries may acquire new significance with Russia playing an increased role in the implementation of the agreements and the post-conflict stabilization of the region.
Relations with Turkey developed on both brotherly and pragmatic terms. "One nation two states" became the modus operandi of close kinship between Turkey and Azerbaijan. Turkey became Azerbaijan's natural ally by supporting the latter through the early years of independence and continued to do so on vital foreign policy issues, in particular, its position on the Armenia–Azerbaijan conflict. Turkish political support was therefore indispensable for Azerbaijan's victory in the Second Karabakh War. The presence of Turkish military servicemen in the Joint Peacekeeping Monitoring Center, established by the abovementioned trilateral declaration, has further strengthened Turkey's stance and stabilizing influence on the overall security architecture of the region.
When it came to Iran, populism with regard to Iran's Azerbaijani minority was never an option and good neighbourliness between the two states became the preferred policy course. Hence, relations with Iran are, overall, positive and pragmatic, despite the existence of latent issues stemming from Iran's apprehension over its own large Azerbaijani minority and Iran's regional alliance with Armenia.
Since the 1990s, Azerbaijan has also engaged in building partnerships with European and Euro-Atlantic institutions. Azerbaijan's signing of Partnership and Cooperation Agreements (PCA) with the EU in 1999 and membership in the OSCE in 1992, NATO's Partnership for Peace Program (NATO PfP) in 1994, and the Council of Europe in 2001, all testified to an increased desire on the part of the West and Azerbaijan for closer cooperation on issues of mutual interest. Although Azerbaijan never openly and plainly stated its desire or a plan to fully integrate with the Euro-Atlantic institutions, it continuously positioned itself as an active and reliable partner of Western institutions through participation, reforms, and active contributions.
The success of Azerbaijan in attracting the support of the U.S.A and the EU for ambitious energy and infrastructure projects such as the Baku–Tbilisi–Ceyhan and Baku–Tbilisi–Erzurum, or Southern Gas Corridor, oil and gas pipelines that, running to European markets and bypassing Iran and Armenia and thus eliminating Russia's sole dominance as a potential energy route, testified to the ability of the Azerbaijani leadership to perform a delicate cost-benefit calculation about issues of utmost national importance and forge reliable partnerships with the West.
Moreover, after the September 11, 2001, attacks on the U.S.A., Azerbaijan's importance was manifested in its strategic geographic location as well as in its willingness to help the Western allies to launch and conduct anti-terror operations by granting the U.S.A. blanket permission to overfly Azerbaijan's airspace as well as contributing in all possible forms to the universal anti-terror efforts.
In the vortex of a rather complex set of interests, Azerbaijan, with the help of the West, managed to keep Russia at bay and isolate Armenia, thus shaping regional economic and political alliances with Turkey and Georgia for the years to come. However, this in no way indicated that Azerbaijan was set on a course of complete dissociation from Russia or seeking to antagonize its big neighbour. Neither did it mean that this intensified practical and economic cooperation between the West and Azerbaijan in any way heralded a closer political integration between them.
As an example, in contrast to Georgia and Armenia, Azerbaijan was quick to dismiss the EU's proposed Eastern Partnership (EaP) Association Agreement in the understanding that this offered a rather vague formula (more than a partnership and less than a full-fledged membership) without specifying the ultimate reasons for engaging in this type of cooperation and reform.
Azerbaijan therefore initiated the idea of contracting a separate bilateral agreement with the EU, the 2016 Strategic Partnership Agreement, which, unlike the Association Agreements and DCFTAs envisaged by the Eastern Partnership, is built on more equal terms of partnerships, thus avoiding the necessity to one-sidedly comply with EU's expectations and thereby establishing a mutually beneficial cooperation platform for both. While the negotiations on this agreement were ongoing, the EU and Azerbaijan also signed the Partnership Priorities for 2018–2020 that focused on four main areas of cooperation highlighted in the EaP: strengthening institutions and good governance; economic development and market opportunities; connectivity, energy efficiency, environment and climate action; and mobility and people-to-people contacts.
Azerbaijan's relationship with NATO is also framed by the PfP program (1994), IPAP (agreed for a two-year period) and PARP programs (1997), and through the North Atlantic Cooperation Council (NACC, joined in 1992) and later Euro-Atlantic Cooperation Council (EAPC, member since 1997). Within the framework of these, it is possible for individual countries to select suitable activities for bilateral cooperation; these include, among others, security cooperation, defence and security-sector reform, civil emergency planning, and science and environment. Azerbaijan made contributions to NATO-led peacekeeping operations in Kosovo (KFOR), the International Security Assistance Force (ISAF) and the Resolute Support Mission (RSM) in Afghanistan, and made significant financial contributions to the Afghan National Army Trust Fund.
Azerbaijan participates in NATO's Partnership Action Plan on Terrorism (PAP-T), which envisages intelligence and analysis sharing with NATO, strengthening national counter-terrorist training capacities, and so on. It also works with NATO's Euro-Atlantic Disaster Response Coordination Center (EADRCC), within the Defense Education Enhancement Program (DEEP) and Science for Peace and Security (SPS) program, and participates in the Partnership Interoperability Initiative and NATO Trust Fund projects for mine and unexploded ordnance clearance and demilitarization.
In spite of this practical partnership with NATO, Azerbaijan has never voiced any intention to be in a permanent association with the Alliance. Its engagement with NATO has remained on the level of good partnership and practical defence cooperation on a wide range of relevant areas.
Azerbaijan's international standing and outreach were further strengthened with its election as a non-permanent member of the UN Security Council in 2012–2013 and, later, by its chairmanship of the Non-Aligned Movement (NAM), an institution that unites 120 diverse members and is the second-largest such entity after the UN. Azerbaijan has spearheaded important initiatives within the NAM and the Turkic Council over issues of global as well as regional importance. Uniting global efforts for dealing with COVID-19 was one of the most salient issues initiated by Azerbaijan within the NAM, which also resulted in the convening of a special session of the UN General Assembly in December 2020.
Azerbaijan is consistent in pursuing its multi-vectored foreign policy that stems from the assessment of its national interests and finding equilibrium in its interactions with diverse geopolitical realms. The country has established itself on the path of pursuing a balanced and multi-pronged foreign policy that seeks equidistance from all political and military blocs and integration initiatives. Azerbaijan has endorsed a pragmatist foreign policy that prioritizes nurturing good-neighbourly relations with its regional neighbours and striking the right balance in its interactions with its partners.
Thus, the success of Azerbaijan's foreign policy lies in its ability to look in many directions and embrace its increasing global role as chair of the NAM, pragmatic partnerships, Turkic origin, and being a land of tolerance and interfaith dialogue. This delicate balancing act is the essence of its multi-vectored foreign policy, which is likely to remain in place for the foreseeable future.
Dr Esmira Jafarova is a Board Member of the Center of Analysis of International Relations (AIR Center), Baku, Azerbaijan