Outrage over bodies found in Ukrainian town, Russia denies allegations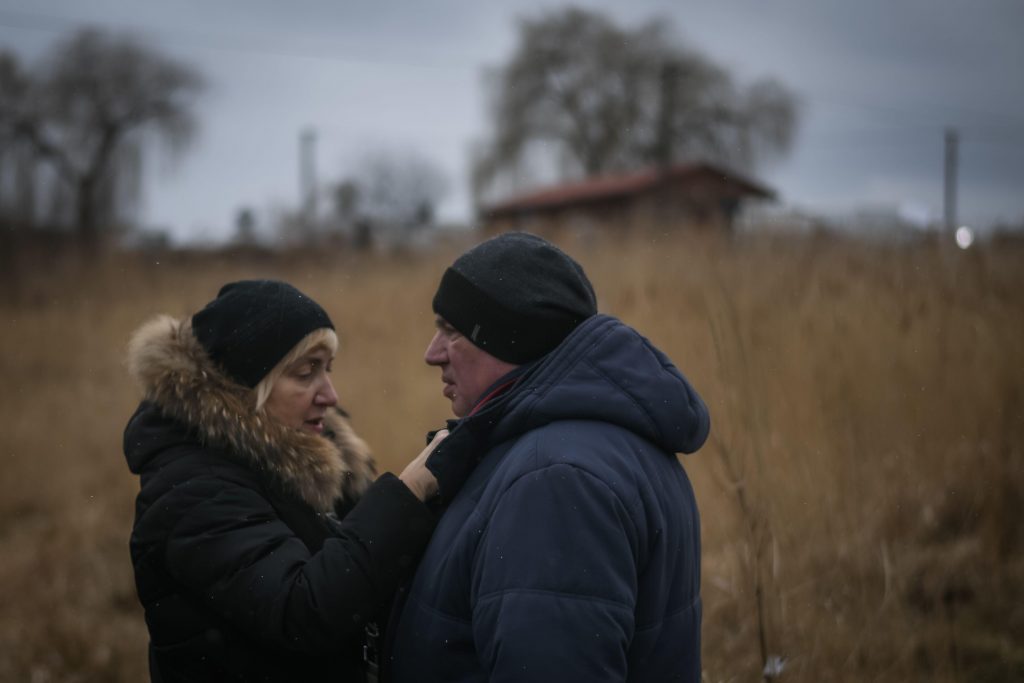 Ukrainian refugees arrive in Poland (Alamy)
Western countries expressed outrage over the discovery of bodies of civilians allegedly killed by Russian troops during their occupation of a town outside Kyiv, while Moscow strenuously denied the allegations and dismissed them as a staged scenario.
U.S. President Joe Biden said the discovery of the dead civilians in Bucha, some of them with their hands bound, others dumped in shallow graves, was "outrageous" and said Kremlin leader Vladimir Putin should face a war trial.
"This guy is brutal," Mr. Biden said of Putin. "And what's happening in Bucha is outrageous, and everyone's seen it."
France and Germany expelled dozens of Russian diplomats in response and European Union leaders prepared to slap new sanctions on Moscow – though their response remained divided on what to do about imports of Russian energy.
"Today there are very clear signs of war crimes," French President Emmanuel Macron told France Inter Radio. "Those who were responsible for those crimes will have to answer for them."
Ukrainian President Volodymyr Zelensky visited Bucha in a camouflage bullet-proof vest and described the scenes of carnage as "genocide". But he left the door open for negotiations, a meeting with Putin and a peace settlement.
"Ukraine must have peace," Zelensky said. "We are in Europe in the 21st century. We will continue efforts diplomatically and militarily."
Russian officials were less conciliatory.
Kremlin spokesman Dmitry Peskov "categorically" denied any suggestions that Russian soldiers lay behind the deaths.
The Russian general prosecutor's office issued a statement stipulating that anyone referring to Russian responsibility for the Bucha killings risked prosecution.
Allegations of atrocities "not helpful": Russian ambassador
Russia's U.N . Ambassador, Vasily Nebenzya, speaking on the eve of a Security Council debate said the allegations – plus a U.S.-led drive to suspend Russia from the United Nations Human Rights Council risked hindering peace efforts.
"This is unprecedented and this will not facilitate or encourage or be helpful to what is happening between Russia and Ukraine," he said.
There was little indication whether talks between Russia and Ukraine, held sporadically over the past few weeks, were actually taking place. One of  Ukraine's top negotiators, David Arakhamia, said at the weekend that "draft documents have been developed enough to conduct direct consultations between the two leaders of the countries".
Russia's top negotiator, Vladimir Medinsky gave no such assurance, saying it was too early to envisage such a meeting..
Zelensky, in his nightly message aimed at boosting the morale of Ukrainians, said he would be addressing the U.N. Security Council on Thursday. The president has addressed parliaments of more than a dozen countries in the past month – including the U.S. Congress, the British parliament and the European parliament. He has deftly tailored his remarks to the history and culture of each audience.
Worse news on Russian actions still to come, says Zelensky
He also predicted that many more gruesome discoveries were yet to come in areas that had come under Russian occupation in the five weeks since Putin's forces crossed into Ukraine. And the scale of the atrocities, he said, could be worse.
"At present, there is information about more than 300 people killed and tortured in Bucha alone. It is likely that the list of victims will be much larger when the whole city is checked. And this is only one city," Zelensky said.
"There is already information that the number of victims of the occupiers may be even higher in Borodyanka and some other liberated cities."
In villages in the Kyiv region and Chernihiv and Sumy to the north and east, he said, "the occupiers did things that the locals had not seen even during the Nazi occupation 80 years ago".
Residents of villages now freed of Russian occupation told reporters stories of confinement, threats, mock executions and deprivation.
Russian forces, having captured no major cities in five weeks of fighting, are said by authorities in Moscow to be refocusing their efforts on taking control of the whole of Ukraine's eastern Donbas region.
"All indications are that Russia will seek to surround and overwhelm Ukrainian forces in eastern Ukraine," Jake Sullivan, director of the U.S. National Security Council, told a briefing.
The United States, he said, expects that Putin would then "use tactical success to propagate a narrative of progress and downplay military failure…Russia has tried to subjugate the whole of Ukraine, and it has failed."
EU ambassadors meet this week to consider new sanctions against Russia. One suggestion of a new set of measures could include a ban on Russian coal, but not oil and gas, EU officials said. Bans on Russian goods entering EU ports are also under consideration.
French President Macron said the new sanctions should target both coal and oil, but German Finance Minister Christian Lindner said coal would be the only Russian energy export included in the sanctions package.
The United States has imposed a ban on Russian oil imports, but European countries, particularly Germany, are more dependent on Russian hydrocarbons and have been more hesitant.  Coal is less important to the Russian economy than oil and gas – sectors in which state-owned companies play the leading role.