President's son groomed to take over in secretive Turkmenistan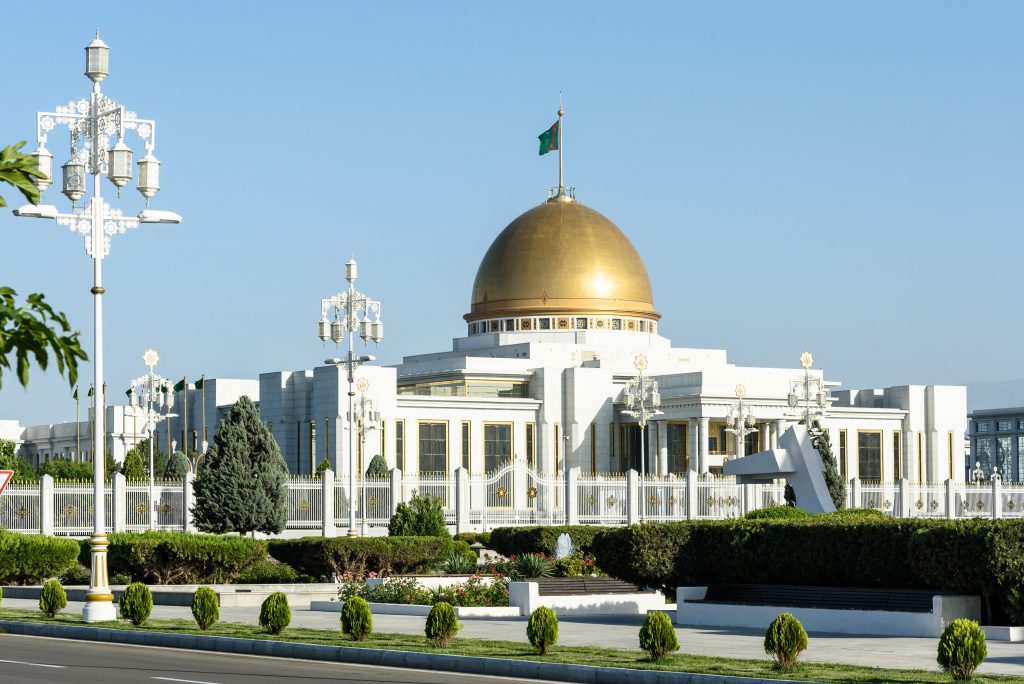 Presidential palace in Ashgabat, Turkmenistan (Alamy)
The son of Turkmenistan's strongman leader, Gurbanguly Berdymukhamedov, has been installed as the ruling party's candidate in a presidential election days after his father announced he was stepping down, setting the stage for a tightly controlled succession of power in the energy-rich Central Asian nation.
And it appears that Berdymukhamedov is taking full account of lessons in nearby Kazakhstan – plunged into deadly riots last month two years after a managed transfer of power.
On February 14, members of the Democratic Party voted unanimously to nominate Serdar Berdymukhamedov. That confirmed years of speculation that the 40-year-old, who has seen a dizzying rise to the top of his father's administration, was being groomed to take the reins of one of the most secretive regimes in the world.
The senior Berdymukhamedov had engaged in eccentric theatrics during his 15 years in power – including lifting gold-plated barbells over his head during a cabinet meeting and shooting pistol targets while riding a bicycle. That was very much in the style of Saparmurat Niyazov, Turkmenistan's first post-Soviet leader, known as Turkmenbashi, who developed an even more bizarre personality cult – erecting gilded monuments to himself, publishing a spiritual guidebook of his own wisdom and planting forests in a futile bid to alter the country's desert terrain.
All these spectacles did little to mask the longstanding brutal nature entrenched in the country. The nation of 6 million has no access to free media and actively shuns human rights, while corruption and mismanagement of the economy have entrenched severe poverty in a population squeezed by skyrocketing fuel and food prices as state subsidies were halted.
The onset of COVID-19 made things far worse and laid bare Ashgabat's dependence on gas exports to Beijing.
Turkmenistan officially proclaims itself free of the COVID – like North Korea and three Pacific island states — but has all but acknowledged that it is dealing with widespread cases and has hosted a World Health Organization delegation to help tackle the pandemic. But opposition activists said the WHO has done little to fulfil promises of conducting independent samples of the COVID in the country.
Departing president to keep senior jobs
The snap election, set to take place on March 12 – cutting the incumbent leader's tenure short by two years – was decreed in the aftermath of an extraordinary address last week in which Berdymukhamedov, 64, hinted at plans to step back from the People's Council, parliament's upper house, and turn power over to "young leaders".
There are already indications, however, that the leader, who marks his 15th year in power this year, has no intention of stepping back from the public arena entirely.
"I intend to continue to use the political experience that I have accumulated as chairman of the People's Council," he said in a statement to the chamber, hinting at powers he intends to assume as outgoing president, among them- chair of the State Security Council and supreme commander-in-chief of the armed forces.
Crucially, he is also set to retain his position as speaker of the Senate, which would allow him to assume the presidency in the event of the incumbent becoming incapacitated.
According to some observers, Berdymukhamedov's decision to call a snap election and handpick a successor draws from the same playbook as Nursultan Nazarbayev, the former president of neighbouring Kazakhstan who retained a vice-like grip on his own country long after his resignation.
Jason Klocek, Assistant Professor of International Relations at the University of Nottingham, told The Tribune: "The additional lesson Berdymukhamedov may have learned from the Kazakh protests last month is the need to tightly manage the transition."
Alex Folkes, a specialist on elections and ex-Soviet states, added: "The recent problems in Kazakhstan have shown that a hand-picked successor is not necessarily a guarantee that the retiring leader can continue to exert the power and influence they wish."
Folkes also points to the example of other authoritarian Central Asian states which have experienced problems in the transfer of power: "Kyrgyzstan has had a number of popular revolutions which, whilst the outcome has been a successor who is no real threat to the order imposed by Russia and the major players, has created uncertainty."
Little change in orientation expected
According to Klocek, there is little reason to suggest any change in outlook or an opening to the outside world with regards to the change in leadership, a view echoed by opposition leaders and Turkmen activists in exile.
"No election in post-Soviet Turkmenistan has been competitive. There is little reason to suspect the election next month will be any different, he said."
Berdymukhamedov, a former dentist, came to power following Niyazov's sudden death in 2006, securing 89 percent of the vote for his first term and 97 percent of the vote in 2017.
Many Turkmen activists also underscore the lack of any real political opposition in the country. The two other registered parties in the inward-facing nation – the Agrarian Party and the Party of Industrialists and Entrepreneurs – are loyal to Berdymukhamedov.
Speaking to U.S.-funded Radio Free Europe-Radio Liberty, Myrat Gurbanov, leader of the France-based opposition group Election of Turkmenistan (DWT) said conducting the election in such an accelerated timeframe precludes a fair and open contest.
"In particular, the candidates have already been registered and the lists have been closed so that no candidate can be nominated," Gurbanov said, contravening assurances from state media that no other candidates for the presidential election have yet been nominated.
"Serdar will most likely follow his father's advice and example," says Klocek. "As was the case after the death of Niyazov, state symbols and the other aspects of the cult of personality will gradually, not suddenly, shift to reflect the new leader with the same goal of consolidating power through a mix of distraction and loyalty tests."
In a muted address kicking off his presidential campaign, Berdymukhamedov junior, who already holds a series of formal roles in his father's government, most recently in his largely nominal capacity as deputy prime minister, signalled continuity, echoing his father's slogans of sticking to the "spiritual principles and heritage of our ancestors".