Protesters block off Armenian Parliament building amid rising tensions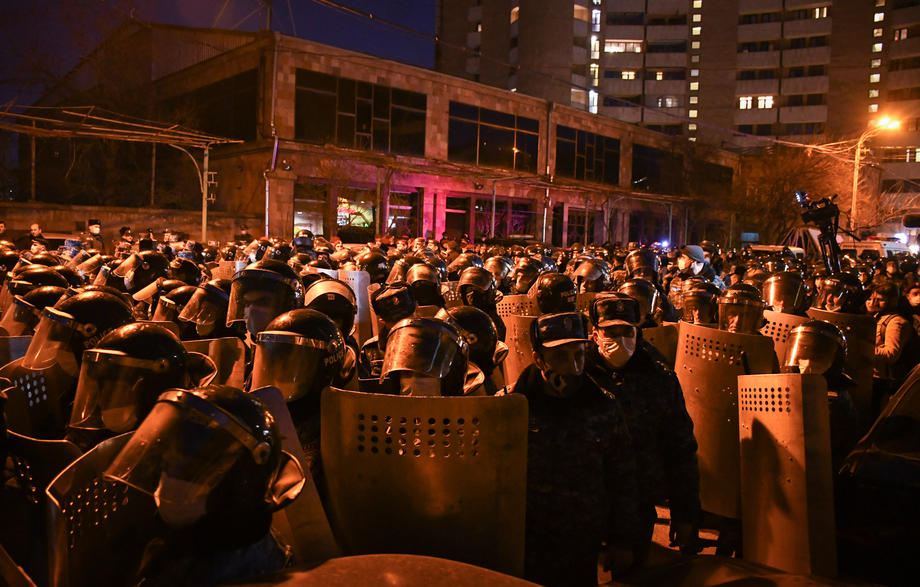 EPA
Armenia, still badly destabilized following last year's lightning battlefield losses to Azerbaijan, is lurching deeper into political crisis. Groups of anti-government demonstrators, at times numbering in the thousands, blocked off main avenues in the capital Yerevan, setting up tents, including in front of Parliament late on Tuesday and overnight on Wednesday.
They continued to call for Prime Minister Nikol Pashinyan, a 45-year old former prominent journalist and writer, to resign, blaming him for the stunning reversal of fortunes in which the country's army was driven from Azerbaijani lands it had occupied for nearly three decades. Armenia signed a Russian-brokered peace agreement in November after 44 days of all-out fighting.
Armenian TV outlets and websites showed pictures of up to several thousand protesters blocking the main avenue in front of Parliament. Vazgen Manukyan, a one-time defense minister in the early 1990s who has become something of a permanent opposition figure to a succession of governments, called for protesters to block the entrances to the building and not to let anyone enter.
''They must be prevented from getting in [to parliament]. We will pitch tents so no MP is able to enter the building. We are surrounding the National Assembly, and it will return to normal operation only when it is ready to make decisions suitable for our people'', the bespectacled 75-year old physicist shouted through a megaphone to protesters.
Witnesses reported that up to 10 parliamentary deputies were trapped inside the building, though this was impossible to confirm. Several thousand anti-government protesters outside shouted "Armenia without Nikol" [PM Pashinyan].
As the night wore on, there was an increasingly heavy police presence nearby, with officers in riot gear and equipped with shields, but no violence was reported.
They also chanted slogans calling on the Armenian Army to join them.
The army appears to be key in how events might unfold. Pashinyan was again rebuffed on Tuesday by Armenia's titular President, Armen Sargsyan, who while holding mostly limited powers, has now twice blocked the Prime Minister's order to dismiss the Chief of the General Staff of the Armed Forces.
This was in response to a formal call, signed by the General Staff, for Pashinyan to step down.
Pashinyan labeled the demand, issued late last month, an "attempted coup".
Under Armenia's complex, sometimes vague and recently amended constitution, the President is supposed to hold a largely formal role, but has evidently decided to use it to the utmost. Formally, the issue of Pashinyan's demand for the Armed Forces Chief of Staff to leave would now fall to the country's Constitutional Court. There is little precedent or indication on how it might rule, especially given the murky nature of division of powers.
"There is a real possibility of a power vacuum, in which the Prime Minister and President both make a claim to rule," said one prominent Armenian political analyst, who did not want to be named.
Despite the sudden uptick in tensions, there is no solid evidence that disparate opposition groups have the power to force PM Pashinyan to resign. He has recently held large evening rallies attended by upwards of 20,000 backers in Yerevan's central square.
Pashinyan himself came to power in a "velvet revolution" only just under three years ago, walking over 100 kilometers. He picked up a mass of support along the way from Armenians fed up with years of massive corruption, a huge exodus of the country's population abroad, and a history of fraudulent or questionable elections followed by violent police or army crackdowns.
The cross-country march culminated in building a critical mass of upwards of 100,000 people once Pashinyan reached the capital. The  unpopular leadership resigned and agreed to new elections, which Pashinyan's political grouping won.
The PM says he is willing to call new elections and has held periodic talks with opposition groups. The sticking point appears to be whether or not he would retain his post until the new vote. If he were to leave the Prime Minister's office before new elections, he would presumably lose a sizeable security detail.
"This brings up questions about his personal security and that of his family, naturally", added the analyst.
Given that Pashinyan still holds considerable support, it is also not inconceivable that he could call new elections and emerge victorious.
This is combined with the fact that the opposition is a cobbled-together collection of disparate groups, many of them still stained by years in the old government which Pashinyan's "Velvet Revolution" forced from office.
They have not offered any coherent political platform, aside from anger over the battlefield humiliations of last year, and perhaps, personal ambitions or interests.
"He retains at the very least 30 percent sold support, and given the unpopularity of many of the opposition types, he might very well win," the analyst said of Pashinyan.