Russia closes in on Ukrainian cities, Franco-German diplomacy has little effect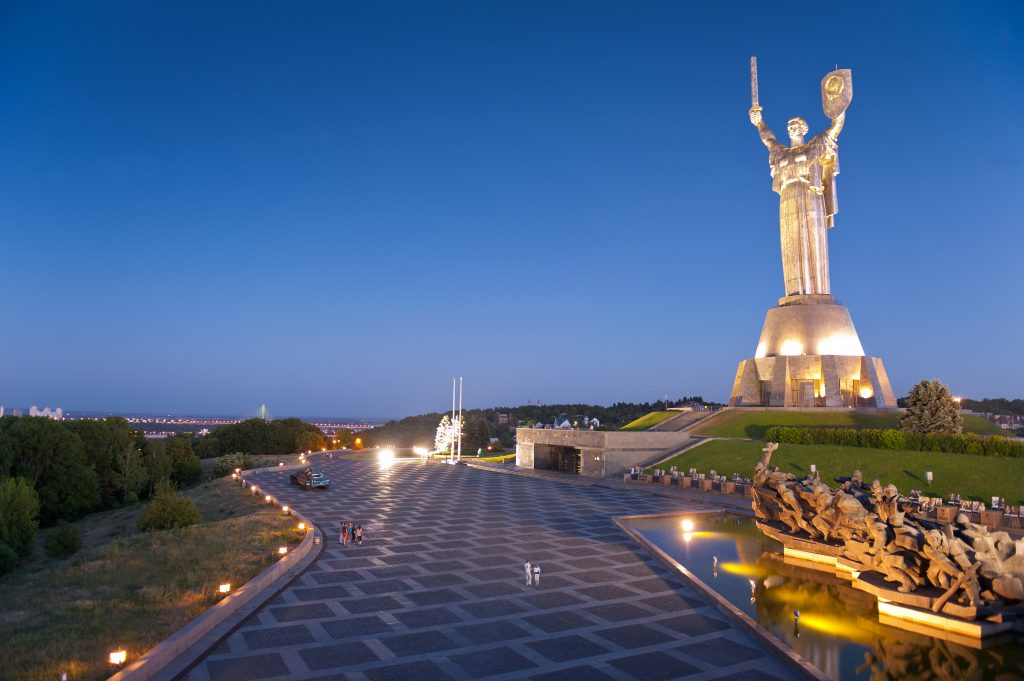 Kyiv, motherland monument (Alamy)
Russian forces intensified bombardments and closed in on towns nearly within their grasp as a Franco-German diplomatic gambit appeared to have little effect on Kremlin leader Vladimir Putin's drive to push his neighbour into submission.
Ukrainian President Volodymyr Zelensky, in his daily video exhorting Ukrainians not to abandon their fight, said Russia had neither the means nor the will to press the war to the conclusion Putin sought. He acknowledged that 1,300 Ukrainian servicemen had been killed.
More than 12,000 residents were evacuated from several towns, but not from Mariupol, surrounded for more than a week, its residents deprived of heating, water and running dangerously low on food.
A long convoy of Russian military vehicles bore down slowly on the capital, making more progress from the south than from the north.
Russian forces appeared determined to capture Mariupol, a port on the Sea of Azov which would give the Kremlin a land bridge linking Crimea, annexed in 2014, to two "people's republics" proclaimed by Kremlin proxies also in 2014, when Moscow fomented a separatist uprising in the region. The port fought hard to stay out of Russian hands during the fighting eight years ago.
Much of the city lies in ruins, including the maternity hospital bombed earlier this week. Ukrainian volunteers failed for the seventh day running evacuate some 200,000 residents from the wreckage-strewn streets.
"If help doesn't come, there will soon be famine. Those orcs are destroying the city as though it were Stalingrad or Aleppo," said Vyacheslav Abroskin, a former deputy head of Ukraine's national police, referring to the epic World War Two battle of Stalingrad and Russian attacks on the Syrian city of Aleppo in 2016.
Corpses were lying unattended on city streets in Mariupol, he said. Russian forces had taken control of the southern approaches to the town.
Further north, the town of Volnovakha was declared destroyed and abandoned by its defenders.
Russian advances on Mykolayiv and Odesa
Attacks intensified on the southern town of Mykolayiv – a key point on the road to the major Black Sea port of Odesa, clearly a priority in Russia's strategic plans.
Shelling struck several residential areas and damaged a cancer treatment centre.
Clashes tore through small villages on the approach to Kyiv, with one group of fleeing residents shot down and killed in one district.
The Russian Defense Ministry said that it had used high-precision weapons to destroy a military airfield in Vasilkov, southwest of Kyiv, and Ukraine's main centre for signals intelligence in the city of Brovary, east of the capital
Residents of the southern town of Melitopol, fully under Russian control, staged a demonstration against what officials have said is the kidnap of the town's mayor. Video footage saw the major being led away by Russian soldiers. A new Russian-installed mayor took office at the weekend.
Putin undertook the invasion on 24th February after overseeing a mass troop buildup on the border over months,  saying its primary aims were the "demilitarisation" and "denazification" of Ukraine. He also complained that Western countries had disregarded his calls for "security guarantees" which included undertakings that NATO would expand no further and Ukraine would never be offered membership.
Ukraine's intention to seek membership of NATO and the European Union is now entrenched in its constitution – Zelensky last week issued a call for the EU to extend membership immediately.
Macron, Sholz in a new diplomatic initiative
French President Emmanuel Macron – who led a last-ditch attempt to persuade Putin not to embark on an invasion – spoke to the Kremlin leader on Saturday for 75 minutes, along with German Chancellor Olaf Sholz. But their conversation did little to persuade the Kremlin leader to agree to a cease-fire.
The Kremlin said Putin gave an account of the "real situation" on the ground regarding humanitarian issues and urged both leaders to use their influence to persuade Kyiv to halt the activities of nationalist battalions.
A French official said: "We did not detect a willingness on Putin's part to end the war."
Zelensky gave the Ukrainian military death toll of 1,300 at a briefing in Kyiv. He said Ukrainian and Russian negotiating teams had been discussing evacuation corridors and other humanitarian issues during three sets of talks held on Ukraine's border with Belarus.
He further suggested negotiations between Ukraine and Russia to end the war could be held in Jerusalem, with Israeli Prime Minister Naftali Bennett having a "positive influence" on peace talks. Bennett has spoken several times to Zelensky and Israeli journalists said he suggested to the Ukrainian president to agree to Moscow's terms for a surrender – but Zelensky refused.
In his daily video appeal to Ukrainians, Zelensky said the Russian army had suffered its biggest losses in decades -31 Russian battalion tactical groups had been rendered incapable of combat.
He also warned against Russian attempts to create a new "people's republic" in Kherson –the only major Ukrainian city in Russian hands- as separatist enclaves had done in part of Donetsk and Luhansk regions when territory was seized from central authorities in 2014.
As the number of Ukrainians leaving the country topped 2.6 million, Moldova's foreign minister, Nicu Popescu appealed for help in housing and caring for the 100,000 refugees who had come to his country, with a population of some 2.6 million. More than 1 million Ukrainians have crossed into Poland.
In Moscow, regulators announced the stock exchange would remain closed this week, an indication of the effects of sanctions on Moscow's economy. The sanctions have halted the Russian central bank's ability to use its own reserves and the rouble has lost more than 30 percent of its value.