Russia makes advances in southern Ukraine, Zelensky appeals for talks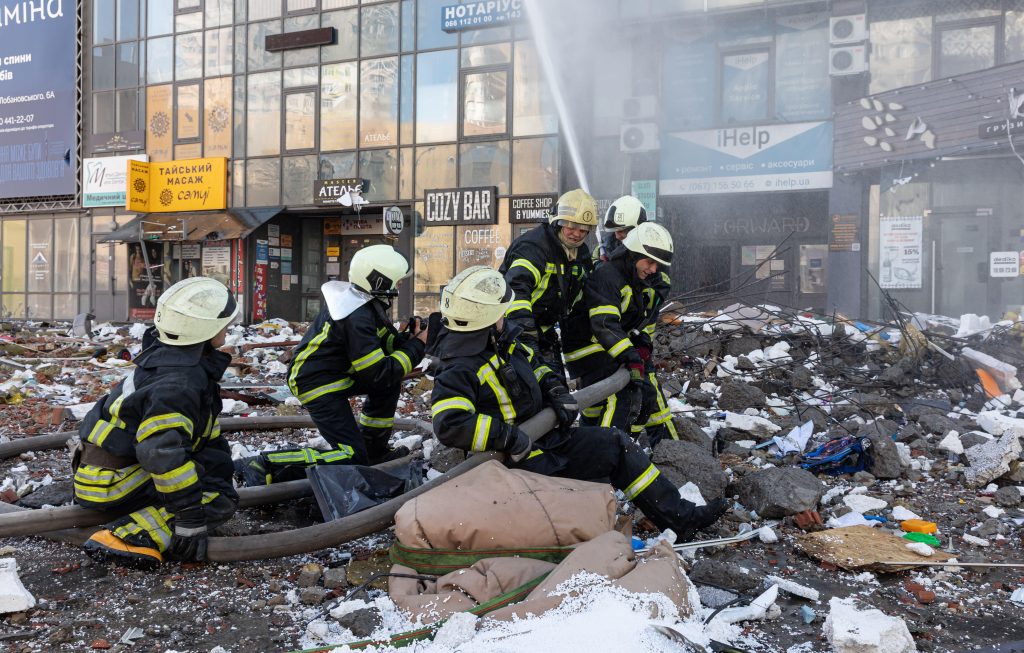 Firefighters attend to a bombed building in Kyiv (Alamy)
Russian forces recorded significant gains in their advance through southern Ukraine, pouring into the southern port of Mariupol, killing dozens in an attack on a barracks in Mykolayiv and taking out an underground ammunition site with what Moscow described as advanced hypersonic missiles.
Ukrainian President Volodymyr Zelensky, in a night-time video shot outside his office, appealed to Moscow to launch talks immediately "to reduce the damage from its own mistakes."
Officials in Mariupol, where residents have been subject to bombardments and without power, water and heat, said fighting had engulfed districts where Russian troops had broken through defences.
The street battles were hampering efforts to find survivors of the bombing earlier this week of the city's drama theatre where hundreds of families driven from their homes had been sheltering. Zelensky and other officials said about 130 people had been removed alive from the bomb shelter inside the theatre. There were no figures available on how many people may have been inside. Russia denies bombing the theatre.
Reports from the city, where 90 percent of the buildings have been destroyed, said the Russian tricolour was already flying over some districts. The city, stoutly defended in 2014 when Russia annexed Crimea and fomented separatist rebellions in eastern Ukraine, is seen as a strategic prize for the Kremlin – it would enable Russia to establish a bridge between Crimea and eastern Ukraine.
Some 30,000 people have been evacuated from the city since Russia invaded on 24th February, but attempts to establish "humanitarian corridors" have been thwarted by continuous Russian shelling. Conditions in the city are dire, with residents forced to cook on make-shift barbecues in the street and corpses covered only in a sheet or similar covering, lying uncollected in courtyards or empty spaces.
3.3 million Ukrainian refugees
About 6,600 people were allowed through border crossings on Saturday. Some 3.3 million Ukrainians have left the country to escape the violence, which now extends regularly to western Ukraine, previously thought safe. Some 1.5 million of those who have left are children.
In Mariupol, the Ukrainian government acknowledged that its forces were outgunned, that attempts to provide air support had failed and that it had "temporarily" lost contact with the city's officials.
A city official, Pyotr Andryuschenko, said Russian forces had "forcibly" taken between 4,000 and 4,500 Mariupol residents across the border to the Russian town of Taganrog, but this could not be independently confirmed.
In Mykolayiv, rescue workers pulled out alive a Ukrainian soldier from the ruins of a military barracks. Ukrainian military officials said more than 40 marines had been killed in the assault on the 36th Ukrainian Naval Infantry Brigade. Many were laid out in storage areas of the city's morgue.
Moscow has in recent days intensified its bombing of the city – also a key objective for the Russian army seeking to capture the port city of Odesa further west.
And the Russian military said its advanced, hypersonic Kindzhal (dagger) missiles filed from the Black Sea took out an ammunition storage area in the Ivano-Frankivsk region in western Ukraine. The missiles can travel at five times the speed of sound.
Despite the Russian successes, Russia's clear gains in the war remain few – only one major city, Kherson, also In the south, has come under its full control. And Ukrainian officials said their military had taken back some of the Kherson region.
Zelensky, in a video message released early on Saturday morning, said Ukrainian forces had contained the Russian advance on nearly all fronts and appealed to Moscow for immediate talks to produce a cease-fire.
Time to meet. Time to talk: Zelensky
"…Negotiations on peace, on security for us, for Ukraine – meaningful, fair and without delay – are the only chance for Russia to reduce the damage from its own mistakes," he said in the video shot after dark.
"We have always insisted on negotiations. We have always offered dialogue, offered solutions for peace. Not only during 23 days of the invasion.
"And I want everyone to hear me now, especially in Moscow. It's time to meet. Time to talk. It is time to restore territorial integrity and justice for Ukraine. Otherwise, Russia's losses will be so huge that several generations will not be enough to rebound."
Western estimates put the number of Russian soldiers killed in the invasion at about 7,000 – Ukrainian estimates say more than twice that number have been killed. Russia has acknowledged about 500 dead, though officials have grudgingly admitted that the attack is not going according to plan.
Russian and Ukrainian negotiators have held several rounds of talks since the Russian onslaught began, but apart from a few shaky agreements on humanitarian corridors, little progress has been made in enduing the fighting.
Russian Foreign Minister Sergei Lavrov said talks were making some progress, but accused the Ukrainian side of being beholden to other parties, particularly the United States, in approaching the discussions.
"Some kind of dialogue has improved, although you constantly feel that the Ukrainian delegation is being held by the hand, most likely by the Americans, not allowing then to agree to those demands which, I believe are absolutely minimal.
Putin has accused the Ukrainian leadership of "genocide" in its dealings with Russian-speakers, but has offered no evidence. He repeated those charges at a mass weekend rally at Moscow's Luzhniki stadium marking the eighth anniversary of the annexation of Crimea.
In a call this week to Turkey's President, Rece[ Tayyip Erdogan, Putin laid out some of his demands for a cease-fire, the BBC reported. These include an obligation for Ukraine to observe neutrality in its international outlook – Zelensky said last week that Ukraine had to acknowledge that its policy of joining NATO was impossible to consider at this time.
Other demands, not yet clearly elaborated, could be more difficult to secure if they involve formally relinquishing territory — recognising Crimea as Russian territory and the two separatist Moscow proxy states in eastern Ukraine as independent entities.