Russia pounds Kyiv, other cities, issues ultimatum to Mariupol fighters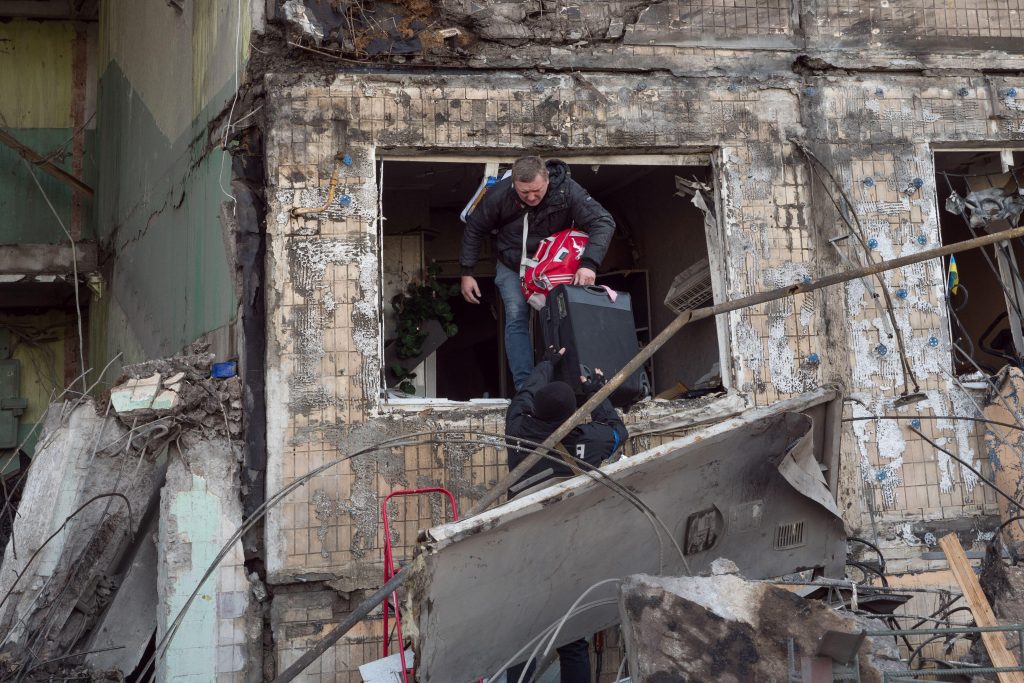 Alamy
Russian forces pounded Kyiv and other cities in the aftermath of the humiliating loss of the flagship of its Black Sea Fleet and issued an ultimatum to surrender to Ukrainian fighters resisting a weeks-long onslaught on the southern port of Mariupol.
Two straight days of attacks on the Ukrainian capital have given pause to tentative signs of pre-war life re-emerging in the city following Russia's announced pivot towards a new offensive in the eastern Donbas region.
Writing via his Telegram channel, Kyiv mayor Vitali Klitschko reported that a strike on the city's southeastern Darnytstky district on Saturday morning killed one person and left several injured.  A day earlier, powerful explosions were heard in Kyiv for the first time in weeks, as missile strikes destroyed a munitions factory located south of the capital, believed to have manufactured the Neptune missiles used to target the sunk Moskva missile cruiser.
Klitschko issued a new, starker warning to Kyiv residents who have fled the capital – telling them this was not the time to return.
"Those Kyiv residents who left earlier and are already going to return to the capital, I ask you to refrain from this and stay in safer places," Klitschko wrote.
Since the Kremlin launched its invasion on 24th February, more than 4.7 million Ukrainians have left the country. Many more have left major cities in the east to take refuge in western Ukraine, believed to be safer.
But the governor of the Lviv region in Western Ukraine reported airstrikes carried out by a Russian aircraft taking off from neighbouring Belarus. In Kharkiv, Ukraine's second largest city, a strike near an outdoor market killed one person and injured at least 18.
The bombardments – after a lull in Kyiv and other cities —followed a warning from Russia's Defence ministry that it intended to ramp up attacks against Kyiv and other "command centres" in response to what it called "terrorist attacks or acts of sabotage on Russian territory committed by the Kyiv nationalist regime".
Russia last week said Ukrainian forces injured seven people and damaged around 100 residential buildings in airstrikes on the town of Klimovo, just over the border in Russia's Bryansk region  The unverified attack is the latest in a string of allegations of Ukrainian incursions into Russian territory. Authorities in another border region, Belgorod, also reported Ukrainian shelling.
Ukraine has denied any such attacks.
 Russia orders defenders of Mariupol to surrender
 But the current focus of the attacks was clearly shifting to Mariupol – besieged by Russian forces for weeks, leaving residents with no heating, water or food and medicine.
Russia has offered to spare the lives of Ukrainian soldiers fighting in the port city – but only if they lay down their arms on Sunday. A government statement gave the Ukrainian soldiers – many holed up in the vast Azovsteel steel mill near the port – seven hours to lay down their weapons.
Those doing so would be treated in line with the Geneva convention on prisoners of war, it said. The statement did not say what would happen to any soldiers who refused to stop fighting – and said the offer was being made on "purely humane principles".
Russia's Defence Ministry said some 2,500 Ukrainian soldiers were inside the plant – a sprawling network of buildings and tunnels.
An advisory to the city's mayor, Petro Andryushchenko, said Russian forces intended to block entrances and exits to the city and to bar residents from moving about the city from Monday.
Ukrainian President Volodymyr Zelensky appeared to acknowledge that Ukrainian forces now controlled only a small part of the city.
"Nevertheless, our guys are heroically defending," he told reporters. "We are grateful to them for that."
Zelensky also said that talks being held sporadically with Russia on ending the war could break down if Ukrainian forces in Mariupol were "eliminated".
Capturing Mariupol has been a major objective for Moscow as it would cut Ukraine off from a major port and prized industrial assets, while establishing a land corridor with the Crimean Peninsula, which was annexed by Russia in 2014.
The battle for the port city has cost Russian forces considerable effort and delayed Kremlin plans for a pivot towards an offensive in the Donbas region after failing to advance on and storm the Ukrainian capital.
Mariupol's Mayor, Vadym Bochenko, says more than 10,000 have already died in the city and apartment blocks, hospitals and other public buildings have been largely reduced to rubble.
The new attacks followed the sinking in the Black Sea on Thursday of Russia's Moskva missile cruiser, a prominent symbol of military might and the command centre of its naval assault on Ukraine. Ukraine said its forces hit the vessel with Neptune missiles. Russia said the cruiser was damaged by a fire and explosions of ammunition on board and it later sank while being towed in "stormy seas".
The United States has said it believed Kyiv's version of events,
Pictures show crew of lost Russian ship
The Russian Defence Ministry published on Saturday images of what it said was the crew of the cruiser – the first time any sailors from the ship have been seen since its sinking. A large group of sailors was shown on parade in the Crimean port city of Sevastopol, where they were inspected by the Commander-in-chief of the Russian Navy, Admiral Nikolay Yevmenov.
Ukrainian military officials have said they believed all crew members were killed aboard the vessel, including its captain, Anton Kuprin.
Police in Kyiv region outside the capital said more than 900 bodies of civilians had been discovered in towns from which Russian forces withdrew.
According to Andriy Nebytov, head of the Kyiv region's police, more than 95% of victims had died from fatal gunshot wounds, indicating that many people were "simply executed." He added that the largest numbers of dead, more than 350, were found in the town of Bucha, where the discovery of bodies provoked a global outcry.
One unanticipated effect of the invasion has been the announcement that Finland would be ready to make a formal decision on joining NATO "within weeks", prompting Moscow to respond by suggesting it could deploy nuclear weapons and hypersonic missiles in its European exclave of Kaliningrad, thereby ending a "nuclear-free" Baltic region.
The Prime Minister of Finland, Sanna Marin, made the announcement following a joint press conference with her Swedish counterpart, citing a shift in security considerations in the wake of Russia's invasion of Ukraine.
To date, the two Nordic states have been closely aligned with NATO but have shied away from joining the alliance.
During the Cold War, Finland famously adhered to a policy of neutrality to avoid irritating the Soviet Union – a position known as "Finlandisation" – now a largely pejorative term in Finland and in most Western countries
Close Putin-ally and deputy chairman of Russia's Security Council Dmitry Medvedev said that should Finland, which shares an 810-mile border with Russia, join the .US.-led security alliance with Sweden, then Russia would have no choice but to strengthen its land, naval and air capabilities in the Baltic Sea.
The nuclear threat presented by Russia was also outlined by U.S. Central Intelligence Agency chief, William Burns who said the possibility of the Kremlin using nuclear weapons in Ukraine, out of "potential desperation" and military setbacks could not be taken lightly.
" I know President Biden is deeply concerned about avoiding a third world war, about avoiding a threshold in which nuclear conflict becomes possible," Burns said.
Ukraine's Zelensky echoed concerns over Russia's possible use of nuclear weapons, saying Moscow had little regard for the lives of his people.
"Not only me — all of the world, all of the countries have to be worried because it can be not real information, but it can be true," Zelensky told CNN.
"Chemical weapons, they should do it, they could do it, for them the life of the people, nothing. That's why," Zelensky said. "We should think not to be afraid, not be afraid but be ready. But that is not a question for Ukraine, not only for Ukraine but for all the world, I think."