Russia strikes Ukrainian military base near Polish border, peace talks make progress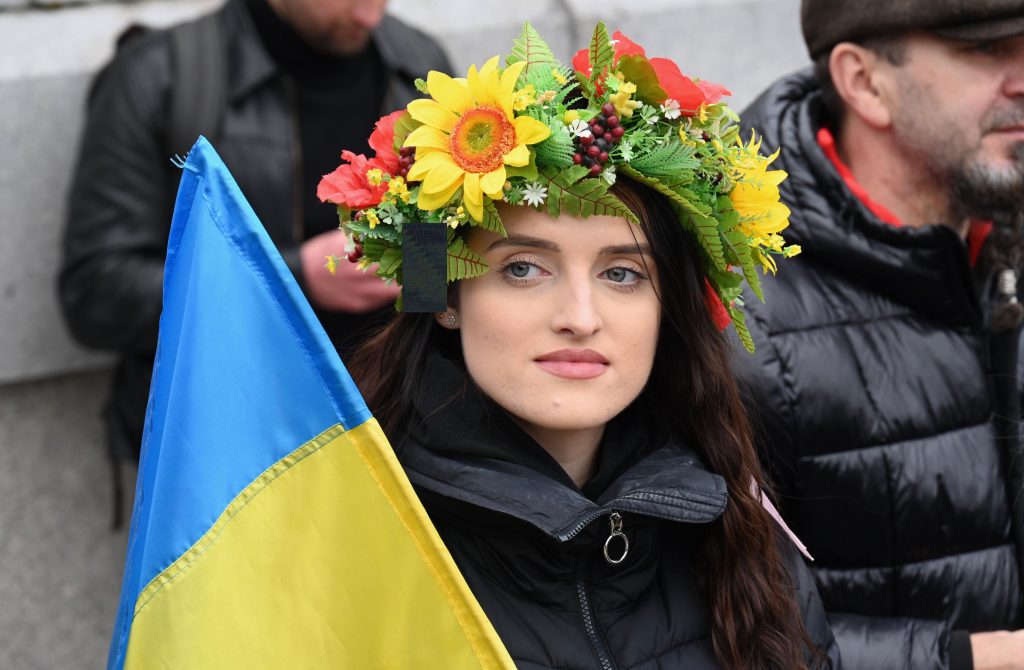 Anti-war protest in London (Alamy)
Russia launched a series of pre-dawn airstrikes on a major Ukrainian military base near the Polish border, killing 35 people as talks aimed at declaring a cease-fire and ending two and a half weeks of carnage appeared to be making a measure of progress.
Ukrainian officials said some 140,000 people had been evacuated from cities under threat from Russian attack, but no such operation has yet been launched in the besieged southern port of Mariupol owing to constant shelling. The death toll in the city was put at 2,100.
U.S. officials said Russia had approached China for military equipment, financial assistance and help in evading sanctions ahead of talks in Rome between senior Chinese and American officials. "We will not allow that to go forward," U.S. National Security Adviser, Jake Sullivan, said of any move to help Russia circumvent punitive measures. A Chinese official said he knew nothing about any Russian requests.
A U.S. journalist covering the evacuation of residents in Irpin, just outside Kyiv, was shot and killed by Russian troops – the first foreign reporter to die in the conflict.
Russia's raid on the base at Yavoriv, about 20 km from the Polish border, was the westernmost point attacked by Russia since Kremlin leader Vladimir Putin ordered the invasion of his ex-Soviet neighbour on 24th February. Ukrainian officials said about 30 cruise missiles were fired into the facility, known as the International Peacekeeping and Security Center, west of Lviv and near a route used by the masses of refugees pouring across the Polish border.
Lviv, a focal point of Ukrainian culture in the west of the country, has so far been spared the attacks which have devastated both public buildings and residential dwellings in many other Ukrainian cities. The town is overwhelmed with residents of eastern Ukraine either seeking shelter or preparing for an onward journey across Ukraine's borders.
The base is used as a staging point for military equipment coming into Ukraine and until recently as a facility for soldiers from NATO countries to train Ukrainian servicemen.
U.S. Secretary of State Antony Blinken condemned the attack, citing its proximity to the border with NATO-member Poland. "The brutality must stop," Blinken said.
Zelensky in new appeal for "no fly zone"
Following the attack, Ukrainian President Volodymyr Zelensky issued a new appeal for NATO to impose a "no fly" zone in Ukrainian skies, a call repeatedly rejected by NATO officials on grounds that it would dramatically increase the risk of the Alliance's armies being drawn into direct conflict with nuclear-armed Russia.
"If you do not close our sky, it is only a matter of time before Russian missiles fall on your territory, on NATO territory, on the homes of NATO citizens," Zelensky said in the latest of his daily videos intended to boost Ukrainian morale.
Ukrainian and Russian negotiators scheduled a new round of talks – this time by video link — for Monday, officials in both countries said.
Three rounds of talks have produced only limited results on humanitarian corridors, but virtually no progress on clinching a general cease-fire. A meeting between the Russian and Ukrainian foreign ministers in Turkey last week similarly generated few results.
But Ukrainian negotiators said they had noted a shift in Moscow's position – as the Russian advance in the country proceeds more slowly than Moscow had initially anticipated.
"Russia now much more adequately perceives the world around it. It is much more sensitive to the position of Ukraine, which has been proven in battlefields, and in Ukraine's actions in terms of protecting its interests," Ukrainian presidential adviser Mykhailo Podolyak said in a video posted on social media.
"Our proposals are on the table, and they are very tough. First of all, they concern the withdrawal of troops, the ceasefire, and so on. In principle, we will not give up any of our positions. Russia already understands this. Russia is starting to talk constructively."
Deputy U.S. Secretary of State Wendy Sherman also noted changes in Russia's stand and said President Joe Biden's administration had put considerable pressure on Moscow to negotiate.
"That pressure is beginning to have some effect. We are seeing some signs to have real, serious negotiations. But I have to say … so far it appears Vladimir Putin is intent on destroying Ukraine," Sherman told Fox News.
Western estimates put Russian losses so far at between 3,500 and 6,000 men – Moscow has acknowledged the deaths of only about 500 of its servicemen.
France's Foreign Minister, Jean-Yves Le Drian, was more pessimistic after French President Emmanuel Macron's weekend telephone conversation with Putin produced no results. He told France Info radio that "the worst lies ahead."
"President Putin is stuck with his maximalist approach, he is stuck with his war aims and he is not backing off. He is acting in accordance with a diktat that he wants to impose on Ukraine."
The White House issued a statement after Biden spoke with Macron by telephone saying the two leaders "reviewed recent diplomatic engagements and underscored their commitment to hold Russia accountable for its actions and to support the government and people of Ukraine".
The U.S. statement on China, as set out by an official speaking on condition of anonymity,  said that in recent days, Russia had requested support from China, including military equipment, to press forward in its war with Ukraine. The official did not provide details on the scope of the request.
National Security Adviser Sullivan was due on Monday to meet senior Chinese foreign policy adviser Yang Jiechi in Rome. He said he would seek limits on what China would do to help Moscow.
He told CNN that Washington was "communicating directly and privately to Beijing that there absolutely will be consequences" if China helped Russia offset losses linked to sanctions.
Russia pursued its attacks on Ukrainian cities, notably in the southern city of Mykolayiv – a key point on the way to the Black Sea port of Odesa. After hitting a psychiatric hospital in the city last week, officials said a school was struck. Video footage also saw apartment buildings as the target of attacks.
Fresh shelling prevented a humanitarian convoy from reaching Mariupol, still in government hands despite a Russian encirclement.
"Hundreds of thousands of the city's residents are now facing extreme or total shortages of basic necessities like food, water and medicine," the all-Swiss International Committee of the Red Cross said in a statement.
"People of all ages, including our staff, are sheltering in unheated basements, risking their lives to make short runs outside for food and water."
Video footage from the southern city of Kherson – the only major city to fall into Russian hands – showed dozens of residents defying Russian soldiers to parade through the city centre displaying blue and yellow national flags and shouting slogans. Russian soldiers fired warning shots into the air.
The Ukrainian government issued a new protest at what it said was the "abduction" of two mayors – in the southeastern town of Melitopol and in the central town of Dniprorudne. The European Union denounced the disappearance of the two officials.