Russia widens attacks on Ukrainian cities, Biden warns against "World War Three"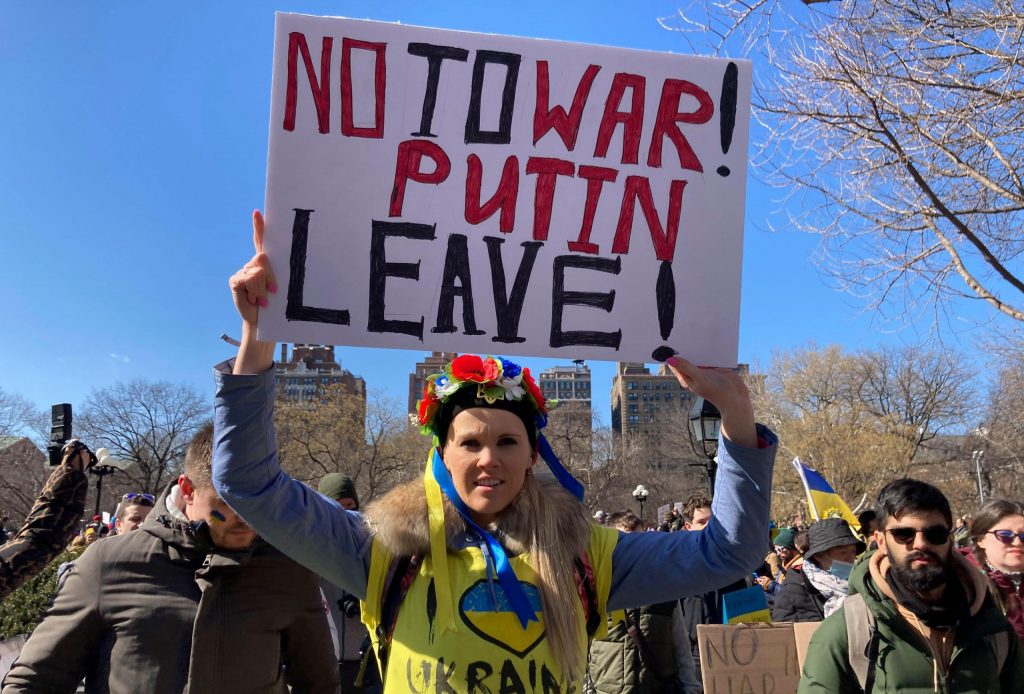 Protest in Washington against Russia's invasion of Ukraine (Alamy)
Russia broadened its attacks on widely separated cities in Ukraine, bombing targets in western regions for the first time and pushing forward on the southern city of Mykolayiv, while a large convoy of military vehicles crept closer to the capital.
U.S. President Joe Biden joined other industrialised G7 countries in stripping Russia of its "most favoured nation" status as a trading partner under World Trade Organization rules, the longest in a long list of sanctions slapped on Moscow.
But Biden pointedly drove home the fundamental plank of the U.S. retaliatory plan for Russia's invasion  — he baldly said Washington was prepared to do everything to defend NATO from attack but would not risk triggering "World War Three" by engaging directly with Russia in Ukraine.
In Moscow, Kremlin leader Vladimir Putin met his close ally, Belarusian President Alexander Lukashenko, but intense speculation that Belarusian forces would be immediately drafted in to bolster Russia's invasion force.
Russian forces, encountering stiff resistance from a very motivated Ukrainian military, extended the range of their attacks more than two weeks after pouring into Ukraine from three directions.
Airfields in western Ukraine targeted
Russian aircraft bombed targets in western Ukraine for the first time – military airfields in the cities of n Ivano-Frankivsk and Lutsk.
Also bombed were a shoe factory and apartment buildings in the industrial central city of Dnipro. And Russian forces intensified attacks on Mykolayiv in the south, hitting a psychiatric hospital as part of their drive to move westward on the Black Sea port of Odesa.
President Volodymyr Zelensky said officials were overseeing the evacuation of residents from about 10 cities – but persistent Russian shelling had halted departures from the northern city of Izyum. And a new attempt to evacuate some 200,000 from the shattered southern port of Mariupol would be made on Saturday.
The World Health Organization said Russian forces had attacked 26 health centres in the country since the start of the invasion. Among them was a maternity hospital destroyed in Mariupol.
Western military analysts said the long convoy of military vehicles slowly making its way towards Kyiv was regrouping and adopting new tactics, including using the cover of forests after sustaining several deadly attacks from Ukrainian servicemen.
In a statement, Biden said the concerted action of G7 countries to hit trade links with Russia showed a common resolve to act.
"The free world is coming together to confront Putin," Biden said, while announcing further restrictions on Russian imports.
But in a speech to Democrats in Philadelphia, the president firmly set down the limits of military help, tempered by a desire to guard against inducing further Russian military action.
"As we provide this support to Ukraine, we're going to continue to stand together with our allies in Europe and send an unmistakable message: that we will defend every inch of NATO territory," Biden said.
"If they move once — granted, if we respond, it is World War III, but we have a sacred obligation on NATO territory."
But that did not apply to confronting Russia in Ukraine – or establishing a no fly zone to keep Russian aircraft out of the skies, as  Ukrainian President Volodymyr Zelensky and others in Ukraine have sought.
"We will not fight the third World War in Ukraine," he said. "Don't kid yourself: No matter what you all say, that's called World War III, OK?"
Putin launched the invasion after a months-long buildup of troops on the Ukrainian border, vowing to "demilitarise" and "denazify" the country – a reference to the pro-Western leaders in Ukraine since a Russia-friendly president was forced from power by mass protests. Those events in 2014 led to Russia's annexation of Crimea and the fomenting of separatist rebellions in eastern Ukraine.
The Kremlin leader also cited what he said was the West's disregard for Moscow's demand for "security guarantees", including an undertaking that NATO would expand no further and Ukraine would never join. Ukraine's drive to join NATO and the European Union is now entrenched in the constitution.
Western estimates put the number of Russian dead in the conflict at anywhere between 3,500 and 6,000 – Russian defence officials have acknowledged losses of only about 500.
At a Security Council meeting convened at the U.N. in New York, Russia accused Ukraine of running biological weapons laboratories with U.S. Defence Department support – a notion dismissed as nonsense by the United States, Britain and other Council members.
Izumi Nakamitsu, the U.N. High Representative for Disarmament Affairs, said the council was "not aware" of any biological weapons programme in Ukraine.
Putin tells Lukashenko of positive trends in talks
In Moscow, Putin told Lukashenko that he had noted positive developments in talks between Ukrainian and Russian negotiators discussing humanitarian corridors and a possible cease-fire.
Foreign Minister Sergei Lavrov said after talks with his Ukrainian opposite number this week that he found grounds for optimism in Zelensky's statement that Ukraine could consider neutral status.
Russian accounts of the meeting in Moscow said Lukashenko praised the Russian intervention as being undertaken just in time – Russia, he said, had not initiated military action.
"It is not us who started this war, we have a clean conscience, it is a good thing that we started," he said.
The EU ended a two-day summit outside Paris with a commitment to reduce dependence on Russian oil and gas.
European Commission President Ursula von der Leyen said EU leaders had agreed to spend the next two months drafting proposals for eliminating the bloc's dependency on Russian energy imports by 2027.
"By mid-May, we will come up with a proposal to phase out our dependency on Russian gas, oil and coal by 2027, backed by the necessary national and European resources," Von der Leyen said.
Among the many sanctions imposed on Moscow was a U.S. ban on all oil imports and similar measures in Europe aimed at reducing import levels.
Ukrainian officials told the International Atomic Energy Agency that technicians have started repairing damaged power lines at the decommissioned Chernobyl power plant in an effort to restore power supplies, the U.N. nuclear agency said.
On Wednesday, Ukrainian authorities said that Chernobyl, site of the world's worst nuclear disaster in  1986, had been knocked off the grid after Russian forces seized control of it, posing a risk linked to possible overheating of large quantities of stored spent fuel. The IAEA said it saw no immediate risk to the nuclear plant.