Russian forces hit civilian targets, bellicose talk from Biden and Putin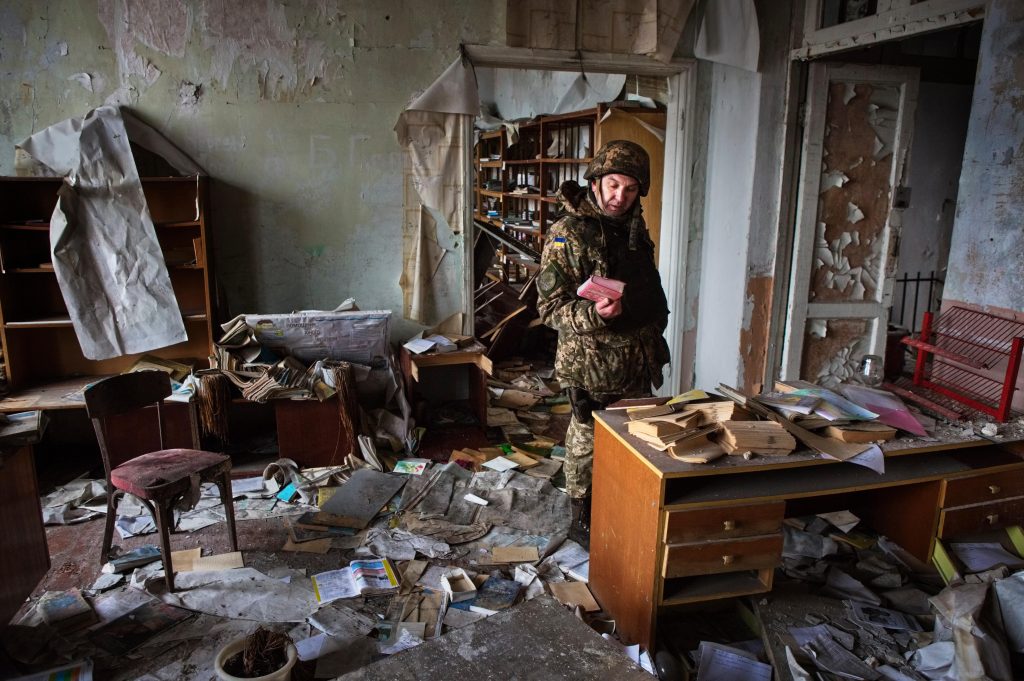 A Ukrainian servicemen inspects a bombed-out school (Alamy)
Russian forces struck civilian targets throughout Ukraine, destroying a theatre sheltering refugees in the encircled town of Mariupol and hitting residents queuing for bread in the northern city of Chernihiv.
Prospects at talks aimed at securing a cease-fire appeared uncertain.
Veteran Russian Foreign Minister Sergei Lavrov said some progress had been made, particularly in establishing Ukraine as a neutral country. But Kremlin leader Vladimir Putin said Moscow would not be deflected from the aims of its military campaign, while in Washington, President Joe Biden bluntly described Putin as a war criminal.
The International Court of Justice in Hague issued a "binding" call for Russia to halt its military campaign – almost certain to be ignored in Moscow. And the United Nations Security Council scheduled a new sitting to discuss humanitarian issues.
Ukrainian President Volodymyr Zelensky issued an emotional appeal to the U.S. Congress to do more for Ukraine, restating his hope for a "no fly zone" already rejected by NATO  as too risky indirectly engaging Moscow. Biden responded by announcing the allocation of considerable funds for new weaponry for Kyiv.
Theatre sheltering refugees destroyed
Video footage from the theatre in Mariupol, a city shattered by Russia's most intensive barrages, showed the building largely destroyed. Officials were unable to say how many of the hundreds of residents huddled there to escape the violence had been killed or hurt. Satellite images showed the word "children" emblazoned in large Russian letters on the ground on two sides of the building.
Local officials said 11,000 residents had managed to make their way out of the city as humanitarian corridors, repeatedly closed last week by shelling, remained in place. But Deputy Prime Minister Iryna Vereshchuk said 400 patients and staff at Mariupol's biggest hospital were "still being held hostage" by Russian troops who had captured it.
In Chernihiv, near the Russian border, local officials said shells had targeted an apartment building and then fallen into a street, killing 13 people who had been queuing for bread.
Unable to take control of the southern city of Mykolayiv, Russian forces pressed on with bombardment of the city – viewed by Moscow as a key point to be taken on the way to capturing the Black Sea port of Odesa. Local governor Vitaly Kim said defenders had slightly pushed back Russian troops.
"You can be 99% sure that Mykolayiv region will continue to hold back the advance of the Russian troops," Kim said. "There is the Bug River, which they need to force their way across in order to advance.. We will not give up the bridges to the invaders."
Ukrainian military officials said their troops had launched counter-attacks on Russian forces and had achieved some success in slowing their advance and inflicting losses.
Negotiators met for the third consecutive day – virtually – with officials expressing hope that a cease-fire might be achieved.
Close to an agreement on Ukraine neutrality: Lavrov
"Neutral status is now being seriously discussed along, of course, with security guarantees," Lavrov told RBC news. "Now this very thing is being discussed in negotiations – there are absolutely specific formulations which in my view are close to an agreement."
Lavrov said Putin had spoken about neutrality, along with security guarantees for Ukraine without NATO enlargement, as one possible security solution last month.
Zelensky on Tuesday acknowledged that seeking NATO membership for Ukraine – as set down in the constitution – was impossible, at least for the moment.
Putin launched the invasion on 24th February with the aim of "demilitarising" and "denazifying" Ukraine – a reference to the country's pro-Western leaders since 2014, when a Russia-friendly president fled the country amid mass protests. Those events led to the Kremlin's annexation of Crimea and fomenting of separatist rebellions in Ukraine's eastern Donbas region.
As Russia built up forces on the border, Putin demanded security guarantees from the West, including an undertaking that Ukraine would never join NATO.
In an address to ministers and other senior officials, Putin said the launching of the operation had been entirely justified to protect Russian-speakers in Ukraine and act against Kyiv's drive to join NATO and develop what he described — without proof — as dangerous weapons of mass destruction.
"The struggle we are waging is a struggle for our sovereignty, for the future of our country and our children," Putin said.
He saved his harshest words for Russians who disagreed with the military drive. Russians, he said, were able to distinguish between patriots and "scum and traitors".
"I am convinced that such a natural and necessary self-purification of society will only strengthen our country, our solidarity, cohesion and readiness to respond to any challenges."
Zelensky, in his address to the U.S. Congress, invoked images painful to U.S. memory, particularly the 1941 Japanese attack on Pearl Harbour and the Islamist September 11, 2001 attacks on New York and Washington, in addition to paraphrasing Martin Luther King.
"I have a dream. These words are known to each of you today. I can say I have a need. I need to protect our sky," Zelensky told U.S. lawmakers. "I need your decision, your help, which means exactly the same, the same you feel when you hear the words, 'I have a dream.'"
Knowing that a request for a "no fly zone" would not be approved, Zelensky sought other weaponry, principally powerful antimissile defence systems, such as the S-300.
"The destiny of our country is being decided," he told Congress. "We need you right now."
Biden later announced that the United States would provide Ukraine with an additional $800m in security assistance, including anti-aircraft systems and anti-armour systems.
Speaking with reporters, Biden said of Putin: "I think he is a war criminal." That was a distinct escalation of the generally careful language used by the U.S. administration in addressing the circumstances of the war.
That triggered a furious response from Kremlin spokesman Dmitry Peskov, who described the comments as "unacceptable and unforgivable rhetoric", according to the Tass news agency.
NATO defence ministers, meanwhile, directed military commanders to draw up detailed plans to reinforce the alliance's eastern flank. Secretary-General Jens Stoltenberg said a decision would be taken at a summit meeting in June.
"On land, our new posture should include substantially more forces in the eastern part of the alliance, at higher readiness, with more prepositioned equipment and supplies," he told a news conference.
NATO is holding an "extraordinary summit" in Brussels on March 24, with Biden due to be among participants.