Russian missiles hit Kyiv during visit by U.N. chief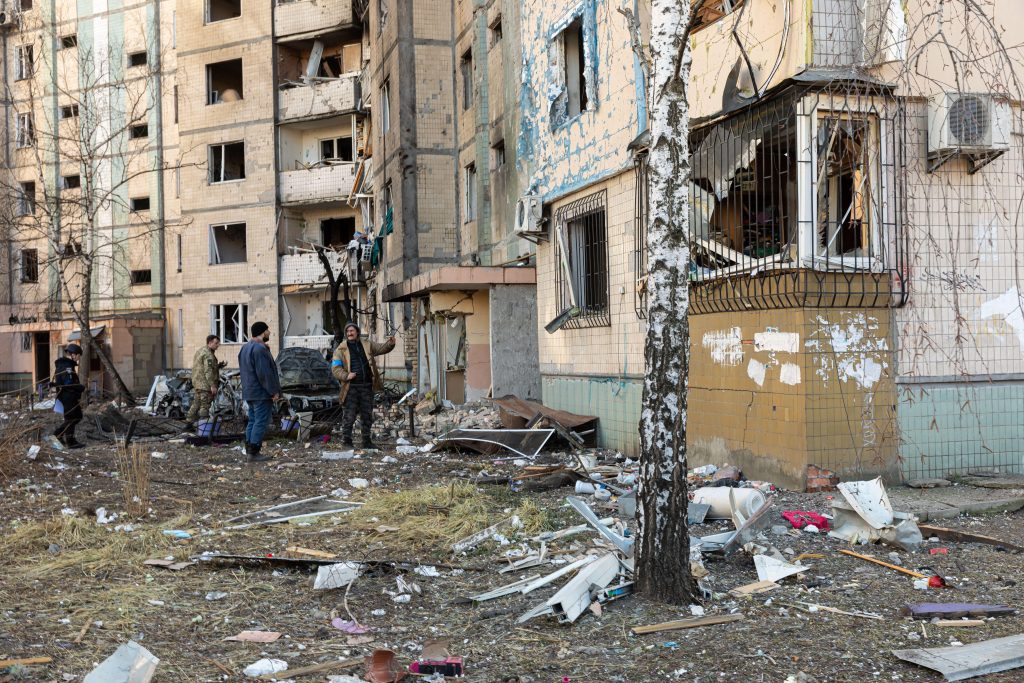 War damage in Kyiv (Alamy)
Two Russian missiles struck the Ukrainian capital Kyiv after U.N. Secretary-General Antonio Guterres ended talks with Ukrainian President Volodymyr Zelensky focusing on how to save servicemen and civilians still trapped in the besieged and ruined port of Mariupol.
One missile struck an apartment building, injuring at least 10 people.
Guterres acknowledged the failure of U.N. institutions, primarily the Security Council, to resolve the humanitarian crisis in the port – earlier this week he said he had secured a commitment from Kremlin leader Vladimir Putin to allow the U.N. to oversee an evacuation.
Russian forces made some progress in their reoriented campaign to capture all of eastern Ukraine's Donbas region, particularly around the northeastern city of Izyum.
In Washington, U.S. President Joe Biden announced a $33 billion package of military, financial and humanitarian aid for Ukraine – a substantial increase. Zelensky expressed thanks and said he hoped Congress would approve the package quickly.
In his nightly address to boost the morale of his people, Zelensky was indignant at the Russian missile attack just after Guterres had wrapped up his talks on humanitarian solutions.
"This says a lot about Russia's true attitude toward global institutions, about the efforts of the Russian leadership to humiliate the U.N. and everything that the organisation represents," Zelensky said. "It requires a strong response."
U.N. help to evacuate Mariupol
Zelensky said he believed that with U.N. help a solution could be found to evacuate soldiers still holed up in the vast Azovstal steel works in Mariupol, along with large numbers of civilians. City officials say tens of thousands of city residents are also awaiting evacuation from a town all but flattened by weeks of Russian encirclement and bombardment.
Ukraine, the president said, "is ready for these steps, but it is also necessary for the Russian side to consider this issue without cynicism and actually do what it says. Moscow claimed they had allegedly ceased fire in Mariupol, but the bombing of the defenders of the city continues."
Guterres was contrite in acknowledging the failure of the Security Council – where Russia has used its power as a permanent member to throw out a series of resolutions — to stop the fighting.
"Let me be very clear. The Security Council failed to do everything in its power to prevent and end this war," he told reporters. "This is a source of great disappointment, frustration and anger."
But Guterres said he would not give up and pledged to expand the U.N.'s assistance programmes by distributing $100 million per month, reaching 1.3 million people by May and covering 2 million by August.
He described Mariupol as "a crisis within a crisis. Thousands of civilians need life-saving assistance…They need an escape route out of the apocalypse."
Kremlin spokesman Dmitry Peskov said civilians were free to leave Mariupol, a key target that would enable the Russian military to build a corridor for its troops from Crimea, annexed by Moscow in 2014 to two enclaves seized by Kremlin proxies in the same year. But Ukrainian servicemen, he said, would have to give themselves up.
Russian forces became bogged down in their initial attempt to advance on Kyiv and regrouped and withdrew to the north to launch a new assault on Donbas. Their forces have suffered considerable and unexpected losses – Zelensky has said those losses now exceed the 15,000 Soviet soldiers who died in the 10-year campaign in Afghanistan.
A research group, the Institute for the Study of War, said Russian forces were registering  "minor but steady" advances, but were having difficulty breaking through Ukrainian defences. They were advancing in a number of areas near Izium, a staging point for the Russian assault on Donetsk and Luhansk regions making up Donbas.
U.S. assistance and lend-lease legislation
Biden, like all NATO leaders, has declined to commit any troops to the conflict on grounds that it could lead to direct confrontation with Russia. But he said the aid package, however costly, was vital to face down Russian aggression.
"We either back the Ukrainian people as they defend their country or we stand by as the Russians continue their atrocities and aggression in Ukraine," he said.
The United States also dusted off 80-year legislation used to help defeat the Nazis in World War Two – a lend-lease law to loan Ukraine weapons and military equipment. The law cleared Congress and now awaits Biden's signature – a display of bipartisan support on the issue,
"Passage of that act enabled Great Britain and Winston Churchill to keep fighting and to survive the fascist Nazi bombardment until the United States could enter the war," said Representative Jamie Raskin, Democrat of Maryland. "President Zelensky has said that Ukraine needs weapons to sustain themselves, and President Biden has answered that call."
Russia has been fiercely critical of Western supplies of weapons to Ukraine. Foreign Minister Sergei Lavrov this week said the shipments had amounted to placing NATO in a proxy war with Russia and added that the risks of the situation being plunged into a nuclear conflict should not be underestimated. Putin warned that any Western intervention in the war would prompt a "lightning-fast response".
In the southern city of Kherson, the sole major centre captured by the Russian military since the incursion was launched on 24th February, Russian occupying forces took over the local authority building this week and announced that the Russian rouble would be used in the city from 1st May.
The Russian military broke up the latest in a series of protests by residents this week, using tear gas and stun grenades. Ukrainian officials have suggested that Russia would try to stage a referendum in Kherson on some form of association with Russia – as they did in Crimea and the two areas of eastern Ukraine under the control of proxies since 2014.
Ukrainian authorities also warned of heightened tensions in a region of neighbouring Moldova controlled by pro-Russian separatists. Authorities in the region, Transnistria, said explosions had damaged several strategic sites this week and blamed Ukraine.
Moldova is facing "a very dangerous new moment", Moldovan Deputy Prime Minister Nicu Popescu said.