Russian strike destroys Mariupol hospital, foreign ministers to hold talks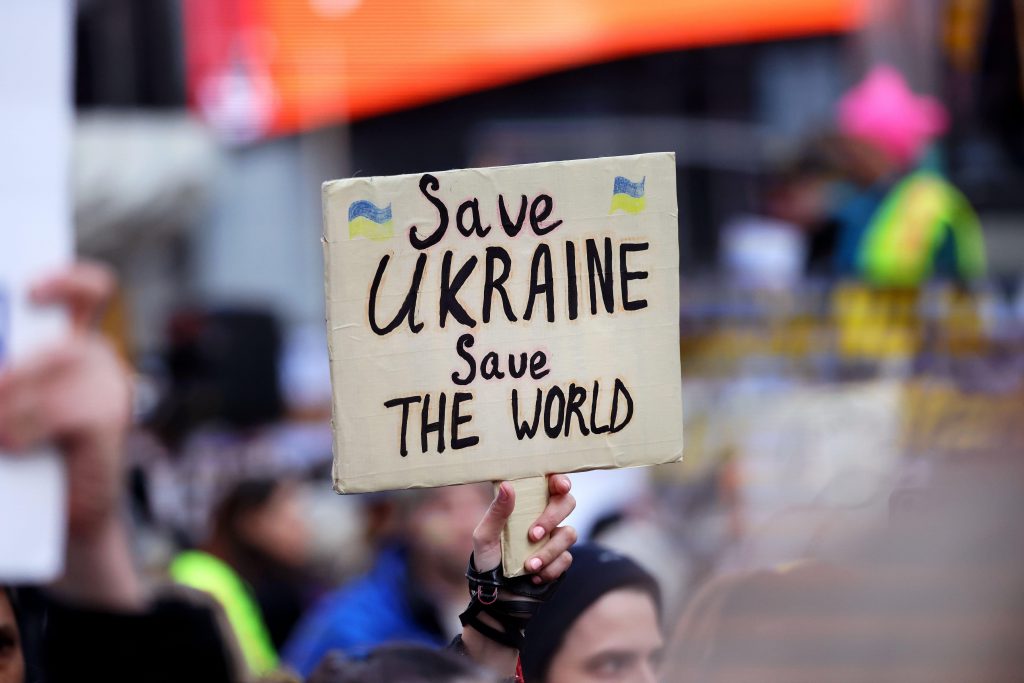 Sign at New York protest (Alamy)
A Russian airstrike destroyed a maternity hospital in the besieged Ukrainian port of Mariupol, an act denounced by Ukrainian President Volodymyr Zelensky as a war crime "beyond atrocities".
Russian Foreign Minister Sergei Lavrov was due to meet his Ukrainian opposite number Dmytro Kuleba in Turkey – the first high-level diplomacy undertaken between the two countries since Moscow launched the invasion of its neighbour on 24th February.
U.S. officials estimated the number of Russian dead since the start of the conflict at between 5,000 and 6,000 – an indication of the tenacious resistance offered by Ukraine's military. Ukrainian officials have put the Russian death toll at about 11,000, while Moscow has acknowledged only 500 dead so far.
The U.S. House of Representatives, showing rare speed and bipartisan consensus, approved a $13.6 billion aid package for Ukraine while U.S. Vice-President Kamala Harris embarked on a European tour during which topics for discussion would include a failed Polish bid to provide Soviet-built MiG-29 fighters for Ukraine.
Ukraine complained that Russian troops occupying the Chernobyl nuclear power station, site of the world's worst nuclear accident in 1986, had cut power to the facility, running the risk of leaks of large quantities of spent fuel now without cooling.
Pictures from Mariupol showed pregnant patients scurrying out of the shattered hospital or being ferried out on makeshift stretchers through smouldering rubble. An adjacent children's hospital was also hit.
Officials said – miraculously – that 17 people had been injured, with no deaths recorded.
Mariupol has been all but encircled for a week and some 200,000 residents awaiting evacuation had no water or heating and critically low supplies of food. Residents resorted to cutting down trees to heat homes and melting snow for drinking water.
"They have used aviation, artillery, multiple rocket launchers, grads and other types of weapons we don't even know about," Mariupol's Deputy Mayor,  Serhiy Orlo,v told reporters. "This isn't simply treacherous. It's a war crime and pure genocide. Vladimir Putin means to capture Mariupol whatever the human cost."
Orlov said 1,170 people had been killed in his city – municipal workers buried 47 victims in a mass grave on Wednesday.
Hospital attack "beyond atrocities": Zelensky"
What kind of country is this – the Russian Federation, which is afraid of hospitals and maternity hospitals and destroys them?" Zelensky asked in his latest video address.
"It is beyond atrocities already. Everything that the invaders are doing to Mariupol is beyond atrocities already."
The attack on the hospital, he said, was "final proof… that the genocide of Ukrainians is taking place".
In launching the invasion, Putin said its main objectives were the "demilitarisation and denazification" of the country – references to the pro-Western leaders in Kyiv since Ukraine's Russia-friendly president fled the country during mass protests in 2014. Those events triggered Moscow's annexation of the Crimean peninsula and foment a rebellion by Russian proxies in eastern Ukraine.
The Kremlin leader has repeatedly accused Ukraine of committing "genocide" against Russian-speakers in eastern Ukraine and accuses the West of disregarding his calls for "security guarantees", including an undertaking that Ukraine will never join NATO.
Ahead of the talks in Turkey on Thursday, Kuleba urged Russia to approach the meeting "in good faith, not from a propagandistic perspective.
"But I will say frankly that my expectations of the talks are low," Kuleba said in a video statement. "We are interested in a ceasefire, liberating our territories and the third point is to resolve all humanitarian issues."
Kremlin spokesman described the meeting on the sidelines of the Antalya diplomatic forum as "very important". Turkey has offered to act as a mediator and President Recep Tayyip Erdogan said the talks "could be a very important step toward overcoming the crisis".
Lower-level talks on Ukraine's border with Belarus – a close Russian ally—have produced few results, but made some progress on organising humanitarian evacuation corridors.
Residents were able to leave the northern city of Sumy for the second straight day and evacuations were overseen in Kyiv and in the central city of Enerhodar – near the Zaporizhia nuclear power plant.
Spent fuel danger at Chernobyl
At Chernobyl, seized by Russian troops in the early days of the conflict, all reactors have long been shut down, but 20,000 spent nuclear fuel remained at the site in "wet ponds", alarming Ukraine's nuclear industry as power supplies were cut with fighting occurring nearby.
"They need constant cooling. Which is possible only if there is electricity. If it is not there, the pumps will not cool. As a result, the temperature in the holding pools will increase," the agency said.
"After that evaporation will occur, that will lead to nuclear discharge. The wind can transfer the radioactive cloud to other regions of Ukraine, Belarus, Russia and Europe. In addition, there is no ventilation inside the facility."
In Washington, the House approved $13.6 billion in aid for Ukraine as part of $1.5 trillion in funding to keep the federal government open. The Senate is expected to vote later this week on the package.
In Warsaw, U.S. Vice-President Kamala Harris was scheduled to meet Polish President Andrzej Duda, with the proposed transfer to Ukraine of fighter aircraft on the agenda.
Poland had said it was prepared to send the aircraft to Ramstein Air Force Base in Germany for subsequent transfer to Ukraine, but the Pentagon described the plan as "untenable" as it would be construed in Russia as NATO involvement and escalation.
White House press secretary Jan Psaki described the incident as a "temporary breakdown in communication".
More international companies halted their activities in Russia over the invasion – including machinery manufacturers John Deere and Caterpillar.
And the European Union announced new sanctions against Russia and Belarus. Commission President Ursula von der Leyen said the sanctions will target 160 Russians, including politicians and business magnates, as well as the banking sector in Belarus.
The sanctions have already exacted a heavy toll – the rouble stood at roughly 76 to the dollar before the invasion, but has since plunged to about 130.
The stock exchange has been closed for more than a week and the central bank has barred sales of foreign currency.