Russians pound Kyiv, other cities, evacuees leave besieged Mariupol for first time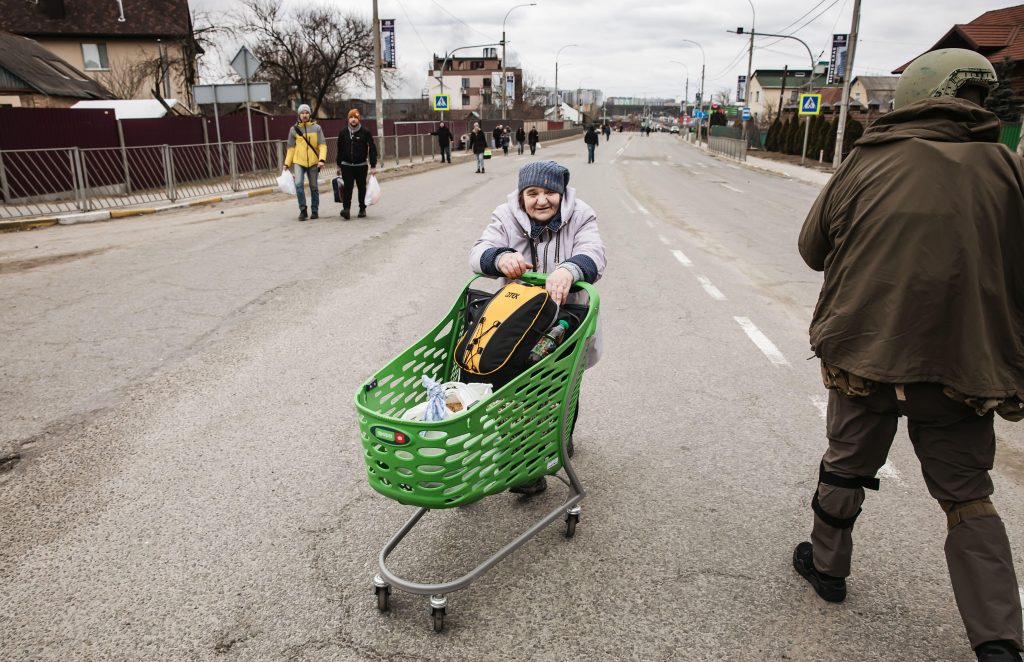 Refugees being accompanied out of the town of Irpin, near Kyiv (Alamy)
Russian forces struck targets in Kyiv and other largely shattered Ukrainian cities as talks to clinch a ceasefire briefly resumed and the first evacuees began making their way out of the southern port of Mariupol, encircled for more than a week.
The 160 carloads of residents able to leave the city were among some 4,000 evacuees escaping bombardments in cities besieged by the Russian military since Kremlin leader Vladimir Putin launched an invasion of neighbouring Ukraine on 24th February.
A Russian official made the first public admission that the troops' advance into Ukraine was not going according to plan and meeting resistance from "nationalists". The Kremlin's chief spokesman said Russian troops were deliberately refraining from securing control of cities to reduce casualties.
Ukrainian President Volodymyr Zelensky issued a long list of vehicles and aircraft he said the Russian military had lost – including nearly 100 helicopters, 80 military planes, hundreds of tanks and thousands of other military vehicles and equipment.
Over 19 days of war, Zelensky said, "the Russian army had more soldiers killed than in two bloody wars in Chechnya. What for?" – a reference to two post-Soviet conflicts in which Russia sought to crush separatists in the Caucasus region of Chechnya.
Western experts have estimated the number of Russian dead at somewhere between 3,500 and 5,000. Russia has acknowledged some 500 dead.
New diplomatic contacts aimed to boost the chances of clinching a cease-fire. Putin spoke to Israeli Prime Minister Naftali Bennett, who has sought to portray himself as an intermediary. The U.S. National Security Advisor, Jake Sullivan, told China's top diplomat Yang Jiechi that Washington was concerned about China's support for Russia – a day after Washington said Russia had asked China for military and financial help.
The European Union approved a new, fourth round of sanctions against Russia, with details to be announced subsequently. The EU's French presidency said the measures "targeted individuals and entities involved in the aggression against Ukraine, as well as several sectors of the Russian economy."
And U.N. Secretary-General Antonio Guterres issued a new heartfelt appeal to end hostilities.
Targets in Kyiv
Russian forces shelled the Antonov aircraft plant in Kyiv, killing two people, and struck an apartment complex in the northern suburb of Obolon just after dawn, setting part of it on fire and sending residents scurrying into the street. At least two residents were killed.
Among the other strikes, was an attack on a television tower in the western city of Rivne that killed nine.
The first departure from Mariupol of a cavalcade of cars bound for the central city of Zaporizhia was a dramatic event after days of attempts to organise humanitarian convoys were frustrated by Russian shelling. An estimated 200,000 have been waiting for the chance to leave a city plunged into desperate conditions by the Russian encirclement. Ukrainian officials say 2,500 people have died.
A convoy to bring into Mariupol food and other supplies failed in its latest attempt to reach the port city, seen as a prize for the Russian force in that it would enable them to establish a bridge between Crimea, annexed by Moscow in 2014 and two regions in eastern Ukraine run by armed separatists since that time.
The all-Swiss International Committee of the Red Cross (ICRC) warned the "worst-case scenario" is yet to come if aid is unable to reach the city.
"Dead bodies, of civilians and combatants, remain trapped under the rubble or lying in the open where they fell," the ICRC said.
Talks to resume
Russian and Ukrainian negotiators had prepared for their fourth round of talks on a more optimistic note, with the Ukrainian side noting an improved understanding from the Russian side and the potential for clinching a cease-fire within days. In the event, the talks were paused "for technical reasons", with both sides agreeing to resume on Tuesday.
The head of Russia's national guard, a close ally of the Kremlin leader, made a candid acknowledgement that the Russian invasion was not going according to plan. Viktor Zolotov, in comments posted on the National Guard's website, blamed the slow progress on what he described as far-right Ukrainian forces hiding behind civilians.
"I would like to say that yes, not everything is going as fast as we would like," Zolotov was quoted as saying. "But we are going towards our goal step by step and victory will be for us."
Chief Kremlin spokesman Dmitry Peskov said Putin had ordered Russian troops to  "refrain from storming large cities including Kyiv" before the invasion. The reason, he said, was that "armed clashes in urban areas would inevitably lead to big losses among civilians". But cities, he said, were "already practically encircled anyway".
There were cracks in the façade of Russian unity in support of the invasion.
Former foreign minister Igor Ivanov co-authored an appeal by an international group of foreign policy academics urging all sides in the war to return to diplomacy and so reduce "the dramatically elevated risk" of a nuclear conflict.
Ivanov, now the president of the Russian International Affairs Council, was appointed foreign minister under Boris Yeltsin in 1998 and resigned in 2004, four years into Vladimir Putin's presidency. His signature may be an indication of unease within Russia's foreign policy establishment.
The statement urged all sides to back a ceasefire and end the "unjustifiable" loss of civilian lives.
And an editor at Russia's First Channel television briefly interrupted the main evening newscast by appearing behind the presenter with a placard reading "No war. Don't believe the propaganda. You are being lied to." The editor, identified as Marina Ovsyanikova, was reported to have been detained.
Russia has cracked down hard on open dissent, detaining hundreds at anti-war rallies. Legislation passed as the invasion got underway provides for prison terms of up to 15 years for disseminating what is deemed by authorities to be fake news.