Saida Yusupova: award winning green energy entrepreneur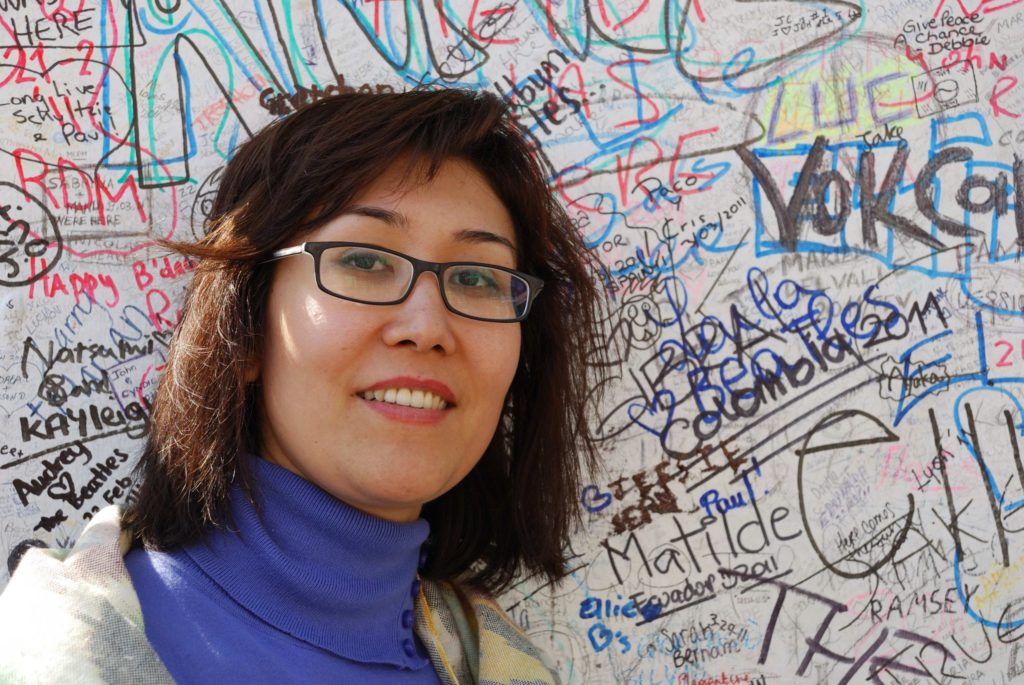 https://www.facebook.com/saida.yusubalieva
Based in: Uzbekistan
Education:  University of St Andrews, Scotland & The University of World Economy and Diplomacy, Uzbekistan.
Occupation: Co-founder & CEO of Green Business Innovation & Regional Ambassador Technovation Challenge.
Growing up in a remote part of Uzbekistan, Saida Yusupova remembers the difficult times faced by her local community during the collapse of the Soviet Union when there were frequent power cuts, no central heating, and little access to water. These experiences made her understand the importance of access to energy resources. While studying international economic relations at university, Saida Yusupova dreamed of working for an international organisation. This dream became a reality when she joined the United Nations Development Fund (UNDP), focusing on energy and the environment. While working in the energy sector of the UNDP Yusupova concluded that green energy would be a future trend in Uzbekistan.
Yusupova wanted to gain real-life experience and knowledge of sustainable development in action, and she was able to do this with a grant to study at St Andrew's University, Scotland, where the government was already implementing policy with sustainable development goals in mind. After completing her master's degree, Yusupova had two choices: either to continue working at an international organisation such as the UNDP or start her own business. She chose the latter.
She decided to return to Uzbekistan to start her own consultancy, Green Business Innovation, specialising in green and clean energy, focused on curbing carbon emissions and advancing green technologies with a mission to accelerate sustainable economies worldwide.
Yusupova is an advocate for STEM education for women and is a regional ambassador of the Technovation programme in Uzbekistan. In Technovation girls learn to solve socially important problems in their communities with the help of technology. They create a mobile application, write a business plan for the project, shoot a video about the project, and present it at the final of the competition. This social programme develops IT leadership skills for girls aged 10 to 18. Technovation is funded by the Uzbek government as well as the UNDP.
Yusupova is aware that it is difficult for women in Uzbekistan to start their own businesses due to traditional societal views, lack of support from family members and the inability to secure a loan from banks. She encourages women in Uzbekistan and Central Asia to enter the business of green technology and IT as it is a new sector where it does not matter much whether you are a man or a woman, the more concerning issue is competency, as there is a lack of experts in the field.
In 2019, Green Business Innovation was selected as one of two winners from a pool of over 1,200 entries from all regions of the world through a rigorous three-stage judging process for SDGs & Her, a competition for women entrepreneurs working to achieve the UN's Sustainable Development Goals (SDGs) through their business operations. Yusupova received her award at the World Bank Group spring meeting. During an interview, she expressed hope that the award would show Uzbekistan that her company is carrying out very important work and that it would convince the government to invest more in green energy.
Green energy in Uzbekistan:
With the largest population in Central Asia Uzbekistan has always relied heavily upon its hydrocarbon industry and is one of the most energy-intensive countries in the world. However, the vast country also has great potential to produce solar, hydro and wind energy. Uzbekistan ratified the Paris Agreement in 2018 with the aim of developing clean energy sources and reducing greenhouse gas emissions per unit of GDP by 10 per cent until 2030 compared to 2010 levels. Recently, several laws have been adopted to regulate the renewable energy sector and stimulate the attraction of foreign direct investment for the development of the electric power industry in Uzbekistan. In 2019 Uzbekistan picked the UAE company Masdar as the winner of its first-ever competitively tendered solar power public-private partnership.
Recently in the news: In May 2021 Yusupova was featured in the joint project of Visa and Forbes Kazakhstan "Dialogues of the Strong"
Quote: "I urge women to go into areas related to innovation, green technologies, IT – in these areas, in principle, there are not enough specialists, and it does not matter if you are a woman or a man. It is these competencies that need to be developed, and women will have many more opportunities."  (Source Forbes Kazakhstan, 2021).