ENVIRONMENT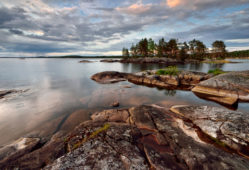 Republic of Karelia: a natural and historic wonder in North-western Russia
The Russian region of Karelia is part of the larger Northern Europe region of the same name, currently split between Russia and Finland. Despite its vast territory, the population of Karelia is small, around 600,000 people.
Seven new gas fields to be developed in Kazakhstan-INFORM.KZ
Uzsuvtaminot denies information about embezzlement of US$7 million-UZDAILY.UZ
Mirziyoyev today visited one of the world's largest copper deposits near Almalyk. A mega-project worth 5 billion dollars is being implemented here-PODROBNO.UZ
65% of population will be provided with gas by 2030 – Ministry of Energy-KAPITAL.KZ
State Committee for National Security: Criminal case against Askar Akayev has not been terminated-KLOOP.KG
The Kumtor case. Lawyer: Criminal case against Askar Akayev has not been terminated-24.KG
In the near future, Uzbekistan will announce tenders for the construction of several solar and wind power plants-PODROBNO.UZ
OPEC Fund to Provide $45 Million Loan to Turkmenistan for Construction of Three Vessels-HRONIKATM.COM
OPINION-Infrastructure in Russia's Arctic: Environmental Impact and Considerations-KENNAN INSTITUTE
In 2007, Russia signalled its commitment to pursue territorial claims in the Arctic by planting a titanium Russian flag on the polar seabed. Now, Russia is moving well past symbolism and has developed concrete plans and goals for its entire Arctic region.