Tension mounts between Azerbaijan and Iran in aftermath of new Karabakh war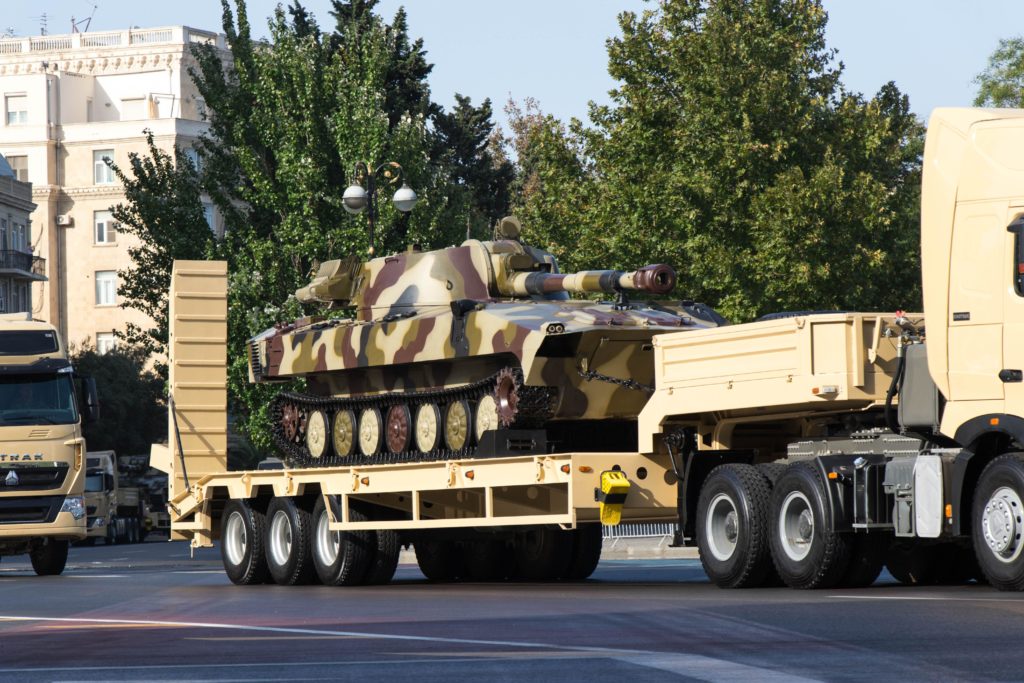 Military parade in Baku (Alamy)
BAKU
By Lada Yevgrashina
One of the unintended by-products of Azerbaijan's de-occupation of large swathes of territory in last year's six-week conflict with Armenian forces was a sharp deterioration in its relations with neighbouring Iran.
Since its independence from Soviet rule in 1991, Baku's relations with Tehran have never been especially warm – its close ethnic and political ties with Turkey, Iran's most important rival, almost certainly lie behind that – as well as the presence in Iran of some 20 million ethnic Azeris, about twice the population of Azerbaijan itself.
Add to that Iran's longstanding campaign to maintain close ties with Armenia and all the elements were aligned for mistrust and tension.
But last year's conflict changed the nature of the region – Azerbaijan's resumption of control over territory held by Armenian forces for three decades, accomplished with liberal use of Israeli-supplied drones and Turkish arms — enhanced its stature and military capability. And a series of events in recent weeks have generated irritation and strident reactions in both capitals. As well as fairly unprecedented military manoeuvres.
TRUCK ROUTES, MILITARY EXERCISES
The trigger for the latest tensions was the arrest of two Iranian truckers alleged to have crossed the border illegally on roads newly controlled by Azerbaijan – Iran has sent cargoes to Nagorno-Karabakh, a region of Azerbaijan populated mainly by ethnic Armenians and focus of the first war in the early 1990s.
Then there were military exercises.
Turkish and Azeri troops held exercises in late September in Azerbaijan's exclave of Nakhchivan – reached through Armenian territory and located on Iran's border, an event roundly criticised in Iran. The Iranians then staged large-scale manoeuvres of their own from on the 700-km Azerbaijani border, including in areas returned to Azerbaijani control and adjacent to Nakhchivan. Armoured vehicles, artillery, military aircraft and electronic warfare units were mobilised.
Why, Azerbaijani President Ilham Aliyev wanted to know, were exercises taking place now – and not previously when much of the area was held by Armenians?
"As for the military exercises held near our borders, this is a very unexpected event. Because during the 30 years of our independence, there have been no such events…," Aliyev told Turkey's Anadolu news agency. "Why now and why on our border? This question is not asked by me but by Azerbaijani society."
Iranian leaders went further, alleging there was an "Israeli presence" in Azerbaijan. Foreign Minister Hossein Amir-Abdollahian said: "During the clashes in Karabakh, Iran declared at the political level its concerns about the presence of Israel on the territory of Azerbaijan."
This was too much for Aliyev, who promptly abandoned diplomatic niceties.
"We hold nothing against countries which have close links with Armenia. We demand respect for our sovereign rights and we demand that there be no interference in our internal affairs. Accusations against us must be officially proven. Groundless accusations will not be left without a response," he said earlier this week. "It has been said that Azerbaijan brought Israelis into these regions. Let them open their eyes and take a good look. Just where have they seen Israel here?"
New incidents kept tensions high – including the closure this week of a Baku mosque routinely attended by senior Iranian officials during their visits to Azerbaijan – officials in Baku said the closure was undertaken to halt new outbreaks of COVID-19. Iran closed airspace long used by Azerbaijani aircraft to reach Nakhchivan.
Tensions over the exercises became a major talking point In the Iranian foreign minister's talks in Moscow this week.
Amir-Abdollahian told reporters Azerbaijan had held six sets of military exercises with other countries in "a provocative action" that did little to foster "positive emotions" in the region.
"Iran has recently staged several sets of exercises, but informed all countries in the region through diplomatic channels," he said. These events were "messages of peace, stability and security in the region and nothing else".
Russian Foreign Minister Sergei Lavrov was nothing if diplomatic.
Moscow, he said, opposed "boosting military activisation, we oppose exercises with a provocative nature. Azerbaijan has also expressed concern over recent exercises staged by our Iranian friends on the border."
NEW POST-WAR ROLE FOR AZERBAIJAN
For analysts, the rising tension was sparked by Azerbaijan's new stature in the region — compounded by Iran's longstanding internal problems and popular discontent.
"Iran gets very irritated by Azerbaijan's contacts with Israel at any level," said analyst Rasim Musabekov. "Yes, relations between Azerbaijan and Iran have deteriorated and in all likelihood will deteriorate further. Iran is unhappy with Azerbaijan's growing authority in the region after the liberation of Karabakh districts. But Azerbaijan's actions are legally grounded and aimed at boosting peace in the region."
Tacit admission of Iran's discomfiture with the new power balance in the region was clear during the Iranian foreign minister's talks in Moscow.
"We certainly will not tolerate geopolitical change and map change in the Caucasus, and we have serious concerns about the presence of terrorists and Zionists in this region," he told Lavrov.
Other analysts have pointed to Tehran's new unease over the country's large ethnic Azeri minority, along with the reduced length of Iran's border with Armenia.
"The authorities in Iran have difficulty accepting Azerbaijan's victory in the 2020 autumn war which gave Azerbaijan control over 132 km of border with Iran…Iran had previously used these districts for active, uncontrolled cooperation with Armenia. After the second war, Iran lost this opportunity," analyst Tofig Tyurkel said.
"And the war has given new prominence to the role of Turkey in Azerbaijan and the region. It is jealous of the outcome, accomplished with the use of sophisticated arms bought from Turkey and Israel…The problems between Azerbaijan and Iran can be and must be resolved in a calm manner. That is what we hope for."