EU says Belarus's Lukashenko acting like a "gangster" in border crisis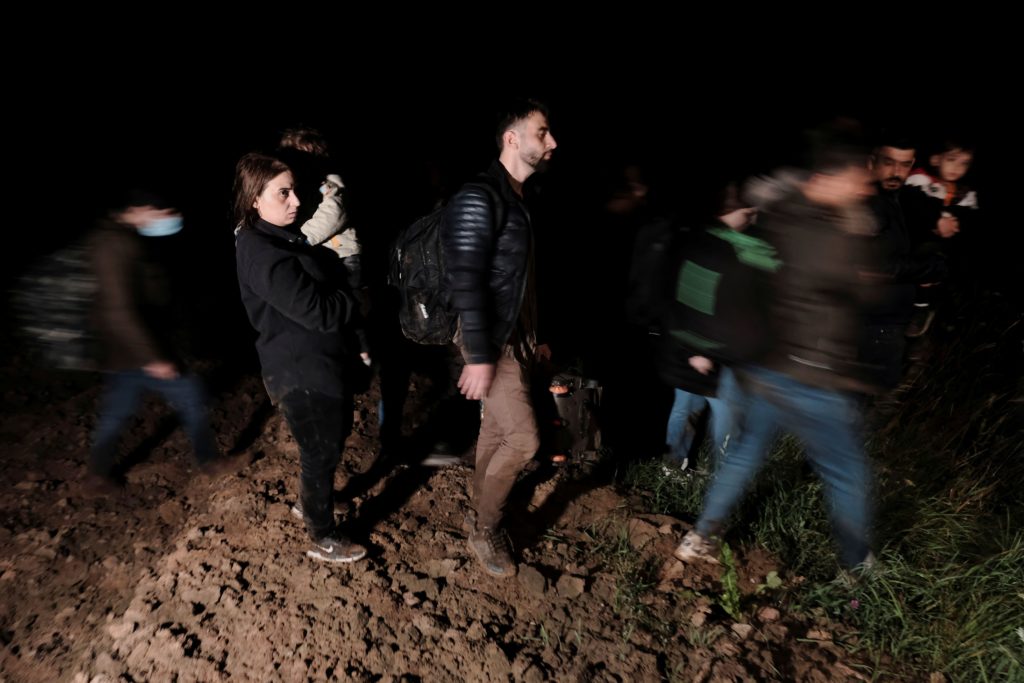 Migrants on the Belarusian border with Latvia (Alamy)
The European Union accused Belarus of lies and a "gangster-style approach" in fomenting a crisis on its fortified border with Poland, where thousands of migrants remained camped out in the hope of busting their way across, but President Alexander Lukashenko denied any responsibility, saying the West was engaging in blackmail.
The veteran Belarusian leader darkly suggested that any escalation of the confrontation could spark involvement by nuclear-armed Russia.
Poland's parliament and other senior officials decried what they said were Belarus's deliberate actions in allowing flights to land from Middle Eastern countries, facilitating visas and accommodation and arranging to have the migrants escorted to the border.
Warsaw dispatched more than 11,000 troops to the site of the confrontation, where Polish security forces sent tear gas wafting across a barrier of razor wire earlier this week to contain migrants trying to force their way across with tree trunks and wire cutters. Fellow EU state Lithuania joined it in declaring a state of emergency along its border with Belarus.
Reports said new arrivals sent numbers swelling to about 4,000 huddling around campfires in a forested area with night-time temperatures plunging below zero. Several migrants have already died of exposure.
Lukashenko has led Belarus since 1994 and in the past year weathered weeks of protests staged by demonstrators who accuse him of rigging his 2020 re-election to a sixth term. He has snuffed out dissent by forcing leading opponents into exile, jailing others for long periods and detaining more than 30,000 protesters, many of them young, for short periods.
The EU's Executive Commission said Lukashenko was using migrants as political pawns.
"This is part of the inhuman and really gangster-style approach of the Lukashenko regime that he is lying to people, he is misusing people, misleading them, and bringing them to Belarus under the false promise of having easy entry into the EU," Commission spokesman Peter Stano told reporters.
Commission President Ursula von der Leyen on Monday called for an extension of sanctions against Belarus and officials responded to that by partially suspending an agreement facilitating the granting of visas to certain Belarusian nationals. But von der Leyen has ruled out any use of force or coercion.
Lukashenko spoke about the migrant crisis by telephone with Kremlin leader Vladimir Putin – one of his handful of remaining allies since last year's mass crackdowns – and the BelTa news agency said the discussions focused on the Polish troop presence on the border. Russia's Security Council later held a meeting on "border policy" and  Belarusian Foreign Minister Vladimir Makei was heading to Moscow to discuss the crisis with his Russian counterpart, Sergei Lavrov.
Parliament meets in Warsaw
Polish Prime Minister Mateusz Morawiecki, addressing parliament in Warsaw, unequivocally accused Putin of masterminding the migration crisis.
"Lukashenko is the executor of the latest assault, but this assault has a sponsor who is to be found in Moscow, and this sponsor is President Putin," media quoted Morawiecki as saying.
Poland's president, Andrzej Duda, said: "The Belarusian regime is attacking the Polish border, the EU, in an unparalleled manner…These are aggressive actions that we must repel, fulfilling our obligations as a member of the European Union."
Lukashenko, in a lengthy interview with the Russian defence magazine Natsionalnaya Oborona, said the migrants had paid their way to the border with Belarus merely acting as a welcoming host. He said he feared an escalation if violence erupted,
"In today's world, you will agree that taking up arms is akin to death, to suicide, especially in the centre of Europe…," he said. "Confronting migrants with "leopards" (tanks) – forgive me but as you and I are military men we understand what it means today to wage a war with these unfortunate people on the Polish border and bring in columns of tanks. It is clear that this is some kind of training exercise or blackmail."
Lukashenko dismissed allegations by his opponents, many of whom have been forced into exile in Poland and Lithuania, that Belarus was acting as a bully.
"We understand full well that if, God forbid, we commit some kind of error, if we stumble, Russia will become involved straight away in such a whirlpool," he said. "We are talking about the most powerful of nuclear states. And I am not stupid. I am fully aware what that could lead to. There are no heroes here…"
Eyewitnesses said the groups of migrants, thought mainly to be from the Middle East, were escorted to the border by unidentified men in khaki uniforms.
But Lukashenko said the refugees were encouraged and taken in hand by groups as a paid service.
"They're not flying off into space," he told the Russian magazine. "They are headed to meet people who are expecting them in Germany – relatives, friends, others. If someone thinks they are befuddled and have simply come all these thousands of km just like that, that is just plain stupidity."
Distraught migrants
Video footage showed groups of people, including many women and small children, distraught and watching developments helplessly along the reinforced border. Accounts from the border say some migrants have paid large sums of money – up to 15,000 euros and more – to make it across only to be repulsed and sent back by Polish border guards.
Lukashenko had previously worked with the EU to keep migrants from crossing the border. But that abruptly ended after EU leaders slapped new sanctions, particularly on key exports, in response to Lukashenko ordering the grounding in May of a scheduled flight crossing through Belarusian airspace and the arrest of a dissident journalist on board.
The EU said it was in talks with 13 countries in the Middle East and Africa that could be sources of people to be flown to Minsk and sent to the EU's external border with Belarus
Russian foreign minister Lavrov suggested that the EU provide Belarus with financial assistance to stop the flow of refugees similar to a deal reached earlier with Turkey.
"Why can they not help Belarus like this? Belarus also needs money to ensure normal conditions for the refugees Lithuania and Poland are reluctant to let in," Lavrov told a news conference in Moscow. "These people don't want to stay in Belarus or Turkey, they want to go to Europe, which has been advertising its lifestyles for years. One should be accountable for one's actions."