Turkmenistan tackles COVID crisis, while making no admissions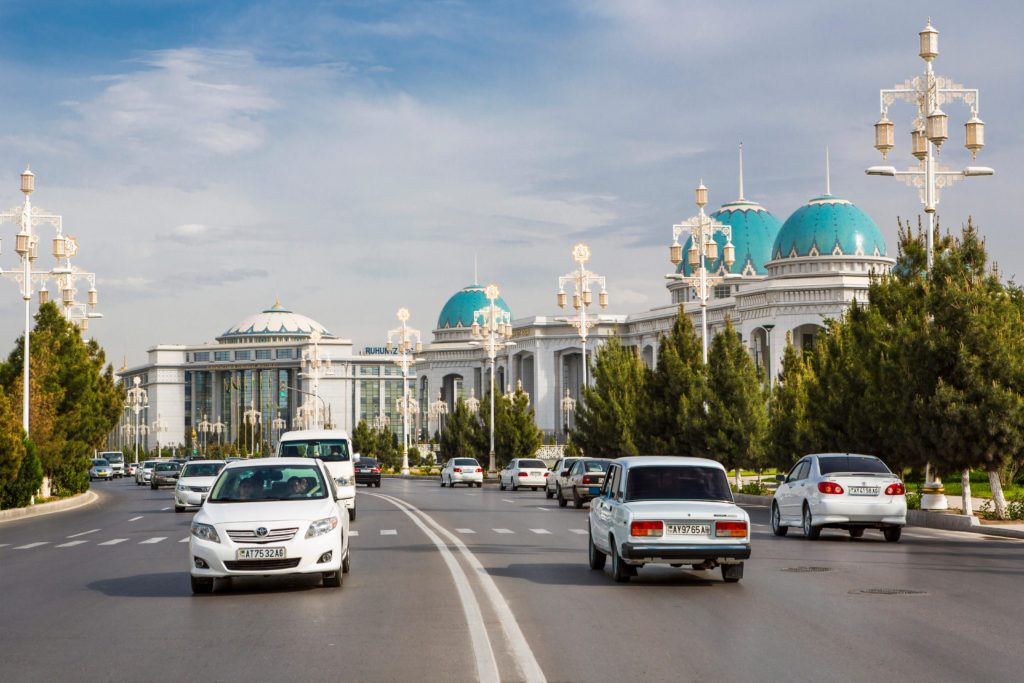 Ashgabat, capital of Turkmenistan (Alamy)
Turkmenistan, emerging slowly from decades of post-Soviet isolation, appears to be tackling its own COVID nightmare by appealing to regional leaders and international organisations for help – while still making no acknowledgement that the pandemic is taking its toll in the Central Asian nation.
Many of the country's quirky immediate post-Soviet practices under Saparmurat Niyazov, Turkmenistan's president from 1985 until his death in 2006, have been abandoned. But firm central control and isolation remain largely the way of doing things.
His successor, dentist Gurbanguly Berdymukhamedov, still won more than 97 percent of the vote in a 2017 election pitting him against eight nominal rivals.
Since the 2020 worldwide outbreak, Turkmenistan has remained one of five countries – along with North Korea and three Pacific island states – to report no COVID cases.
But the evidence of the virus's prevalence is overwhelming as the country slowly expands its international contacts and copes with the other issues it faces – notably how to deal with the new Taliban authorities in neighbouring Afghanistan and how best to ensure prosperity on the basis of its prime resource – natural gas.
Berdymukhamedov has embarked on a number of foreign trips in recent weeks and much of his discussions have focused on the COVID, making it clear that his administration is taking the pandemic seriously. And wants help.
REGIONAL COVID INITIATIVES
In Tajikistan last month, he praised the role of the Shanghai Cooperation Organisation at its 20th anniversary summit, "its capabilities and experience, not only in the traditional spheres of joint activity, but also as they are required in the context of tasks linked to containing the consequences of the pandemic, the resumption of continental economic and transport links, infrastructure and logistics…"
Turkmenistan, he told the gathering, "supports the consolidation of efforts and systemic discussion of medical communities within our countries. And for that, we propose intensifying our joint work with the World Health Organization (WHO) and specialised U.N. bodies." He proposed creating a WHO group to study the coronavirus genome, a WHO group to prevent serious infections and the establishment of a regional Central Asian epidemiological centre.
And days later, in a pre-recorded speech played to the U.N. General Assembly, Berdymukhamedov said that there was "no place for politicising the coronavirus problem".
Within weeks, a senior WHO official was in Turkmenistan addressing an international forum on infectious disease control and talking to the president and senior officials.
WHO MISSION – CAUTIOUS BUT SEEKING CLARITY
The WHO and its Regional Director for Europe, Dr Hans Henri P. Kluge, were careful to take into account Turkmenistan's terms – a statement said Kluge told the meeting that the COVID had revealed "a demonstrable need to rethink global governance structures, the relationship between the private and public sectors, and the values upon which our nations and societies operate."
And that meant being frank and open about the pandemic's circumstances. Kluge, the statement said, "underlined that transparent communications are vital at all levels, from the community up. These are based on evidence and good data, and include reporting according to the International Health Regulations (IHR) (2005) in order to build and maintain trust…"
Berdymukhamedov still insisted there was no COVID in Turkmenistan, according to state media, but acknowledged that special quarantine facilities were being built "to look after people with symptoms similar to those of the coronavirus infection." And 70 percent of the population, he said, had been vaccinated – Russia's Sputnik V and Chinese vaccines have been used.
Both sides agreed on a rapid follow-up mission to visit Turkmenistan.
With little information filtering out, details of how the country is coping with the pandemic are sketchy and anecdotal.
U.S.-funded Radio Free Europe/Radio Liberty quoted informed sources as saying that a "very big" outbreak had struck the Dashoguz women's prison in northern Turkmenistan with the deaths of at least three inmates. The radio also said school holidays were extended indefinitely last month to try to curb a spike in infections in the capital Ashgabat.
"The situation with the virus in Ashgabat is very bad. People who are infected with the virus are constantly being brought to hospitals. About one of every two is sick with it," a health official told RFE/RL.
A Turkish diplomat fell ill last year and died and doctors in his home country confirmed he had died of the virus.
An open letter to the WHO's Dr Kluge from prominent exiled Turkmen human rights groups before his visit bemoaned the authorities' description of mass illness as "pneumonia".
"According to reports from numerous sources, hospitals are overflowing in the capital and the regions," the letter said. "Most people cannot afford to stay in hospital. People who do not have the means to pay are sent away with instructions for treatment at home. Local authorities are allocating land for the expansion of cemeteries or creation of new ones."
And there have been political ramifications.
Two top officials — Mamedmurad Geldinyyazov, the Deputy Prime Minister for Health, Education, Science and Sports and Arslangylych Gylydzhov, the Deputy Minister of Health, were both dismissed during the summer for "serious shortcomings." The head of the State Migration Service was dismissed for the same reason, suggesting that Berdymukhamedov was seeking tighter borders to curb any spillover from neighbouring countries.
For the moment, Berdymukhamedov is pursuing his high-profile drive to visit foreign capitals and expand Turkmenistan's contacts once left in the background. He was in Uzbekistan last week and soon after in the United Arab Emirates to attend the opening days of Expo-2020 in Dubai, which was postponed due to the pandemic.
And while Afghanistan – and finding a way to deal with its new leaders – might be at the top of any regional agenda,  COVID cannot be far behind.