Turkmenistan's one-family rule is unchanged after leadership transition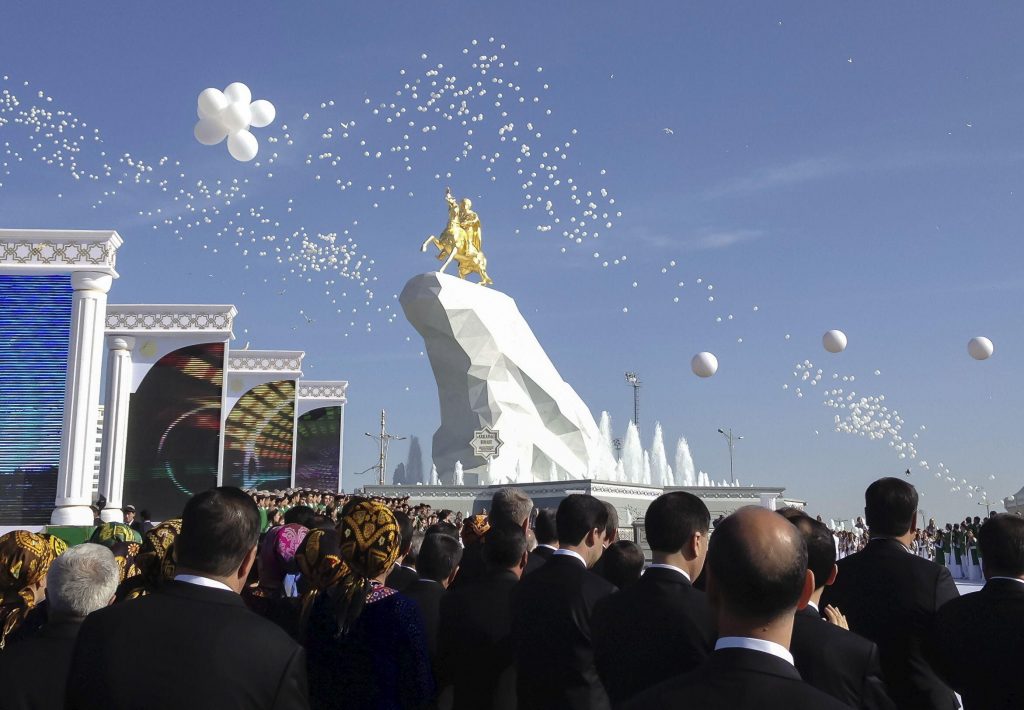 Monument to Gurbanguly Berdymukhamedov, 2015 (Alamy)
By Giovanni Pigni
In a solemn ceremony, Serdar Berdymukhamedov replaced his father Gurbanguly as President of Turkmenistan, after winning a snap presidential election this month. The election was widely seen as a staged formality, aimed at legitimising a leadership transition that will allow the Berdymukhamedov family to retain power.
In his inauguration ceremony, the new Turkmen president, Serdar, 40, pledged to preserve the country's political line, including its international neutrality. The young leader said that he would "continue the path of development created over 30 years of our sacred independence".
Turkmenistan, a post-Soviet gas-rich country, is the most isolated and repressive regime of Central Asia. The elder Berdymukhamedov, who ruled the country with an iron fist since 2006, created his own cult of personality and is known worldwide for his extravagant hobbies such as singing rap songs and rally car driving. On 11th February, Gurbanguly announced his intention to resign after 15 years in power. On 14th March, his son Serdar scored 73 percent of the vote in defeating eight candidates.
Mimicking elections
Since its independence from the former USSR in 1991, no election in Turkmenistan has been recognised as free or fair by international observers.
In the two previous presidential elections, in 2012 and 2017, Gurbanguly won with over 97 percent of the vote. And there was no doubt of the outcome this time — the other eight registered candidates were obscure figures — the most successful rival collected 11 percent of the vote.
"There was not even a hint that someone other than Serdar could have won these elections," said Ruslan Myatiev, editor-in-chief of TurkmenNews, one of the few independent news sources on Turkmenistan.
Matiev,  based in the Netherlands, described the election as completely fabricated.
"The turnout was very low and voting was obligatory for civil servants, for the military, for law enforcement agencies. And they were all told who to vote for," Matiev told the Tribune.
According to Matiev, falling living standards and endemic corruption in the country have largely eroded support for the Berdymukhamedov family. But the elite can still count on repression, total media censorship, and the absence of real opposition to generate the desired results.
"Popular support is largely based on fear," he said.
The rationale behind the transition
Gurbanguly's presidential term was due to expire in 2024, which left many wondering about the rationale behind his early resignation.
Most analysts agreed this was a decision planned long in advance: Serdar's previous promotions to the chairman of the Supreme Control Chamber and the State Security Council indicate he was being prepared to take his father's place.
According to most analysts, Gurbanguly wanted to avoid a possible power struggle within the ruling elite in case of a sudden deterioration of his health, far from optimal according to rumours.
"This initiative was planned in order to ensure that power will remain in the hands of the Berdimukhamedov's family in the long term," said Temur Umarov, a research fellow at the Carnegie Moscow Center.
In the father's shadow
The change of leadership is unlikely to lead to any significant turn in Turkmenistan's political outlook. While formally stepping down in favour of his son, the elder Berdymukhamedov will still keep his grip on the reins of power.
"Serdar will be under the strict supervision of his father. He won't dare to roll back any of his decisions, since that would mean implying that Gurbanguly was wrong on something," said Myatiev. "Gurbanguly will still have the last word and it will be so as long as he is alive."
The new president will likely take on some of his father's administrative duties, while his father retains control over larger-scale issues, such as national security.
"Serdar will manage the boring things his father didn't have time for, such as budget management and some administrative tasks", said Umarov.