Ukraine conflict is Ramzan Kadyrov's chance to prove his Russian patriotic credentials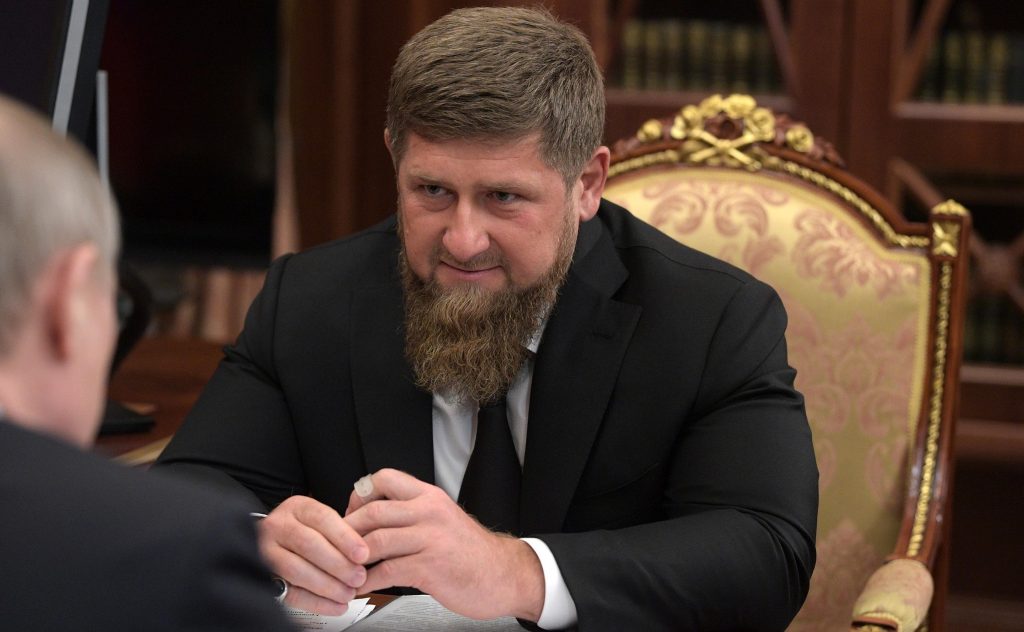 Ramzan Kadyrov in 2017 (Alamy)
When Russian troops halted their advance towards Ukraine's capital earlier this month, Chechnya's leader Ramzan Kadyrov did not hide his disappointment. While the Kremlin's spokesperson Dmitry Peskov described the move as a sign of "good will" towards Ukraine, Kadyrov said Russia should "go until the end".
"I believe we must end what has been started, to destroy the Banderites and the Nazis and the devils," said the Chechen leader on his Telegram channel, referring in part to supporters of Stepan Bandera, a leader of the Ukrainian Insurgent Army that fought German and Soviet forces in World War Two.
In a subsequent video posted to social media, he said it was only a matter of time until Russia takes over Kyiv and all other Ukrainian cities.
A skilful social media user, Kadyrov has been among the most vocal supporters of Kremlin leader Vladimir Putin's war in Ukraine. Thousands of "Kadyrovtsy", an armed militia formally integrated into Russia's law enforcement, but de-facto loyal to Kadyrov, have been fighting in Ukraine since the first days of the invasion launched on 24th February.
According to Western intelligence, Kadyrov's men took part in a failed attempt to kill Ukraine's president, Volodymyr Zelensky, in the first 48 hours of the invasion. They participated in the battle for the Hostomel airport near Kyiv, reportedly enduring heavy losses. Kadyrovtsy are now taking part in the siege of the port of Mariupol, where Ukraine's Azov battalion is still resisting in the ruins of the bombarded city.
"In the end, Hitler ended up in a bunker, and therefore his passionate fans will be destroyed in the same underground," Kadyrov threatened the city defenders in a recent telegram post. Putin — and Kadyrov by extension — describe the invasion as an operation intended to "demilitarise" and "denazify" Ukraine — a reference to the pro-Western leaders who have led the country since a Moscow-friendly president fled amid a popular uprising in 2014.
Kadyrov has been ruling the Russian mountainous Republic of Chechnya since 2007, when he took on the post once held by his father Akhmad, a separatist rebel who fought against the Russian federal forces before switching sides. The elder Kadyrov was killed in a bomb attack in 2004.
Loyalty to Putin
Ramzan Kadyrov pledged absolute loyalty to Russian President Vladimir Putin. In exchange, he was given carte blanche to rule the Republic as his personal fiefdom, establish his own cult of personality and crackdown on any form of dissent. Kadyrov's militia gained a fearsome reputation for suppressing a local armed insurgency, often recurring to extrajudicial killing and abductions, according to human rights advocates.
Since the beginning of the military operation in Ukraine, Kadyrov has been regularly posting videos of his soldiers' military feats. The videos show Kadyrovtsy firing heavy weapons, bragging about their achievements or interrogating Ukrainian prisoners.
While their success in battle has been mixed, Kadyrov's soldiers are mainly serving a propaganda purpose in Ukraine. Exploiting the Chechens' fearsome reputation, Kadyrov aims at spreading fear among the Ukrainian resistance and boosting the morale of Russian troops.
Some of the older Kadyrovtsy are veterans of the two separatist wars in Chechnya and are known for their high motivation and experience in urban close quarter combat.
Images of bombarded Mariupol bring to mind the Chechen capital Grozny, the theatre of heavy fighting between the Russian army and Chechen separatists in the 1990s and the early 2000s. Some analysts say the experience of Kadyrov's men in anti-insurgency operations could prove useful in maintaining control of occupied territories.
Most analysts agree that Kadyrov is using the conflict as a PR opportunity, showcasing the effectiveness of his troops and proving his personal loyalty to Vladimir Putin.
The Kremlin's "foot soldier"
Years ago, Kadyrov gathered his personal army in Grozny's central stadium and defined himself as Putin's most loyal "foot soldier", ready to carry out any mission in any part of the world. And he has kept to his word: his men have been involved in all the conflicts fought by Russia in recent years, from Georgia to Syria to Ukraine.
"He wants to prove that they are indispensable, that they are these tough guys from the mountains, and everybody is afraid of them," said Emil Aslan, Caucasus specialist and professor of security studies at the Charles University of Prague.
As Aslan pointed out, Kadyrov's number one goal is to preserve Moscow's political and financial support, which has been key to rebuilding Chechnya after the separatist wars. Still today, the region is heavily dependent on funding from the federal centre.
By proving his troops' worthiness on the frontline, Kadyrov seeks to score points against his rivals within Russia's security apparatus, most of whom don't trust the Chechen leader because of his exclusive position within Russia's power structure.
"Kadyrov exists outside this established framework," Aslan said.
By taking a hardline stance on the war in Ukraine, the Chechen leader became the voice of the most hawkish part of Russia's elite, which since the start of the operation seems to have taken over Russia's politics.
Kadyrov is not afraid of criticising high-ranking Russian officials for showing insufficient resolve in pursuing the country's national interest. He recently accused Russia's chief negotiator, Vladimir Medinsky, of misinterpreting Russia's goals in Ukraine.
"He wants to portray himself as a bigger Russian nationalist, as a bigger Russian patriot, than the Russians themselves," Aslan said.