Ukraine fighting shifts to east, Zelensky wants tougher sanctions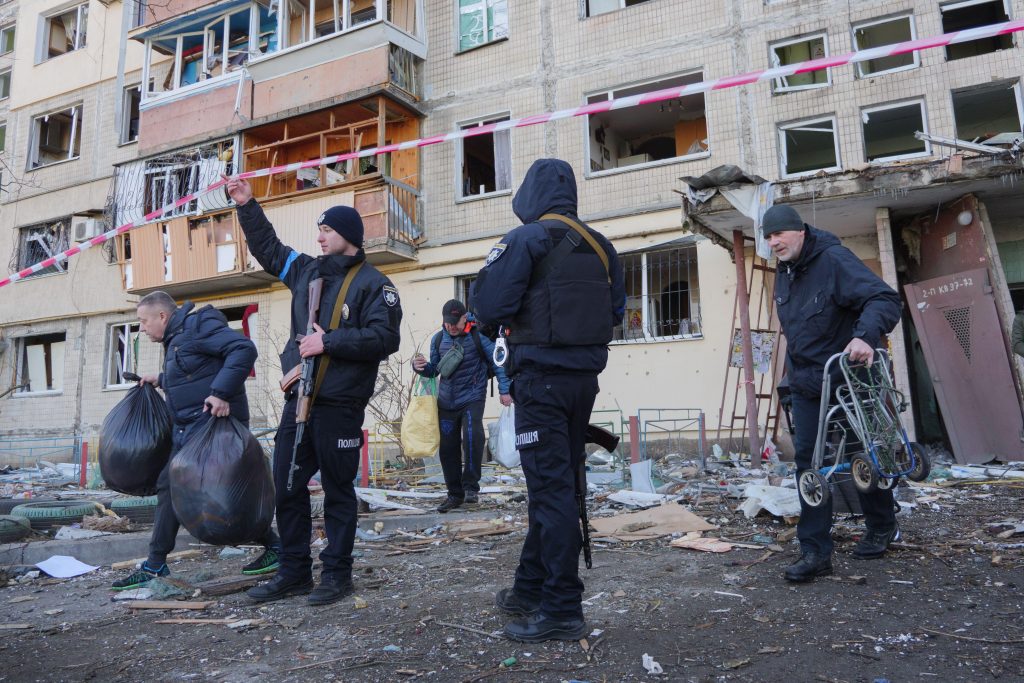 Alamy
Russia shifted the focus of its military drive in Ukraine to the eastern Donbas region, while Western countries enraged by accounts of mass killings slapped new sanctions on Moscow, immediately dismissed as insufficient and ineffective by Ukrainian President Volodymyr Zelensky.
Ukrainian officials urged residents of the Donetsk and Luhansk regions still under their control to leave while they could as the Pentagon said its intelligence showed Russian forces had now abandoned all their positions around Kyiv and the northern city of Chernihiv.
The new Western sanctions focused on family members of banks and on family members of Kremlin leader Vladimir Putin and Foreign Minister Sergei Lavrov – Zelensky said he wanted immediate and sweeping measures against Russian energy exports.
NATO foreign ministers went into the second day of a two-day meeting devoted to assessing the situation in  Ukraine – U.S. Secretary of State Antony Blinken was due to meet his Ukrainian opposite number Dmytro Kuleba.
The U.N. General Assembly was due to consider a U.S.-led proposal to evict Russia from the Human Rights Council. A two-thirds majority would suspend Moscow's membership.
Donbas residents told to leave 
Authorities in Kyiv urged Donbas residents to leave for safer locations while they could.
"Later, people will come under fire," Deputy Prime Minister Iryna Vereshchuk said, "and we won't be able to do anything to help them."
The Mayor of Mariupol, the southern port under Russian siege for the past month, said 5,000 residents had died in the onslaught.
The International Committee of the Red Cross helped to lead to safety a convoy of about 1,000 refugees from Mariupol
At the Pentagon, an official said Russian forces had been withdrawn from around the Kyiv region and Chernihiv  – it was after the troops' withdrawal last week from the town of Bucha, northwest of the capital, that the bodies of residents, some with their hands bound, were found lying in the street and in shallow graves. Ukraine's human rights ombudswoman, Lyudmyla Denisova, said on Wednesday more than 400 residents were missing in the nearby town of Hostomel, without providing any evidence.
"We are not showing Russian forces in or around Kyiv or to the north of Kyiv, and we're not showing Russian forces in or around Chernihiv," a Pentagon official told reporters.
The latest U.S. sanctions targeted Sberbank, which holds one-third of Russia's total banking assets, and Alfabank, the country's fourth largest financial institution. They also were aimed at Putin's two adult daughters, Russian Foreign Minister Sergei Lavrov's wife and daughter, and senior members of Russia's security council.
Britain froze the assets of Russia's largest banks.
European Union leaders were discussing what further measures they could impose on Russia, with proposals including a bar on coal imports, far less significant to the Russian economy than oil and gas.
The US treasury secretary warned that a blanket ban on Russian oil imports would trigger "skyrocketing" energy prices in Europe
Target gas and oil now: Zelensky
Zelensky said only a ban on oil and gas imports could be effective –  Washington has barred imports of Russian oil but Europe has not followed suit – an indication of how dependent the continent is on Russian hydrocarbons.
"Some politicians are still unable to decide how to limit the flow of petrodollars and oil euros to Russia so as not to put their own economies at risk," Zelensky said in his nightly message to boost Ukrainians' morale, predicting that an oil embargo would nevertheless be imposed.
"The only question is how many more Ukrainian men, how many more Ukrainian women, the Russian military will have time to kill in order for you, certain politicians – and we know who you are – to find some determination," he said.
On Tuesday, Zelensky told the U.N. Security Council that it had failed to perform the tasks for which it had been created – to halt conflict – and told members to take the necessary action, reform or disband the institution.
Newly re-elected Hungarian Prime Minister Viktor Orban, the European leader seen as being the closest to Putin, said he told the Kremlin leader by telephone to call an immediate cease-fire.
"I suggested that (Putin) … the Ukrainian president, the French president and the German chancellor hold a meeting here in Budapest, the sooner the better," Orban said. "It should not be a peace negotiation and not a peace settlement, because that takes longer, but an immediate cease-fire agreement."
Orban, who has been exchanging verbal jabs with Zelensky over the past two weeks, also said he would comply with a Russian demand to pay for gas imports in roubles. Other European leaders have refused to comply and Moscow has yet to impose the terms of its demand.
The rouble, which sank sharply in the early days of the invasion and hit a low of 121.5 to the dollar, had returned to its previous levels, trading at just below 80 on Wednesday.