Ukraine skeptical of Russian pledges after new shelling in cities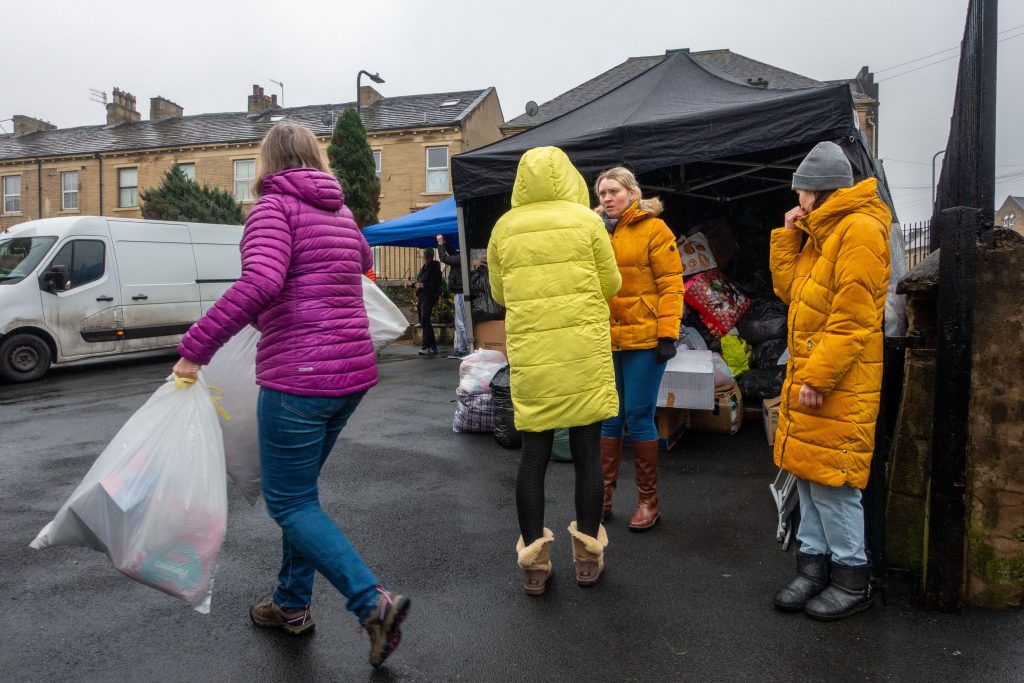 Donations are dropped off for Ukrainian refugees on the Polish border (Alamy)
Ukrainian President Volodymyr Zelensky and other officials remained deeply skeptical of Russian motives after fresh shelling of major towns despite an announcement at talks that Moscow was sharply reducing its attacks on Kyiv and other cities.
Ukraine was bracing for an intensification of Russian activity in the eastern Donbas region after Russian suggestions that it intended to concentrate its efforts on "liberating" those Russian-speaking areas in the east of the country.
U.N. officials said more than 4 million Ukrainians had now fled their country five weeks into the Russian campaign.
And Europeans braced for what many feared would be energy shortages linked to sanctions slapped on Moscow by Western countries. Kremlin leader proposed a solution to overcome resistance to Russia's demand that payments for deliveries of oil and gas be made in roubles – by using a Russian bank as an intermediary.
Kyiv Mayor Vitaly Klitschko dismissed any suggestion that Russian attacks on and around Kyiv had ceased or eased.
"It's not true," Klitschko told European Union officials by video link. "The whole night we listened to sirens, to rocket attacks and we listened to huge explosions east of Kyiv and north of Kyiv. There are immense battles there, people died, they're still dying."
Explosions resounded in and near the suburb of Irpin, which Ukrainian forces said they had recaptured earlier this year. Ukrainians evacuating the area spoke of heavy shelling in and near the town.
In Chernihiv, near the Russian border, where Russia said it was also reducing its attacks, mayor Vladyslav Atroshenko said Russian bombardments had intensified over the past 24 hours. Some 100,000 people remained trapped in the city.
"This is yet another confirmation that Russia always lies," he told CNN.
Zelensky unmoved by Russian statements
In his nightly video address to Ukrainians, Zelensky said he was having none of those Russian assurances.
"The negotiations are underway and continuing, but at the moment these are mere words, without anything concrete. There is a talk about a withdrawal of troops and a lessening of activity around Kyiv and Chernihiv," he said in the video shot after dark outside his office.
"We know that this is not a withdrawal but a result of being pushed out. And we see an accumulation of Russian troops for new strikes in Donbas. And this is what we are preparing for. We don't believe anyone. We don't believe in beautiful phrasing of words. What we have is a real situation on the battlefield,"
At talks the previous day in Turkey, negotiators from both sides had suggested a measure of progress had been achieved in moving towards a peace settlement.
The Russian side had announced the easing of attacks and expressed satisfaction that Ukraine was prepared to accept a status of neutrality with a membership of no military alliances.
"If these conditions are fulfilled, then the threat of a NATO bridgehead being created on Ukrainian territory will be liquidated," top Russian negotiator Vladimir Medinsky said in a statement.
Ukrainian negotiator Mykhailo Podolyak said the talks had produced a negotiating framework, including a 15-year time frame for discussing the future of Crimea, seized and annexed by Moscow in 2014. This, he said, was "proof of the viability of Ukrainian statehood".
But on Wednesday, Kremlin spokesman Dmitry Peskov poured cold water on optimistic talk, saying: "We do not see anything very promising or any breakthroughs Very, very long work is ahead."
Putin proposes solution to pay for Russian energy
Putin proposed a solution to a dispute over Moscow's insistence on payment in roubles for all fossil fuel shipments – a move aimed at buoying the currency against sanctions. G7 industrialised countries have rejected the Russian demand outright.
Putin told German Chancellor Olaf Scholz by telephone that nothing would change for European partners — payments would be made in euros and transferred to Gazprom bank, which would convert the money into roubles, a German spokesperson said.
"Scholz did not agree to this procedure in the conversation, but asked for written information to better understand the procedure," said the spokesperson.
The rouble has recovered much of the dramatic losses it sustained in the immediate aftermath of the 24th February invasion of Ukraine, prompting Western analysts to consider whether the sanctions regime was working effectively.
U.S. and British intelligence said they believed Putin had been misled by military chiefs and advisers afraid to tell him about the true state of the Russian advance into Ukraine and the effects on the Russian economy of sanctions.
Five weeks into the campaign, not a single major city has been taken and advances on the capital have been kept in check. Russian officials have put the number of dead servicemen at about 1,500, while U.S. estimates put that number at up to 7,500.
And the top U.N. human rights body appointed a commission to investigate accusations of war crimes and other abuses committed in Russia's invasion of Ukraine and to identify the people responsible.
The three-person panel, named by the U.N. Human Rights Council, was appointed for an initial period of a year to "establish the facts circumstances and root causes" of any crimes.