Ukrainian mass evacuation plans fail, Putin warns against Western intervention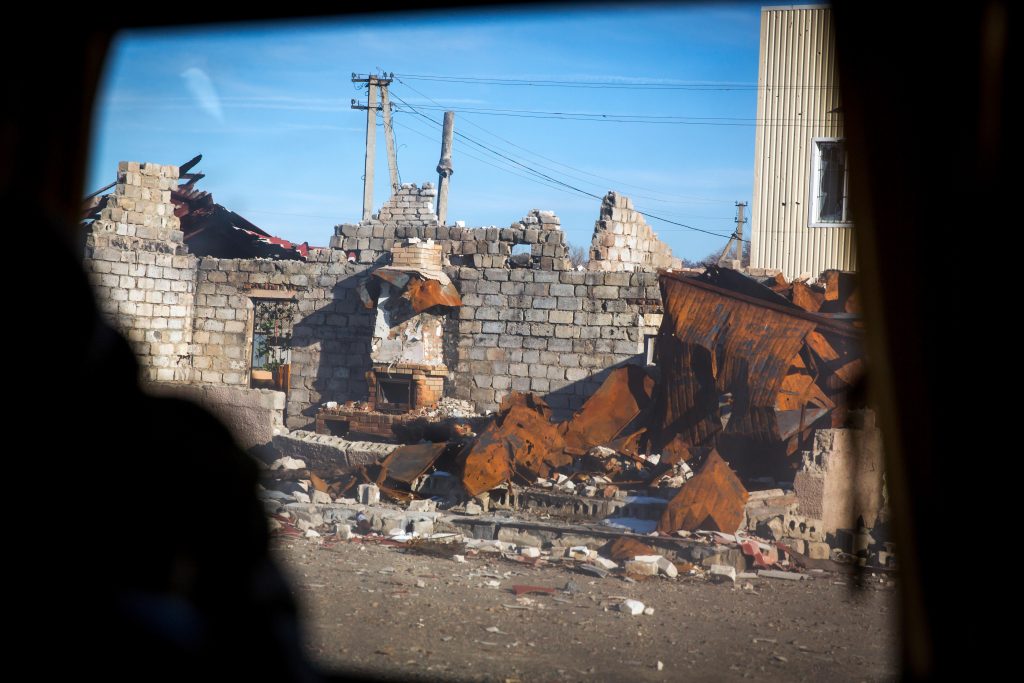 War damage in Stanitsa-Luhansk (Alamy)
Ukrainian plans to evacuate residents from two besieged towns collapsed after authorities said Russia failed to honour cease-fire promises as Kremlin leader Vladimir Putin issued new threats against any Western bid to intervene in a week-old invasion that has devastated cities in the ex-Soviet state.
The Russian military relentlessly pressed on with its drive to get Ukrainian cities to submit, shelling several towns already largely in ruins. But in the sole city controlled by Russian forces, Kherson in Ukraine's south, dozens of demonstrators staged a demonstration, showing disregard for the occupiers.
Ukrainian President Volodymyr Zelensky appeared before some 300 members of the U.S. Congress and issued new appeals for Western help – a "no fly" zone already rejected by NATO or aircraft to help repel the invader. Some 1.4 million Ukrainians have already left the country, most for Poland and Moldova.
Mastercard and Visa were the latest major companies to announce a halt to their operations in Russia, following oil companies BP and Shell and a long list of retailers.
An evacuation of some 200,000 residents of the key Sea of Azov port of Mariupol through a "humanitarian corridor" was called off at the last minute when a cease-fire arranged through lengthy negotiations collapsed. Mariupol has been under intense shell fire for several days and residents have been without water and heat – Ukrainian officials said the attacks even intensified on Saturday evening. Mariupol is seen as important for Russia to establish a bridge between Crimea, occupied in 2014, and two separatist enclaves in eastern Ukraine.
A similar evacuation plan for 15,000 the town of Volnovakha further north was also aborted.
Each side blamed the other for the shattered cease-fire.
Heavy shelling was also reported in towns north of Kyiv – in Chernihiv near the Russian border and in Irpen, northwest of the capital.
Sanctions like a "declaration of war"
In Moscow, Putin issued a new stern warning for the West to steer clear of his drive against Ukraine, describing the imposition of economic sanction against Moscow as "akin to a declaration of war".
He warned Ukrainians that further attempts to resist Moscow's advance could even lead to the country being stripped of its statehood.
"The current leadership needs to understand that if they continue doing what they are doing, they risk the future of Ukrainian statehood," Putin said in televised comments to a group of women flight attendants at a training centre near Moscow.
He also said any third-party countries that tried to impose a no-fly zone over Ukraine would be considered enemy combatants.
Eight years after Moscow annexed the Crimean peninsula and fomented a separatist rebellion in eastern Ukraine, Putin launched the invasion of Ukraine, saying its main objectives were to "demilitarise" and "denazify" the country. He said the West had disregarded his calls for "security guarantees", including an undertaking that Ukraine would never be allowed to join the NATO alliance.
For weeks as the Kremlin pursued a buildup of some 150,000 troops on the Ukrainian border, the Kremlin leader had promised there would be no invasion.
Zelensky has in the past year said that only NATO membership would solve Ukraine's strategic problems.
Putin has said the operation is going to plan, but Russian forces have clearly suffered considerable losses of both men and equipment in the face of stiff Ukrainian resistance  – Ukrainian officials say up to 10,000 men have been killed, though that figure cannot be verified.
In his Zoom session with U.S. lawmakers, in accounts later related by the Congressmen, the Ukrainian president issued a new call for a NATO-imposed "no fly" zone – rejected by the Atlantic alliance on grounds that it would involve direct combat with Russian aircraft and run the risk of a sharp escalation of the conflict.
Proposed deal involving Soviet-era fighters
Zelensky, dressed in his now trademark army-style green shirt, also asked that Ukraine be provided with Soviet-made aircraft now owned by several recently-joined alliance members in eastern Europe. He also told the lawmakers it could well be the last time they saw him alive.
"President Zelensky made a desperate plea," said Senate Majority Leader Chuck Schumer.
He said Zelensky waned the U.S. to facilitate the transfer of planes from Eastern European allies. "I will do all I can to help the administration to facilitate their transfer."
The United States is considering sending American-made F-16s to former Soviet bloc countries in Eastern Europe that are now members of NATO. They, in turn, would send Ukraine their own Soviet-era MiGs, which Ukrainian pilots are trained to fly.
U.S. Secretary of State Antony Blinken, now on a visit to European countries, said the transfer of the fighters was being considered after meeting Ukrainian Foreign Minister Dmytro Kuleba at the Poland-Ukraine border outside the town of Korczowa.
"We are talking about and working on everything," Blinken told reporters.
Later in the day, Zelensky issued another in his series of videos intended to boost morale in the face of more than a week of attacks that have left many areas in ruins, including Kharkiv, the country's second largest city.
The president, looking tired but resolved, urged his compatriots to keep fighting and do everything possible to stop the Russian advance.
"Every metre of our Ukrainian land won by protest and humiliation of the invaders is a step forward, a step towards victory for our entire state. This is a chance to live," he said. "Ukrainians! In all our cities where the enemy entered, feel it. Go on the offensive! You need to go outside! You have to fight!"
The announcement by Visa and Mastercard that they would be suspending all transactions with Russia-issued cards was another indication of the effects of increasingly tough sanctions being slapped on Moscow.
"We are compelled to act following Russia's unprovoked invasion of Ukraine, and the unacceptable events that we have witnessed," Al Kelly, chief executive officer of Visa, said in a statement.
Inditex, the owner of Zara, with more than 500 shops in Russia, also said it was halting its operations.
U.S.-funded Radio Liberty-Free Europe became the latest media outlet to stop its activities in Russia – the broadcaster was formed in 1950 at the height of the Cold War and was a fundamental institution in aiming Western-inspired news at Soviet audiences since 1953.
The BBC, CNN, CBS and ABC have all stopped their operations in response to a law adopted this week by the Russian parliament imposing heavy prison terms for anyone deemed to have disseminated false information.