Georgian unrest soils image, EU dismayed, US mulls sanctions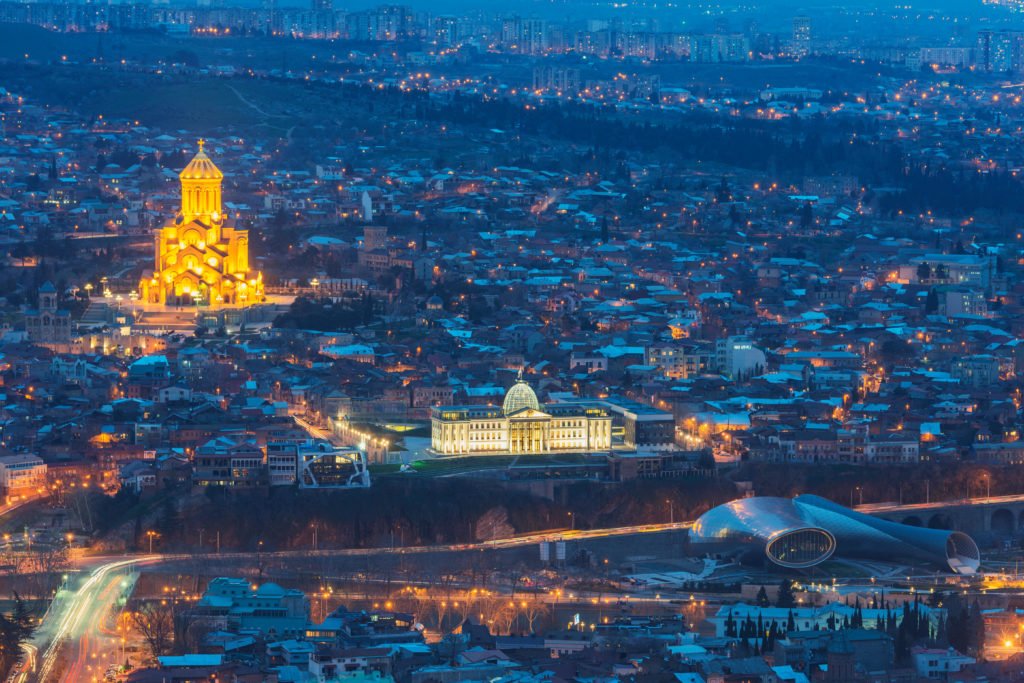 Police scuffle with people protesting death of a journalist after beating, Alamy
TBILISI
Western governments once held up Georgia as the prime example of a post-Soviet republic that moved from near-anarchy. It threw out the entire Soviet playbook, embracing radical economic reforms and progressive ideas.
But its economy, very heavily reliant on tourism in recent years, was decimated disproportionately by the COVID compared to other ex-Soviet countries.
Now months of political unrest and – recently – street violence – are dealing another blow to its attempts to recover. The COVID rates are still relatively high in Georgia, and less than five percent of the population is vaccinated. Rules governing social distancing are now only loosely – if at all – enforced.
Tourism, the country's economic engine due to its breathtaking vistas and unique Occidental-Oriental culture and cuisine, was already greatly reduced. But the latest unrest has led to cancellations due to perceived uncertainty.
"What few bookings there were for tourist flat rentals – many of these people have already cancelled," said one businesswoman, who, like many Georgians, rents out two units.
"NATIONALIST GROUPS" AND INSTABILITY SOUR IMPRESSION
Disputed parliamentary elections last year set off a cascade of demonstrations.
The EU, a close supporter of Georgia, sent a high-level envoy to mediate, but parliament is largely dysfunctional. Many opposition members boycott the body. Chaos and fistfights exploded in a session this week.
And this month, tensions greatly elevated. The trigger – a planned "pride march" by LGBTQ groups. Many in the ruling "Georgian Dream" party advised against it. The conservative Georgian Orthodox Church was especially critical.
The rally had to be abandoned after local journalists in various locations were singled out and beaten, many severely, by groups of marauding men.
More than 50 of them were hospitalised. One, a cameraman for the local private TV station Pirveli TV (1 TV), suffered severe facial wounds. After being released from the hospital, he died two days later. Some in the government say he died from a drug overdose. Police forcefully took away his corpse for analysis a day after his death.
A Polish visitor to Georgia was also stabbed. A few other bystanders reported being attacked in the centre of the capital by types who remarked to them that "they did not look right".
Witnesses said police did nothing to intervene or protect those being attacked.
Later, the throng 0f at most 1,000-2,000 then assembled in front of Parliament, snatched an EU flag and burned it. Georgia is not an EU member, but over 70 percent say they want to join the bloc, and EU flags fly outside government buildings. Again, the police did not intervene in the angry anti-Western outburst.
"All of this is going to have a horrible effect on an already bad situation," said one former Georgian MP and now a private analyst. "You can imagine how the country looks," he added.
Russia has also become an increasing factor in Georgian politics, and a few minor parties go to great lengths to praise Kremlin leader Vladimir Putin. They say he has prevented a "homosexual takeover" of Georgia, Russia, and other countries. While small, the parties appear very well-financed.
Many see Kremlin financing and backing as behind the events in an attempt to destabilise Georgia.
Russia is fiercely opposed to EU or NATO ties with Georgia, and the two countries fought a war in 2008 over the separatist area of Georgia known as South Ossetia. Moscow has set up bases and effectively controls that 20,000 strong statelets and another, Abkhazia.
CONSERVATIVE ORTHODOX CHURCH INCREASINGLY POLITICALLY ASSERTIVE
The violence did not prevent clergy commenting after the street violence in the centre of the capital from warning local journalists to expect more of the same.
Georgian Orthodox Metropolitan Ioane Gamrekeli told one journalist critical of the church and its increasing political activism: "You were hit once, and you will be hit again if you do not stop," when confronted near the ancient Bagrati Cathedral in Kutaisi, western Georgia.
In May, a prominent bishop told the same reporter that journalists were "gremlins" and "energy vampires." He then punched him in the neck.
While the anti-sexual minority group is not thought to represent a major section of public opinion, they are highly vocal. And the highly influential Georgian Orthodox Church is staunch in its opposition to sexual minorities.
In May, local civil society organizations condemned an "alarming" tendency of attacks on journalists by Orthodox Church clerics. They called on the Interior Ministry to "immediately investigate" the cases of persecution against journalists as well as create a "free and safe work environment" for the media.
SOME OBSERVERS SEE REGRESSION
Though the progress was uneven and sometimes criticised as too top-down, especially from 2003-2013 under the former government of exiled ex-President Mikheil Saakashvili, Georgia exited the "failed state" category and began to attract investments. It also set off on a path – albeit likely a very long one if ever – to EU and NATO membership.
But the country's reputation in the West has suffered over the past couple of years. The "Georgian Dream" government is loyal to billionaire oligarch Bidzina Ivanishvili.
FOREIGN REACTION INDICATES FRUSTRATION
Georgia's close ties with the EU did not soften criticism from Brussels.
EU foreign policy spokesman Peter Stano said the 27-member bloc would take "all these developments" into account and "mentions" them in dialogue with Tbilisi. He was referring to the massive financial aid that the EU has given Georgia over the years and more recently to mitigate the COVID fallout.
He said Georgia had committed to "advancing European values" and that this would be enforced in terms of relations. "Fundamental rights…regardless of whether they belong to a minority, ethnic group, language group, national group, gender or sexual minority…have to be guaranteed, protected, and upheld," Stano said.
Georgia also has several key allies among EU member states, most notably Sweden, Lithuania, Estonia, and Poland. But they were unsparing in their criticism of events.
Swedish Foreign Minister Anne Linde expressed condolences over the death of the journalist and added: "Violence against journalists and members of LGBTIQ community is completely unacceptable and needs to be deplored. The perpetrators must be brought to justice."
Lithuania's Foreign Ministry said: "Violence against journalists in Georgia is shocking and unacceptable. The authorities should act immediately against the perpetrators and make an independent inquiry into the tragic death of (journalist) Aleksandre Lashkarava. Any other course is incompatible with Georgia's democratic credentials."
Washington, which has provided Georgia with billions in aid since independence, also condemned the lawlessness and called for an investigation.
It later said it was even contemplating sanctions against anyone involved or having sponsored the attacks.
Several dozen journalistic outlets called on international organisations and governments to respond.
"Cases of violation of the rights of media representatives in Georgia have reached a critical level," said a coordinated statement.
GOVERNMENT DEFIANT
Prime Minister Irakly Garibashvili, known as a favourite of the billionaire Ivanishvili and now, at age 39 in his second stint in the post after his predecessor quit over concerns of anti-democratic tendencies, said that "95 percent" of Georgians supported his government. However, this figure is wildly divergent of any evidence, elections, or polling.
He defended the crackdown, emphasized the emerging church-government union, and said the would-be LGBTQ activists were to blame for inciting violence.
"This is another unsuccessful conspiracy against the state planned by anti-state and anti-church forces," said the Georgian Prime Minister.
"We all saw they tried to use this man's tragedy for achieving their political goals," said Garibashvili, adding that there were "classic anti-state, anti-Church and thus, anti-national" elements among them.
After the death of the journalist, several thousand counter-demonstrators gathered in front of parliament demanding the PM resign. He did not address the issue and says he will not even contemplate such a move.
He alleged the TV outlet the dead journalist worked for and others were "directly run by [ex-President] Mikheil Saakashvili and funds stolen by them [the United National Movement]."
Saakashvili left power after losing parliamentary elections to the tycoon Ivanishvili's bloc in 2012. He was stripped of his Georgian citizenship by the new government and now serves as the head of an anti-corruption committee in Ukraine, where he now holds citizenship.
Despite having been away from his home country for a decade, he is a frequent bugaboo for the current authorities.
ECONOMIC FALLOUT COULD BE DEVASTATING
Georgia is small and has an official population of 3.7 million. Demographers say the real figure is probably significantly less due to people seeking work abroad – meaning the country may have lost half its 1989 Soviet-era population of 5.5 million.
It boasts seven distinct climatological zones, ranging from subtropical Black Sea beaches to mountain areas with peaks exceeding 5,000 meters. Few dared visit the country in the 1990s when armed men wandered the streets.
By 2019 tourist arrivals hit almost 10 million, an astounding turnaround.
But that growth, already devastated by the COVID, may not recover soon, given the current political atmosphere.