Uzbekistan appoints international consultants to privatise 18 state companies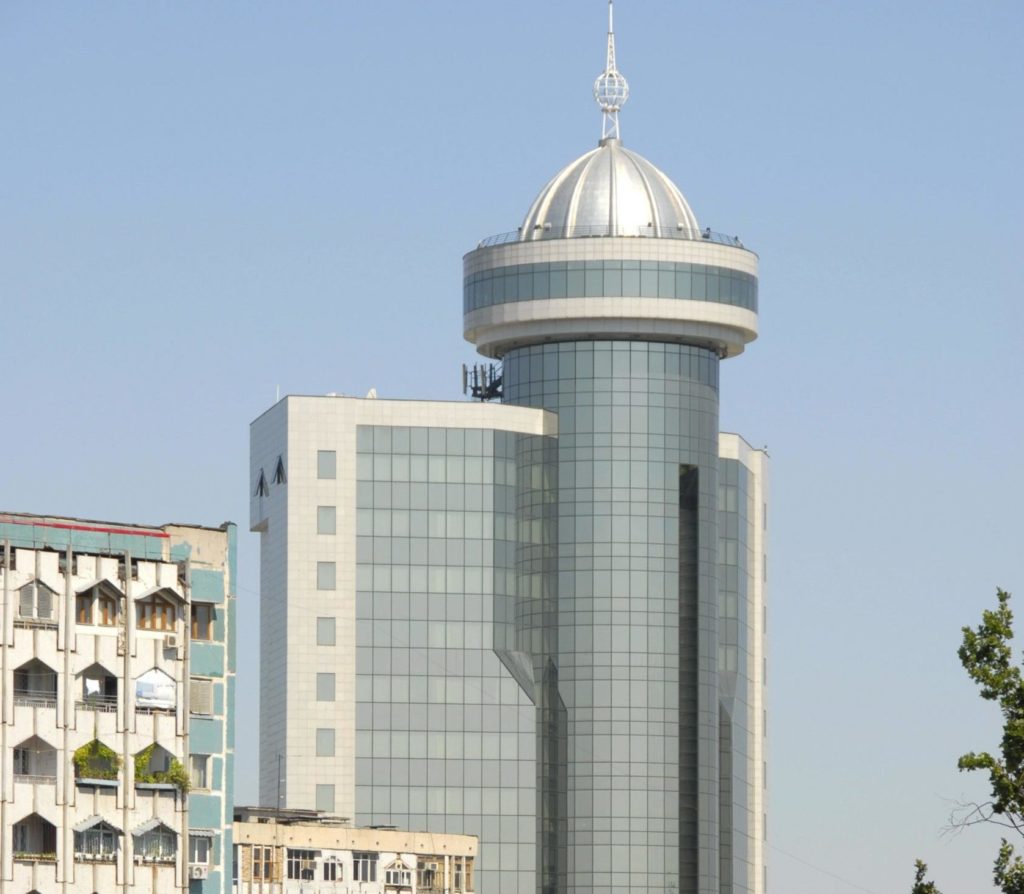 A modern office block in Tashkent (ZUMA/globallookpress.com)
TASHKENT
Uzbekistan has appointed Deloitte, Grant Thornton, and KPMG to advise the State Assets Management Agency (UzSAMA) on the sale of 18 state-owned enterprises and ensure transparency in the privatisation process.
The Central Asian country is making efforts to improve its investment climate after more than two decades of economic isolation that kept foreign and private businesses at a distance, through an ambitious programme of economic as well as some political reforms. President Shavkat Mirziyoyev has made attracting foreign investors one of the top priorities in his ambitious plan to open Uzbekistan to the outside world.
The list of companies to be sold off includes the largest insurance company Kafolat, one of the glass producers as well as the second largest Ferghana Oil Refinery. It also includes oil and gas equipment producer, chemical plant, ten wine and spirits producers.
The foreign consultants were chosen following a competitive and transparent process, UzSAMA said in a statement. It added that consultants would be supporting UzAssets, an investment company established under UzSAMA , by providing financial, tax and legal due diligence, valuation services and identifying and negotiating with potential buyers.
"We have taken a concrete step to ensure a transparent and professional privatisation process familiar to international investors and capital providers, while also accelerating the timeline for the transfer of state-owned assets to private ownership," Akmalkhon Ortikov, the UzSAMA head, said.
UzAssets said it had already attracted 86 proposals from 17 firms from the United Kingdom, the Netherlands, the United States, Russia, China, and Kazakhstan.
Separately, last week UzSAMA has put several major state-owned real estate assets up for sale, offering them to domestic and foreign investors.
Interested parties are invited to submit bids for five commercial properties in the capital Tashkent: a business centre, a hotel complex, a superstore and two downtown buildings primed for redevelopment. Three mountain resort complexes outside the capital have also been put up for sale. Bids, including an earnest money deposit of at least 5 percent of the proposed purchase price, are due by 6 p.m. on April 30.
President Mirziyoyev issued a decree in October 2020 ordering full or partial privatisation of over 620 state-owned companies and properties.
The list includes state companies in the country's energy, mining, chemical sectors, as well as Uzbekistan Airways and Uzbekistan Railways.
As well as offering state assets for sale, Uzbekistan has also sought to improve its investment climate and restore foreign investors' trust by setting up a special legal panel for investment and competition issues.
The country's reform drive has not gone unnoticed. The World Bank has rapidly scaled up support to Uzbekistan, with 21 projects totalling around $3.5 billion -the second largest World Bank programme in the Europe and Central Asia region.  The European Bank for Reconstruction and Development (EBRD) re-engaged with Uzbekistan in September 2018 after a long hiatus, raising its portfolio to 1.8 billion Euros. In June of 2019, the Asian Development Bank approved a new country partnership strategy aligned with Uzbekistan's national development strategy and allocated a cumulative $4.83 billion for loan disbursement.
Foreign Direct Investment (FDI) in Uzbekistan quadrupled from just over $600 million in 1998 to $2.4 billion in 2020.
The country has also advanced in the World Bank's "ease of doing business" rankings. It jumped to No.69 from No.87 previously. In the Economic Freedom ranking by the Heritage Foundation, Uzbekistan scored 57.2 points, up from 46 and elevated from "mostly unfree" to the "moderately free" category.