Uzbekistan-based fintech startup in Islamic financing closes its $1 million seed round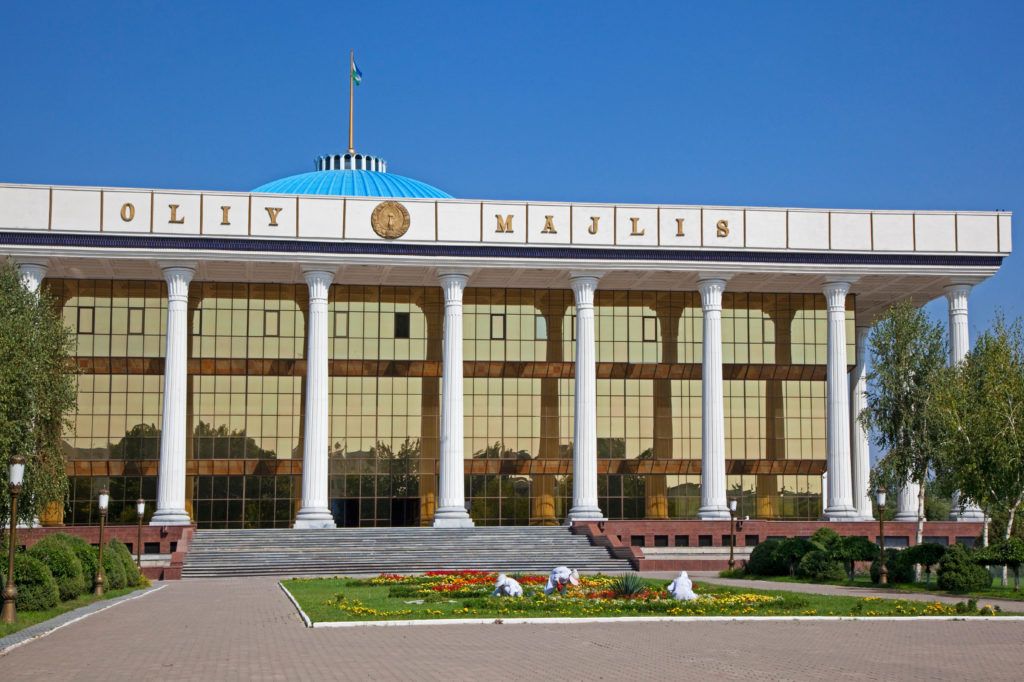 Uzbekistan's Senate, the upper chamber of parliament (Alamy)
TASHKENT
Uzbekistan-based fintech IMAN has closed its $1 million seed round led by investors based in Singapore and in the United States to be a pioneer in Islamic financing in the country with the largest Muslim population in Central Asia.
A fintech startup will use technology to ease access to finance in line with customers' faith and revolutionise the way people in Muslim majority markets shop and invest – the halal way, IMAN said in a press release.
IMAN, founded by entrepreneurs Rustam Rahmatov and Mark Zubov, combines a mobile app IMAN Invest and IMAN Pay – halal Buy Now Pay Later (BNPL) solution built around a vision to become one of the leading halal fintech companies in Asia.
The company said that IMAN Invest had more than 30,000 active users and managed over $1.2 million from 1,000 retail investors based in around 60 countries. Halal BNPL is connected to more than 100 merchants offering goods and services across consumer electronics, household appliances, sports, healthcare, and educational services categories.
According to the IMAN, the $1 million round was completed by a group of eight venture capitalists and investment funds based in various countries, including the United States, Uzbekistan, Kazakhstan, and Singapore.
Currently, there are multiple players in Uzbekistan offering classic POS (point of sale) lending, and "IMAN is capitalising on this demand but is also creating a synthesis of halal BNPL funded by halal investments," the company said.
IMAN is one of the few BNPL players that relies solely on halal sources of funding, it said adding that it has compliance certification ("fatwa") from the Muslim Board of Uzbekistan.
"Uzbekistan is undertaking a serious and ambitious reform program, not unlike other countries where we have done well in the past … The combination of a rapidly growing economy and consumers' increased comfort with technology created an exciting opportunity for the IMAN team to build a halal super app starting in Uzbekistan," Ed Simnett, Battery Road Digital Holdings (BRDH) official, said
The founder of the IMAN Rustam Rahmatov said the first investment they received would help to scale the technology in order to integrate seamlessly with retail partners across Uzbekistan both online and offline to provide finance in seconds.
"We will be able to roll out partnerships with merchants across all sectors more aggressively including beauty and fashion and other fast-moving consumer goods, as well as services," Rahmatov said.
With an ambitious plan of making halal BNPL and investments everyday accessibility, first in Uzbekistan and then globally, IMAN will start exploring opportunities in other Muslim majority markets in early 2023, he added.
Uzbekistan has been mulling over introducing Islamic banking for years. Authorities say they are close to drafting a legal basis for the system that could attract millions of dollars into the economy.
President Shavkat Mirziyoyev, who came to power in 2016 and launched serious reforms to open up the country for foreign investments, tasked the country's parliament to draw up a legal framework for Islamic banking a few years ago.
Uzbek authorities and banking experts say current legislation contains no direct restrictions on implementing Islamic banking. But there is no legal basis to allow Islamic financial services to work, which could open the way for millions of dollars of investments to revive the private business.
Islamic banking, also referred to as Islamic finance, refers to finance or banking activities that adhere to Islamic law which rules out interest payments and is founded on the principle of sharing of profit and loss. Islamic banks make a profit through equity participation, which requires a borrower to give the bank a share in their profits rather than paying interest.