Uzbekistan's reformist president easily secures re-election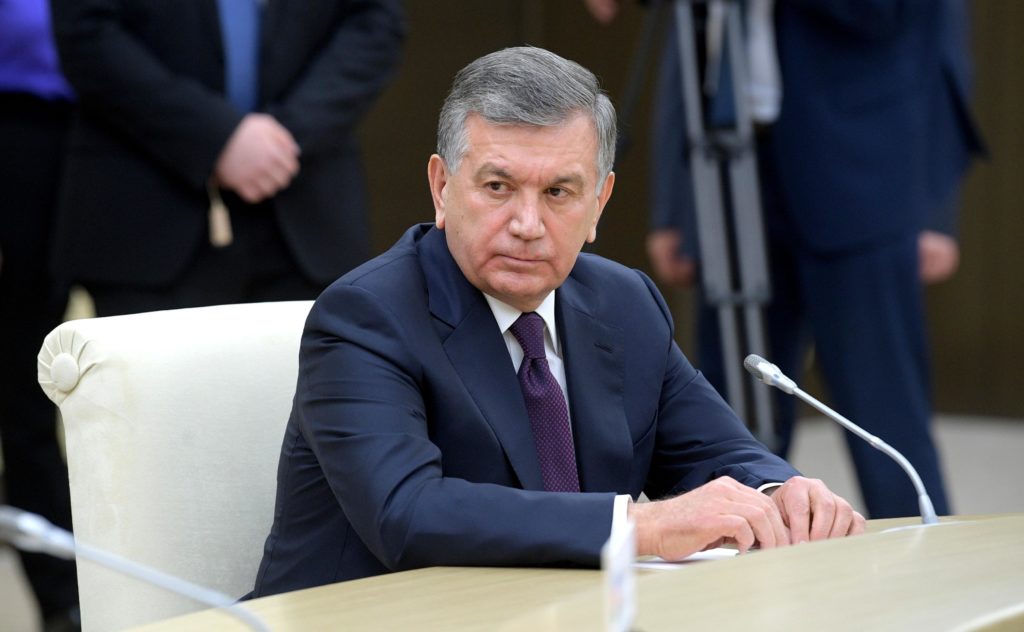 Uzbek President Shavkat Mirziyoyev (Alamy)
TASHKENT
Uzbek President Shavkat Mirziyoyev easily won re-election after five years of popular reforms which have opened up the ex-Soviet Central Asian nation to foreign investors and the world and a campaign offering voters lucrative promises to pursue change, launch industrial projects, provide jobs and raise living standards.
Mirziyoyev faced four rivals, but the issue was never in doubt in a contest described by monitors from the Organisation for Security and Cooperation in Europe as offering voters few opportunities to see any interaction between the candidates. The OSCE praised developments in the electoral process and media climate but also noted some old-style practices that appeared to die-hard — such as intimidation and harassment of journalists and bloggers and blocking of some websites of international media.
The Central Election Commission said the president had secured 80.1 percent of the vote. Turnout stood at 80.8 percent, far in excess of the 33 percent required to make the vote valid. Officials said the poll was "in line with democratic principles, open and transparent".
"The fact that over 80 percent voted in the election shows our nation is not indifferent to the country's future," Mirziyoyev said as the count drew to a close. "I bow down in front of our mothers, sisters, daughters, the youth and fellow party people for trusting and choosing me."
Mirziyoyev, the nominee of the ruling Liberal Democratic Party (UzLiDeP), offered something for virtually everyone during his election meetings, promising billions of dollars in investments, development and job creation as the logical steps forward in the reforms when he took over after the death in 2016 of Uzbekistan's first post-independence leader, Islam Karimov.
After more than two decades of Karimov's iron-fisted leadership, isolation and centralised rule, Mirziyoyev has opened up the country to the world, moved away from its rights-abusive past and enhanced the country's reputation abroad.
Among the main changes in social and political life is the elimination of the state-organised forced child and adult labour in the country's cotton fields, the release of people imprisoned on politically motivated charges, the registration of independent non-governmental organisations and an easing of restrictions on religious and media freedoms.
A Tashkent pensioner who gave her first name as Zulkhomer said she voted for the president in view of the changes she had witnessed over the past five years.
"Before that, we could spend days going through state bodies with our papers to approve this or that application. Nowadays it is done within hours," she said. "With him, we expect more changes."
Another Tashkent resident, aged 35, acknowledged the outcome was obvious in advance.
"But I have no problem with that because Mirziyoyev has made many changes and he promised to continue the reforms he launched."
Dismantling foreign exchange regulations
The biggest and boldest step in 2017 was the dismantling of a complex system of foreign exchange restrictions that amounted to the main obstacle to attracting foreign companies. Abolishing foreign exchange restrictions, which were in place for decades, also allowed people to legally buy and sell foreign currency at banks.
Mirziyoyev's other economic reforms were aimed primarily at liberalisation of the economy, moving towards free-market systems and regulations, scrapping administrative burdens for private business and privatisation of more than 1,000 state enterprises and assets.
In foreign policy, he opted, as a priority, for close ties with Uzbekistan's neighbours, repairing strains entrenched since all the Central Asian republics became independent from the Soviet Union in 1991.
Uzbekistan has also emerged as one of the most attractive tourist destinations in the region and far beyond following the introduction of a visa-free regime for visitors from dozens of developed countries and an e-visa system for more than 100 countries.
Mirziyoyev was appointed Uzbekistan's prime minister in 2003 after working as a district and regional governor. On Karimov's death in 2016, he became acting president. According to the Uzbek constitution, it was the Senate Speaker who was to take the temporary position. But speaker Nigmatulla Yuldashev deferred to Mirziyoyev on grounds that the latter had a better experience and was better known to Uzbekistan's people.
Mirziyoyev won the election in December 2016, securing more than 90 percent of the vote.
Mirziyoyev was born on July 24, 1957, in the Zaamin District of the Jizzakh region. In 1981 he graduated from the Tashkent Institute of Engineers of Irrigation and Mechanization of Agriculture and earned a degree in mechanical engineering. According to the president's press service, he holds a PhD in Technical Sciences, Associate Professor.
Alternative candidates, but no criticism of the president
Each of Uzbekistan's five registered political parties nominated a presidential candidate – but Mirziyoyev's challengers, all members of the legislative chamber of parliament, were not widely known to most voters.
They are the National Revival Democratic Party leader Alisher Kadirov, Maqsuda Vorisova from the People's Democratic Party, the Adolat (Justice) Social Democratic Party leader Bahrom Abduhalimov, and from the Ecological Party, Narzullo Oblomurodov.
None of the challengers has ever criticised the incumbent president or his reform programme.
Vorisova's candidacy is notable for being the only woman to run for the country's top office.
But the challenger with a degree of notoriety is Alisher Kadirov, a deputy speaker of parliament known for outspoken comments about Uzbek migrants earning money abroad, mainly in Russia, as well as statements criticising the use of the Russian language in post-Soviet Uzbekistan and calls to deport en masse the country's LGBT community.
Kadirov's proposal to make Uzbeks working abroad pay income tax at home was met with anger and sparked a lively debate on social media networks.
"Let's be more patriotic, let migrants also pay tax for the development of the country," Kadirov said.
Mirziyoyev eventually responded, saying he would never impose such regulations as long he remained in power.
"As a candidate, I want to clearly clarify my position on this issue. Currently, more than 2.5 million of our citizens work abroad. …they pay taxes abroad, and send the rest to their families…we only need to thank them for that," Mirziyoyev said.
It was the only occasion when the incumbent president openly reacted to a proposal made by a rival candidate.
In Uzbekistan's election history, there have never been direct and open debates between the presidential nominees. And this time was no exception. On October 19, Uzbek state TV held live direct debates between representatives of the five presidential candidates.
OSCE, other monitors observe voting
The OSCE's Office for Democratic Institutions and Human Rights (OSCE/ODIHR) has 289 observers watching the campaign and election-day procedures at polling stations — in all, about 970 observers were registered.
ODIHR's interim report issued in early October said that "so far, there has been no direct or meaningful engagement between contestants".
The Uzbek government has taken on board some previous recommendations on holding elections, while ignoring others, monitors said.
"Amendments adopted so far address a number of previous ODIHR recommendations including a simplified notification procedure for campaign events, some safeguards against the misuse of office during campaigning, elimination of parallel dispute resolution avenues and a new interim campaign finance report requirement. Other long-standing recommendations on shortcomings in the protection of fundamental rights and freedoms remain unaddressed," the report said.