"Very Nice" Kazakhstan eyes tourist future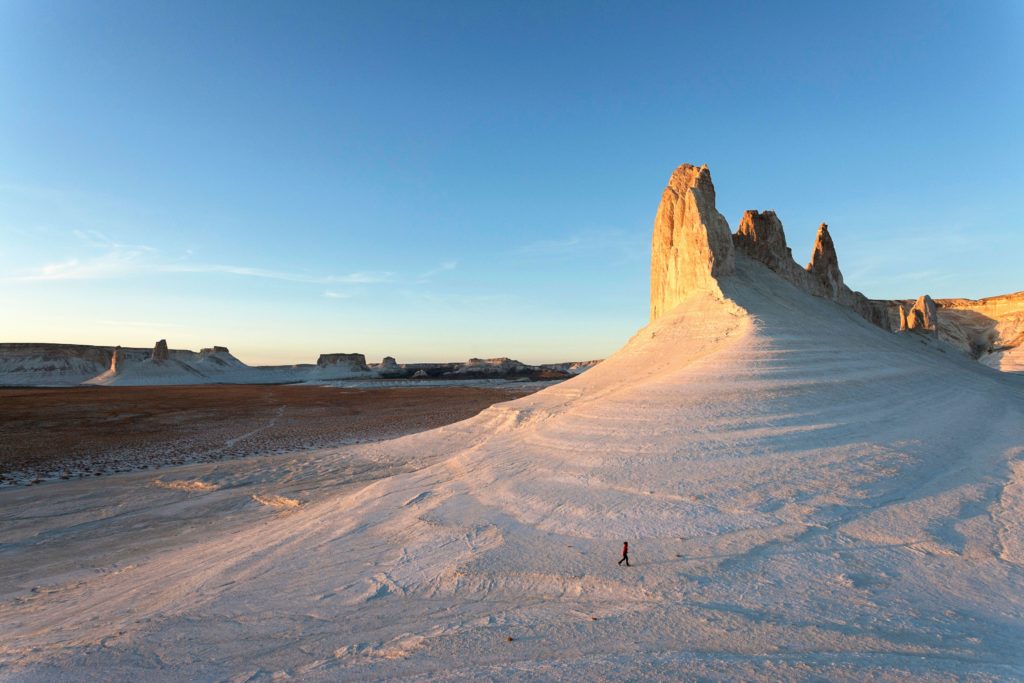 Rock formations, limestone mountains, Caspian Depression desert, Aktau (Alamy))
NUR-SULTAN
More noted for oil production and massive resources, Kazakhstan is a huge territory almost the size of the EU with a tiny fraction of the population (19 million compared to the EU's roughly 500 million).
For years, to many people, Kazakhstan was obscure to the point most outside the ex-Soviet Union had little knowledge of it.
Realising that fossil fuels would not last forever, Kazakhstan took steps to diversify its economy. This included a new focus on its tourism industry. Though under-developed, officials knew it was an area that had much to offer, including little-known mountain lakes, ancient sites, and eclectic, unusual history.
A PR gem in disguise popped up in the form of a Hollywood film. It had little to do with Kazakhstan, but it may have been its biggest free advertisement ever.
The 2006 film and its 2020 sequel involved, of course, "Borat", featuring British actor Sacha Barron Cohen as the fictional would-be semi-coherent reporter who, repeatedly, says he is from Kazakhstan.
"Borat" wandered the USA as a fictional "Kazakhstani" journalist, luring notable Americans into awkward comments. Some of Cohen's relatives were from present-day ex-Soviet Belarus, among them Holocaust survivors. The first "Borat" film" drew condemnation from the Kazakhstan government as a cultural affront.
But as an evident by-product, interest in Kazakhstan swiftly rose, including tourist arrivals to the country.
The government now says "Borat" helped put the country on the map. Officials went from feigned outrage to sensing a PR draw.
"VERY NICE!"
The state agency "Kazakhstan Tourism" soon launched an advertising campaign under Borat's very slogan, "Very Nice!" The PR campaign got millions of web views, according to Daniel Serzhanuly, Director of the Tourism Development Department at state agency "Kazakhstan Tourism".
"We are glad that people will learn about Kazakhstan. It doesn't matter which way," he told the Tribune.
Some cultural figures said the initial government reaction was knee-jerk.
"I don't think 'Borat' is a bad reflection on Kazakhstan," a prominent comedian, Nurlan Batyrov said. "Many people didn't know we existed, to begin with. What image are we talking about?" he said.
And there's no denying that in terms of tourism, Borat has given the country a boost. Officials say visitor numbers are rising, though exact data is hard to determine.
Still, it's a trend that the country is keen to build momentum on: Kazakhstan's government is spending $50 million a year to promote tourism.
Kazakhstan has long advertised on international TV media outlets, touting foreign investment property rights, judicial guarantees and stability.
It's now adding promoting its attractiveness as a tourist destination for foreigners to the list. But there is also an under-tapped market for locals to discover their own country.
For domestic travellers, cost remains the biggest sticking point. More often, locals holiday abroad, in places like Thailand, Turkey, or Georgia because they are cheaper. As well as offering superior service and better facilities.
"It doesn't make sense. I can get better quality, including airfare if I fly to places for less than staying here in Kazakhstan," one recent tourist who went abroad said.
TOURISM DEVELOPMENT STRATEGY
Most tourists to Kazakhstan tend to stick to the commercial capital, Almaty and its environs. Facilities are more developed there. It is also less than an hour away from world-class ski possibilities and hideaway cabins at high elevations. Extreme sports not allowed in much of Europe are welcome here, such as high mountain freeskiing.
Yet this extreme southern part of the vast country is also a quick jumping-off point to neighbouring Uzbekistan and its capital, Tashkent, as well as Kyrgyzstan, a tiny, poorer country with unspoiled mountains.
As a strategy, Kazakhstan state officials identified 100 "magnet sites" as tourist draws and as targets for government investment.
Serzhanuly of "Kazakhstan Tourism" says the goal is to attract visitors using history, including the country's eclectic nomadic culture.
For thousands of years, nomads have lived on this land, grazing livestock in spacious valleys near rivers and picturesque foothills. Nomadism in Central Asia was common only in modern-day parts of Kazakhstan and Kyrgyzstan, a much smaller and poorer country.
In recent times, the "tourists" were either foreign business types taking a weekend off to visit a few typical spots or the odd eco-tourist. Kazakhstan wants to emphasise off-the-beaten-track themes and places to lure more holidaymakers.
Culinary master classes are also proving an unexpected attraction.
Every country seems to boast its gastronomic "uniqueness". Kazakhstan's has an unusual twist.
Due to its history of nomadism, wheat or other flour was a rarity. Grains usually are cultivated in sedentary settings.
This meant traditional sustenance was simple meat in broth, devoid of grain-based ingredients – including Beshbarmak –widely accepted as the national dish.
Beshbarmak later came to include a ball of dough or noodles. Kazakhstan culinary experts say the country's location next to Russia (always a major grain producer) was behind the relatively recent addition.
"Fortunately, today there are a lot of creative people who serve traditional Kazakh cuisine in a modern context, who can meet the tastes of vegetarians, as well as people who prefer light cuisine," said Rashida Shai Kenova, head of the Kazakhstan Tourist Association.
KAZAKHSTAN'S "MAGNET SITES" 
In its push to attract tourists, Kazakhstan's new strategy is to draw attention to its hidden gems. Unusual, beautiful, usually remote, many of these sites, often situated hundreds of kilometres from its major cities, will require extensive infrastructure upgrades, starting with better transport links, to draw regular crowds.
LAKE ALAKOL
The body of water is unique and bizarre for its shifting colour, mostly a varying turquoise blue.
Lake Alkanol is far from Almaty – more than 600 km – and the official capital of Nur-Sultan (1,350 km), close to its border with China.
It is extremely salty and considered a "therapeutic" draw for a variety of ailments. There are several "sanatorium" type resorts nearby.
Its purported health qualities made it a popular destination for Soviet cosmonauts returning from space missions, which still begin and end in Kazakhstan from the Baikonur Cosmodrome.
BAIKONUR COSMODROME 
More than 1,200 km from either Almaty or Nur-Sultan, Baikonur is still the heart of the Soviet (now Russian) space effort. Moscow now leases it from the Kazakhstan government.
Yuri Gagarin, the first human to complete an Earth orbit, took off from Baikonur in 1961, when Kazakhstan was part of the Soviet Union.
And to this day, Russian and mixed-national crews still take off for the International Space Station (ISS) from Baikonur aboard Soyuz rockets, their capsules, and "Progress" unmanned supply craft docking with the ISS.
Crews returning from the ISS also land in Kazakhstan, in relatively predictable areas in terms of relief. This is no doubt less risky than rugged areas or sea landings. Yet so vast is the area that some returning craft can take hours to locate if they are slightly off-course.
Baikonur city, given its entire existence, is owed to the space effort, is small. A few hours are enough to see the main sights.
Kazakhstan and Russia have big tourist plans for Baikonur, with world-class hotels and a spiffed-up list of attractions. Planners want up to half a million visitors annually.
LAKE BALKHASH
Balkhash is the only lake on the planet that consists of fresh and salty regions. The sandy beaches of the unique reservoir attract the usual lovers of sunbathing and swimmers, fishermen and hunters.
The region is also rich in history. To the south of the lake are the remnants of "Karamergen" – a medieval agricultural mecca in the ancient Ili River delta and a UNESCO World Heritage site. To the north of the lake is the Beta-Ata volcanic massif. An unusual rock mass appeared due to the melting of rocks during the inception of an unexploded volcano.
TURKESTAN
The city of Turkestan has a 1,500-year history. This ancient settlement is home to many religious and historical monuments, including the famous mausoleum of Khoja Ahmet Yaravi.
"A special atmosphere of immersion in the nomadic way of life, way of life and traditions of nomads will be created by the commissioned multifunctional tourist complex 'Caravan-Sarai," Totty Rimula, Minister of Culture and Sports, told the Tribune.
There are already major hotels, covered artisan markets, an oriental bazaar, a canal with gondolas, and a flying theatre with full immersion in the virtual world.
"You can make a unique journey and plunge into the history of the Kazakh people, "he said.
CASPIAN SHORE: MANGYSTAU/AKTAU
The Caspian shore is not just a scenic area. Mangystau hosts 362 shrines, some of them dating to the early Muslim era, underground Sufi temples, and pre-Islamic sites.
The topography is equally stunning, with majestic rock outcroppings rising from the parched surrounding landscape. There are several nature reserves in the area.
NUR-SULTAN
The national capital only since 1998, Nur-Sultan, previously named Astana (until 2019), Akmola, and before that Tselinograd, is a post-modernist wonder.
The government made it the capital – moved from Almaty – as a more central location. And thus, closer to the north of Kazakhstan, which is mostly ethnic Russian. (Ethnic Russians are 20 percent of the country's population).
Whipped into a capital in fairly short order, its modernist architecture is a reflection of the transition.
Nur-Sultan is now home to the largest mosque in Central Asia – Khazret Sultan – a majestic structure with high minarets thrusting skyward.
"Khan Shatyr" (literally translated from Kazakh – "Tsar-Tent") is a shopping area in the form of a giant tent, the largest outdoor tent in the world.
CHALLENGING TRAVEL
Since the tourist industry remains under-developed, travel in Kazakhstan isn't always a smooth experience.
Travelling independently is still relatively rare, said Ms Kenova of the Tourism Association. "Unfortunately, good roads are a big problem. Therefore, travelling in Kazakhstan is not easy. You need to trust the trip to specialists who know these places and can ensure safety, take into account everything to the smallest detail."
"Like any developing destination, we have standard tourism challenges. We still have imperfect procedures and regulatory mechanisms. Our market has not yet formed. But these are all temporary things. Most importantly, we have a desire to develop tourism, there is a community, there are enthusiasts, with whom everything starts," said Kazakhstan Tourism official Daniel Serzhanuly.