Western nations discuss help for Ukraine, U.N. chief heads for Kyiv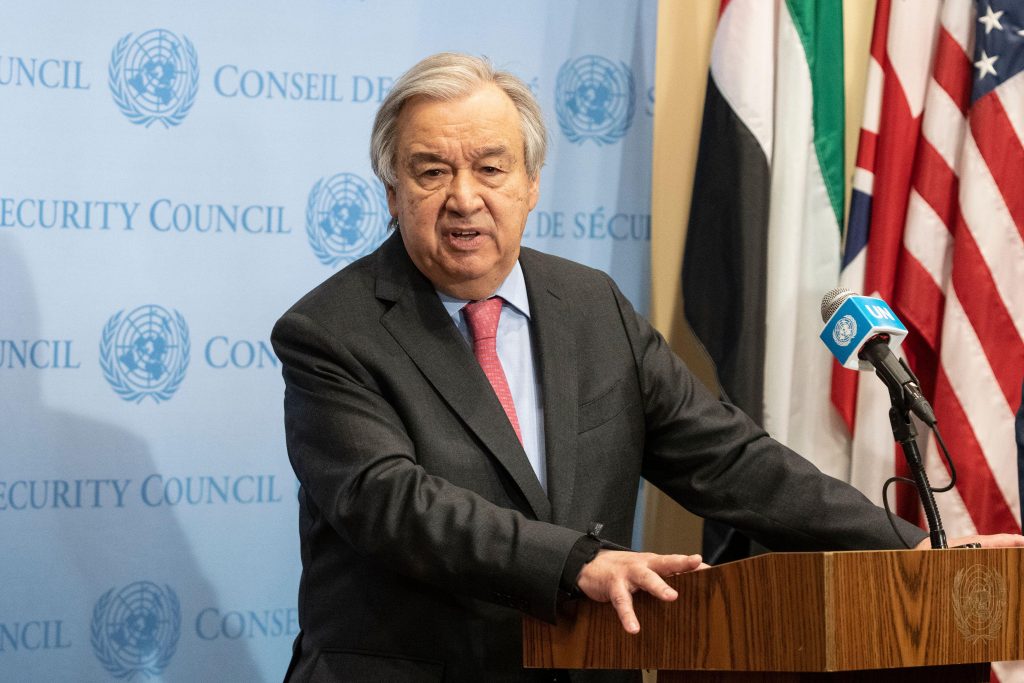 U.N. Secretary General Antonio Guterres brief reporters on the war in Ukraine on 14th March (Alamy)
Western nations stepped up pledges of military hardware for Ukraine in response to calls from the United States to boost Kyiv's military capabilities to ensure that the Kremlin could never undertake another similar military adventure.
Germany embarked on a dramatic reversal of its previous reluctance to supply weapons, agreeing to dispatch dozens of armoured anti-aircraft vehicles to the ex-Soviet state.
Russian Foreign Minister Sergei Lavrov, speaking after talks in Moscow with U.N. Secretary-General Antonio Guterres, predicted that a further influx of Western arms could disrupt or even sabotage sporadic talks with Kyiv on ending the conflict.
A day earlier, Lavrov had warned that the risk of nuclear conflict had been increased and that the supply of Western weapons meant NATO "in essence, is engaged in a war with Russia through a proxy and is arming that proxy".
The head of the International Atomic Energy Agency, speaking at the Chernobyl nuclear power plant on the 36th anniversary of the world's worst civil nuclear accident, said Russia's occupation of the facility early in the conflict had been "very, very dangerous" and pledged to help Ukraine carry out necessary repairs.
Western officials, meeting at the giant U.S. military base at Ramstein in Germany, agreed to ramp up their military assistance to Kyiv, including howitzers, armed drones, tanks and ammunition, demonstrated a united stand after two months of conflict that have left Ukrainian cities in ruins despite what have clearly been substantial Russian losses.
"Putin never imagined that the world would rally behind Ukraine so swiftly and surely," American Defense Secretary Lloyd Austin told officials from 40 countries. "Russia's invasion is indefensible and so are Russian atrocities."
On Monday, Austin had said Washington wanted to see Russia "weakened to the degree that it can't do the kinds of things that it has done in invading Ukraine".
Lavrov said that augured badly for talks aimed at reaching a settlement with Ukraine and halting the fighting.
"They will continue that line by filling Ukraine with weapons," he said. "If that continues, negotiations won't yield any result."
Lavrov had earlier restated Moscow's rationale for launching the war – to disarm Ukraine, root out what the Kremlin sees as extreme right-wing elements in the country and counter the eastward advance of NATO to the former Warsaw Pact countries since the 1990s. He also accused Ukraine and its president, Volodymyr Zelensky, of negotiating in bad faith by first agreeing to abandon its plans to join the Alliance and adopt neutral status – only to back away from those pledges later.
Moscow "senses defeat" — Ukrainian minister
Ukrainian Foreign Minister Dmytro Kuleba said Lavrov's warning not to underestimate the danger of nuclear war amounted to a sign that "Moscow senses defeat in Ukraine."
Guterres came away from Moscow at the very least with agreement by the Kremlin to allow the United  Nations and International Red Cross to oversee the evacuation of civilians from the bleakest humanitarian situation in the country – the besieged and largely destroyed port of Mariupol – where hundreds remain holed up in the giant Azov steel works, together with Ukrainian fighters.
But there was little evidence of any progress on other issues linked to ending the war.
Guterres later held talk in Poland which has hosted the bulk of the more than 5 million Ukrainians who have fled the country to escape the fighting and was due in Kyiv on Wednesday.
Russian reports said Moscow's forces had made gains in its new objective of securing control over the east of the country – and in the south, with the aim of creating a bridge to link Crimea, annexed by the Kremlin in 2014 with two separatist areas in the east run by Moscow proxies for eight years. Moscow reported gains in Kharkiv, Mykolayiv and in Kherson, where some reports said Russian occupying forces were about to stage a referendum on associating the region with Russia.
Tensions rose further in Ukraine's south after new explosions—for the second day running —  knocked out communications towers in Moldova's Russia-backed separatist region of Transnistria. Ukraine blamed the explosions on Russia. Authorities in the region, which broke away from Moldova even before the collapse of Soviet rule, said Ukraine was behind the blasts.
Russia announced it was cutting gas supplies to Poland and Bulgaria after both countries refused to bow to Moscow's demands to be paid in roubles – part of a drive to counter the effect of a concerted campaign of Western sanctions against Russia.
Zelensky has pressed for tougher punitive measures against Moscow, including an embargo on Western imports of Russian oil.
Germany has been reluctant to impose such stringent measures, but Economy Minister Robert Habeck, speaking in Berlin, said his country was "very, very close" to ending its dependence on Russian imports. The share of Russian oil in Germany's imports has fallen to about 12 percent from 35 percent before the invasion of Ukraine, he said.
Russian occupation of station "very dangerous": IAEA chief
At the Chernobyl station, IAEA chief Rafael Rossi said Russian troops which captured the station days after launching their incursion into Ukraine had created a "very, very dangerous" situation.
The troops brought heavy equipment through the station's exclusion zone stirring up radioactive dust and prevented staff from leaving the stricken plant, where they look after large quantities of spent nuclear fuel and waste. Some reports said Russian servicemen caused further problems by digging in on contaminated land surrounding the facility, where 36 years after a fire and explosion sent radiation to most parts of Europe, the plant's fourth reactor remains encased in a containment vessel.
In his evening address to Ukrainians, Zelensky said the Russians' behaviour showed their disdain for the elementary principles of nuclear safety – including Russian missiles fired on the day of the anniversary that had flown by Chernobyl and two other functioning nuclear power stations.
"It turns out they do not realise what Chernobyl is. At all. Russian troops that were trying to attack Kyiv through the Chernobyl zone used the restricted area as a military base," Zelensky said.
"Only thanks to the professionalism and conscientiousness of our specialists working at the Chernobyl station and other facilities of the Chernobyl zone, we managed to save Ukraine, save Europe from a new catastrophe."