Zelensky presses for talks, Russia says relations with U.S. near breaking point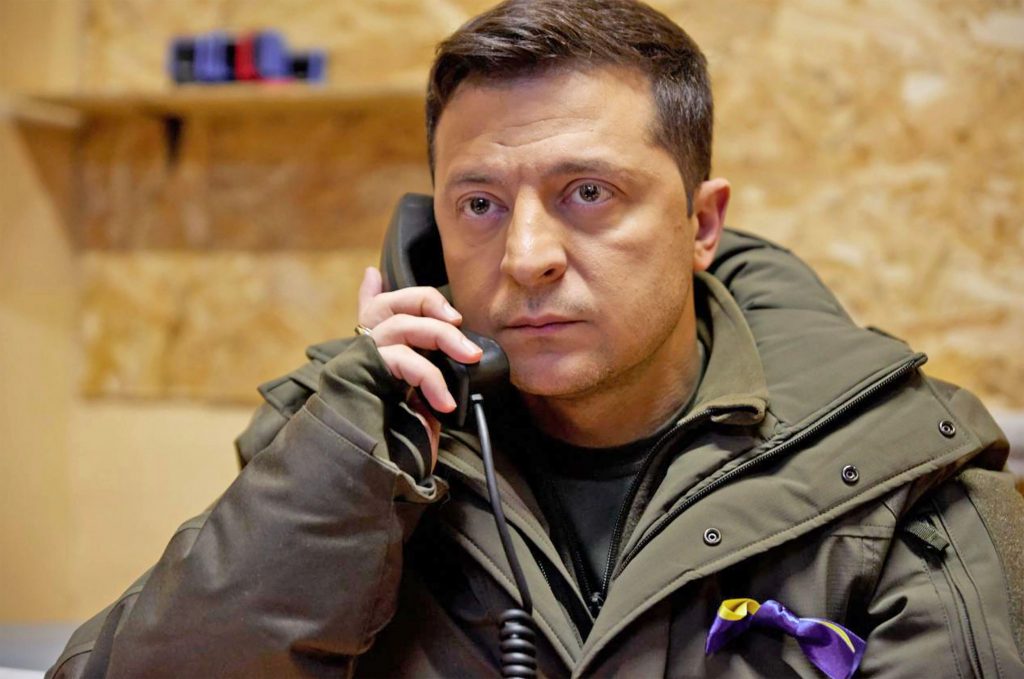 Alamy
Ukrainian President Volodymyr Zelensky pressed further for talks with Kremlin leader Vladimir Putin, saying they were key to understanding how Moscow would see a cease-fire and peace agreement, while relations between Moscow and Washington plunged to lows at the start of a week focusing on diplomacy in Europe.
President Joe Biden, due to attend summits in Europe this week of NATO, the European Union and the G7, said the stiff resistance of Ukrainian offenders three weeks into the Kremlin's invasion had put Kremlin leader Vladimir Putin's "back against the wall" and increased the risk of Russia taking risky measures.
Evacuation of residents under constant Russian bombardment proceeded. But so did Russian attacks on a wide variety of targets – an attack set ablaze a shopping centre just outside Kyiv city centre and killed eight people. Authorities in the capital imposed a new curfew extending over nearly 36 hours.
And Ukraine rejected Moscow's offer for its defenders in the Sea of Azov port of Mariupol to lay down arms. More than two weeks of encirclement has left 90 percent of the city in ruins.
Zelensky has been seeking one-on-one talks with Putin for more than a year, but the Kremlin leader has systematically rejected his request. Since the Russian onslaught slowed in the past week, Zelensky has redoubled his efforts, telling Moscow last week that talks would enable it to "limit the mistakes" it had committed.
What sort of peace deal for the Kremlin?
Interviewed by public television stations from different European countries, Zelensky said only a meeting would provide an indication of the sort of cease-fire and peace treaty the Kremlin was seeking.
"I  believe that until such time as we have a meeting with the president of the Russian Federation…you cannot truly understand what they are prepared to do in order to stop the war and what they are prepared to do if we are not ready for this or that compromise," Zelensky said.
He said he was willing to discuss the future status of occupied Ukrainian territory – including Crimea, annexed by Moscow in 2014 and two areas in eastern Ukraine's Donbas region run by Moscow proxies – but final decisions needed more time to be reached.
Several conditions first had to be met — namely, a cease-fire, the withdrawal of troops and security guarantees
"If people are trying to stop a war, there is a cease-fire and troops are withdrawn. The presidents meet, reach an agreement on withdrawing troops and there are security guarantees of one sort or another," he said. "Compromises must be found, one way or another of guaranteeing our security."
He repeated his acknowledgement earlier this month that Ukraine could not now join NATO. The Alliance's member states, Zelensky said, "understand that they do not want to fight with Russia and therefore cannot take us in…we have to reconcile ourselves to that and say 'ok, other guarantees'."
A bar on Ukraine ever securing NATO membership—as entrenched in the country's constitution –was a key point in Russia seeking new "security guarantees" from the West ahead of the invasion.
Biden, at a meeting with business representatives,  said Ukrainian forces were  "wreaking havoc on Russia's military" and Russian President Vladimir "Putin's back is against the wall". That made him more likely to resort to riskier military means, like chemical weapons, Biden said.
The U.S. president last week unabashedly branded Putin a "war criminal" and a "thug" in connection with attacks on residential areas and other civilian targets. Russia denies attacking civilians.
U.S. ambassador summoned
In Moscow, the Russian Foreign Ministry summoned U.S. Ambassador John Sullivan and told him that relations were coming dangerously close to a complete break.
"It is emphasised that such statements by the American President, unworthy of a statesman of such a high rank, put Russian-American relations on the verge of breaking," the statement read. It warns that "hostile actions taken against Russia would receive a decisive and firm rebuff".
Ukrainian officials said more than 8,000 residents of cities under bombardment had been evacuated on Monday. Some 3 million Ukrainians have now left the country to escape the violence – two-thirds of them to Poland, which Biden is also due to visit later in the week.
Zelensky addressed the Israeli parliament on Sunday and urged the Jewish state to abandon its neutrality and offer its support, noting that the country had the world's best missile defences. Prime Minister Naftali Bennett has been trying to act as an intermediary between Moscow and Kyiv and Zelensky said talks could place in Jerusalem.
He was due to address Italian parliamentarians on Tuesday.