Aliyev-Pashinyan meeting underscores Russia's major role in regional settlement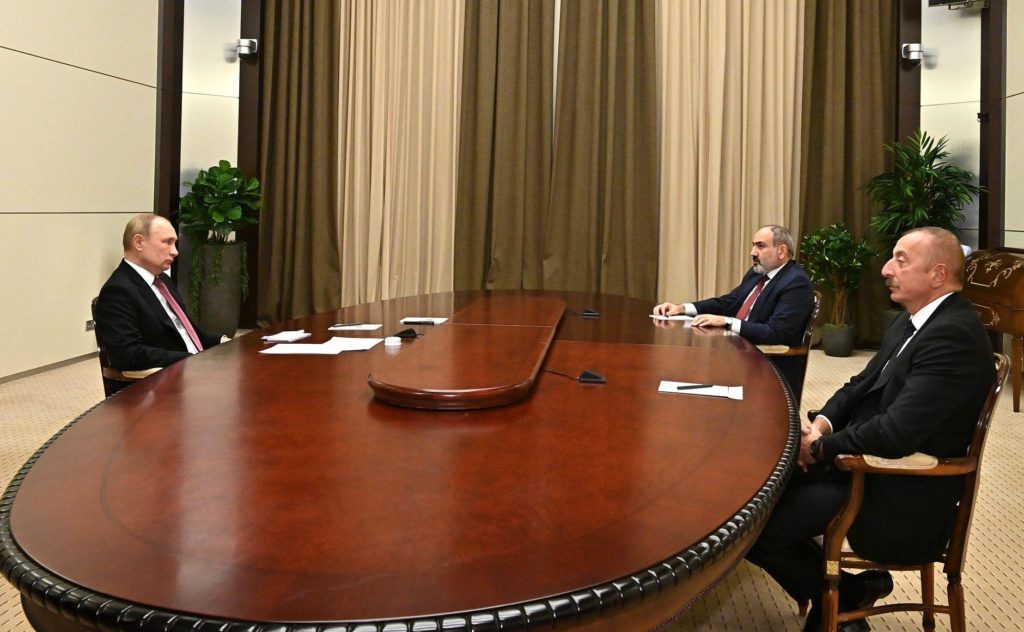 Ruined buildings in Agdam on the edge of Nagorno-Karabakh in Azerbaijan (Alamy)
BAKU
By Lada Yevgrashina
The leaders of Azerbaijan and Armenia came away from a rare meeting – organised by Kremlin leader Vladimir Putin – with an agreement to move forward on issues dividing them a year after the end of a new conflict, but also with the realisation that it is Russia that controls many of the mechanisms to resolve outstanding problems.
Putin symbolically presented Azerbaijani President Ilham Aliyev and Armenian Prime Minister Nikol Pashinyan with gold olive branches during the three hours of talks in Russia's Black Sea resort of Sochi – gifts heavily symbolic of its role in stimulating talks and a measure of conciliation from the two antagonists.
Putin met each leader separately and all three discussed the key issues around the same table – demarcation of their border, creation of transport links and, in general, increased security and prosperity in a region beset by recurring post-Soviet violence.
A joint statement at the end of the meeting said the two sides remained committed to the agreements reached after the end of last year's 44-day "second Karabakh war" in which Azerbaijan "de-occupied" large swathes of territory held by Armenian forces since the mid-1990s.
And both "agreed to intensify joint efforts aimed at a rapid resolution of outstanding tasks".
Conciliatory phrases followed.
"In Azerbaijan, we feel like turning over the page of many years of confrontation with Armenia and begin a stage of normal interaction," Aliyev said, adding, "I think our meeting will lead to good results that won't make us wait for too long."
Pashinyan said: "It turns out that on a host of issues we don't have any disagreements. On the issue of the opening of transportation and economic communications in the region, we determined that we have a common understanding of how those communications will work."
Leaders to meet again in Brussels
It was the leaders' first meeting since January – and came ahead of yet another meeting scheduled for 15th December in Brussels, at the invitation of the European Union.
Azerbaijan's lightning-quick advances in last year's conflict culminated in its forces restoring control over Shusha, the country's historic and cultural capital just inside Nagorno-Karabakh, the region that was the focus of the original conflict that coincided with the collapse of Soviet rule.
The region has been internationally recognised as under Azerbaijan's control since the 1920s, but ethnic Armenians there had sought to break away and join their ethnic kin in Armenia. Armenian forces holding the territory for three decades drove out many of its Azeri residents – officials said some 53,000 had returned there in the past year.
Last year's conflict ended with a Russian-brokered armistice and the dispatch of 2,000 Russian peacekeepers – due to remain in place until 2025 — to uphold the peace in sensitive regions.
Azerbaijani member of parliament Rasim Musabekov said the Kremlin now held all the trump cards – among them its peacekeeping contingent intended to prevent fresh violence and Moscow's intention to help oversee future talks on one of the biggest stumbling blocks – border demarcation.
"The European Union and the United States cannot displace Russia in its role in the post-conflict period – there are no conditions for that. The Sochi meeting will allow for the development of the processes under discussion by virtue of steps taken by the governments of Azerbaijan, Armenia and Russia," Musabekov told the Tribune.
"We should not expect any concrete results from the Brussels meeting other than declarations of support for peace and trust between Azerbaijan and Armenia."
At the Sochi talks, the two sides recognised the role played by those peacekeepers and agreed to renewed efforts to boost stability and to set up a bilateral commission to complete the demarcation of the border, with Russian oversight.
They also agreed that deputy prime ministers from all three countries would meet in the coming weeks in Moscow to work out a solution to transport links and discuss "the fastest possible launch of concrete projects with the aim of realising the region's economic potential".
"Communications and the transport routes we spoke of in our three-sided format are extremely important and that means important for the economies of all countries in the region, including Russia," Putin said during his meeting with Pashinyan. "It is in our interests that these links function year-round with our strategic partner, Armenia."
No public mention was made of what has become known as the Zangezur link – through Armenian territory — allowing for road and rail transport between Azerbaijan and its Nakhchivan exclave. Azerbaijan has placed special importance on reopening that link, but Armenia has so far refused to agree on fears that proclaiming such a "corridor" would give it extra-territorial status.
Azerbaijan's renewed control over territory lost for 30 years unleashed a wave of national rejoicing and pride, buttressed by firm warnings from the country's leaders that any new military move by Armenia would be rebuffed firmly.
In Armenia, demonstrations blamed the huge military setbacks on Pashinyan and called for his resignation, but the prime minister still managed to secure landslide re-election last June.
Recent outbreak of violence
And two weeks before the Sochi talks, the region was hit by a new, brief wave of clashes, with each side accusing the other of infringements of territory. Putin said it was positive that the clashes — which killed six Armenian troops and seven Azerbaijani soldiers — did not turn into a "large-scale" war.
Russian commentator Yevgeny Mikhailov said Moscow's role in the outcome of the Sochi talks was evident – even the fact that they took place at all before the previously planned Brussels meeting.
"It is no secret that Pashinyan was more or less pushed into a corner. He had allowed anti-Russian sentiment to take hold in the country…and the Sochi meeting reveals, first and foremost that Moscow was able to bring all its arguments to bear on him that his team had gone the wrong way," he said.
"It is clear that President Putin has plenty of instruments available – economic and political – to make Yerevan come around."
Azerbaijani analyst Rauf Mirgadyrov said the Sochi meeting should prompt Azerbaijan to focus on the vital border demarcation issue and, particularly, the possibility that Russia could increase its already considerable influence on both countries by installing peacekeepers along the frontier.
"The jurisdiction of the Russian contingent could be expanded. And that means, the ways in which Russia could hold sway over both Yerevan and Baku will be strengthened," Mirgadyrov told the Tribune. "Both Azerbaijan and Armenia should keep this well in mind in their further discussions of peace initiatives."