Andrey Krivenko: the founder of Russia's fastest growing food retail chain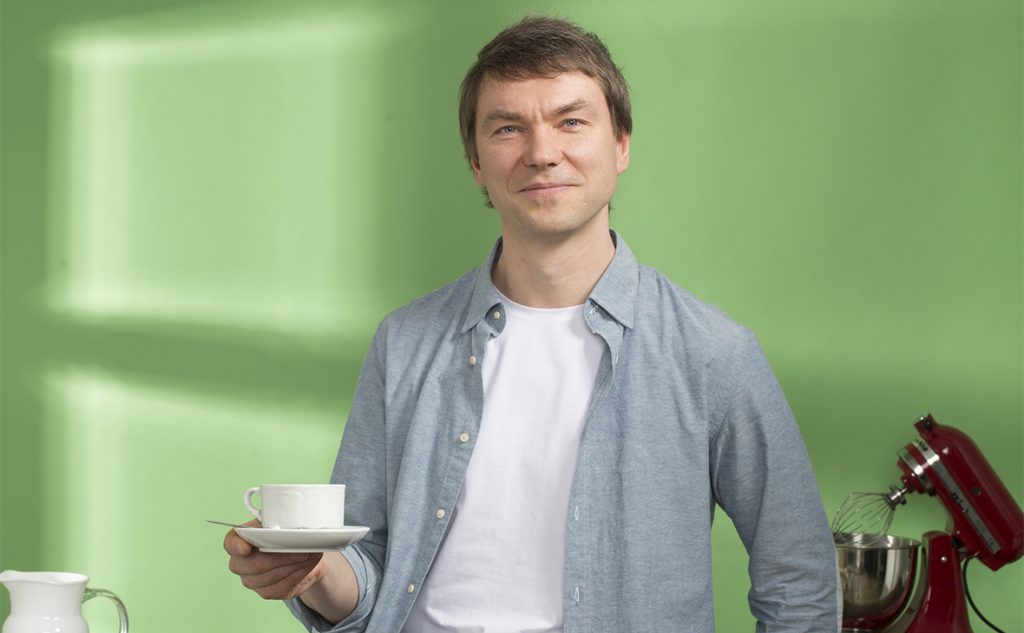 https://www.rbc.ru/magazine/2017/10/59c2a1a99a79473801102e98
Age: 46
Origin: Chernogolovka, Moscow Oblast, Russia
Based in: Moscow, Russia
Education: Moscow Institute of Physics and Technology, Molecular Biophysics
Occupation: Founder, Vkusvill
Andrey Krivenko is the founder of Vkusvill, one of the fastest-growing Russian food retail chains and companies overall. In a market already saturated with big and long-established players, Krivenko achieved success by focusing his supermarket chain on healthy and responsibly sourced products, as well as local producers. With more than 1,000 stores across Russia, the chain is now among the top 10 food retailers and continues to expand rapidly.
Krivenko grew up in a suburban town outside of Moscow, where he stayed until 17 years of age. In 1992, Krivenko was accepted into the  prestigious Moscow Institute of Physics and Technology. Undertaking a highly technical degree right after the collapse of the Soviet Union, Krivenko understood that he also needed business skills to succeed in the newly established market economy. Consequently, he also enrolled at the Plekhanov Russian University of Economics to study audit and accounting.
Having graduated in 1999, Krivenko had no plans for a career as an entrepreneur and founder of his own company. Instead, as many middle-class Russians with higher education at that time, he joined a company, "Ekort", as an analyst, with hopes of climbing up the corporate ladder. Quickly showing results and high performance, Krivenko successfully advanced within his first company to reach the position of the financial director in just three years. Becoming an asset in the labour market, he then held two other managerial positions at different corporate entities.
By 2008, Krivenko still had no desire to become an entrepreneur. However, as the financial crisis struck the labour market in Russia, he was unable to find a new job after leaving his latest employer. Having developed experience in the retail and FMCG sectors, Krivenko decided to open his own food retail chain.
Having started with one store in Moscow, Krivenko originally focused on dairy products, which were sourced from local producers outside of Moscow and sold under the store's name, "Izbenka". It was the first store of its kind in Russia, quickly gaining traction among consumers. By 2012, in just three years, the chain already boasted 140 stores in Moscow and suburban areas, while still focusing exclusively on fresh dairy products.
Having already achieved success in an industry where rapid expansion and growth are traditionally challenging, Krivenko decided to challenge the biggest players in the Russian food retail market. In 2012, he opened the first stores of the Vkusvill chain, which focused not just on Izbenka dairy, but all grocery products. The key principle of locally and sustainably sourced food products, without added preservatives, remained as a foundation of the new supermarket chain.
Over the next few years, the larger Vkusvill stores have gradually replaced smaller Izbenka spots. This allowed Krivenko to keep his business alive, as many other chains started venturing into their own fresh dairy brands. At the same time, it also meant that he could now compete with the biggest players in the industry, such as the X5 retail group and Magnit, which also had a substantial offering of private label products.
In 2020, a new milestone was achieved by Krivenko and Vkusvill. They ventured into the unknown by opening the first trial store abroad, in Amsterdam, the Netherlands. Still the only such experiment to date, Krivenko hopes that developing a profitable business model in one foreign city would mean that he could quickly open stores in other European capitals.
The plans for global expansion, as well as local stability, were hindered by the COVID-19 pandemic, which hit and transformed the traditional retail industry. Over the course of a few weeks in 2020, Krivenko and his team had to adapt to a rapidly growing demand of online orders, while balancing the profitability of offline stores. The website and servers of Vkusvill crashed at the start of lockdown in Russia, unable to process new orders. In the end, online sales grew by 30 times in just three months, but this came at a cost of 60 closed stores, with central locations being particularly hard hit.
Krivenko's plans for his retail chain remain very ambitious. The next likely step for the company, 86 percent of which is still owned by Krivenko, is to carry out an IPO on an American exchange, opening it up to investment and further rapid expansion opportunities. In the long term, Krivenko wishes to compete not with the largest Russian retail chains, but instead with the FMCG producers, such as Nestle and Coca-Cola. He believes that the Vkusvill brand of the chain's products has greater future potential, as opposed to the retail chain brand, which may reach its limit of expansion soon.
Quote: "It is generally accepted that the company is a mechanism in which everything can be thought out so that it will last for many years. But that doesn't work in today's world. Especially online, people want companies to adapt to them. This means that you must be able to change every day."
Sources: RBC.RU, THEBELL.IO, VKUSVILL.RU, FORBES.RU, KOMMERSANT.RU