Putin steps up efforts to resolve issues between Baku, Yerevan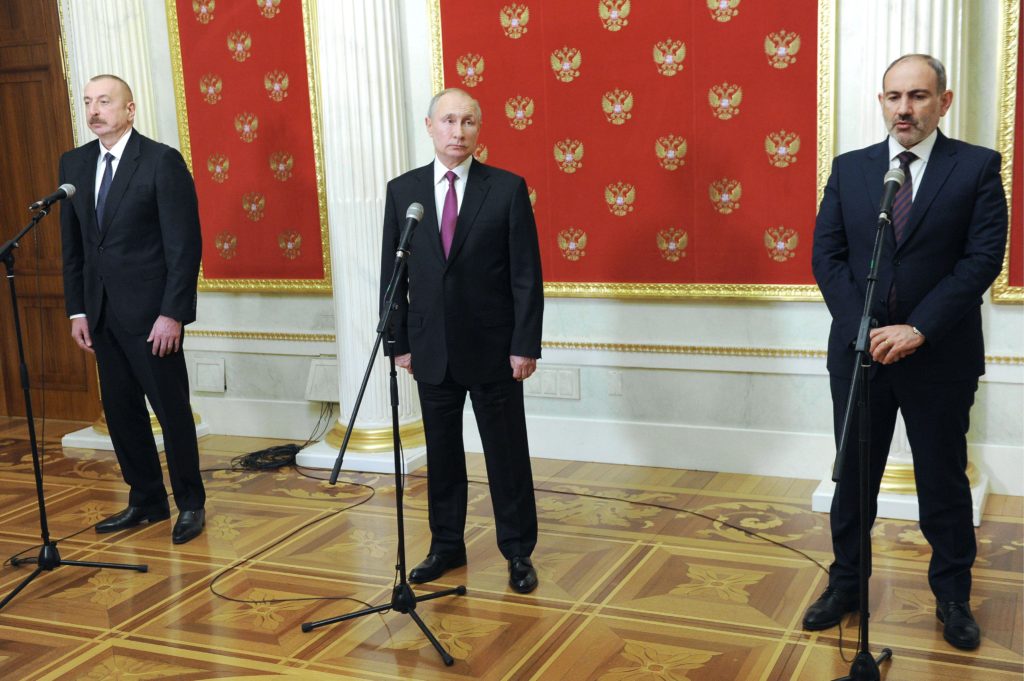 Azerbaijan President Ilham Aliyev (L), Russian President Vladimir Putin (C) and Armenian Prime Minister Nikol Pashinyan (R). Alamy.
MOSCOW/BAKU/YEREVAN
Russia says it will move swiftly to try and reduce remaining tensions between Armenia and Azerbaijan – particularly after a resounding win by Armenia's Prime Minister in snap parliamentary polls.
In a demonstration of the emphasis, Russian President Vladimir Putin held a telephone conversation with Turkish President Recep Tayyip Erdogan on June 24, the Kremlin press service said. The situation involving Azerbaijan and Armenia was a central topic, including the work of the Joint Russian-Turkish Center for Controlling the Ceasefire and Military Operations, which is located in the de-occupied, destroyed city of Agdam.  The Kremlin said President Erdogan backed Russia's efforts to fully implement the agreements between Russia, Armenia and Azerbaijan from November 2020 and January 2021.
Another central theme was and restoration of the region's transport infrastructure – shut off for 30 years.
On the same day, the Kremlin said Putin had a telephone conversation with Armenian Prime Minister Pashinyan. Putin congratulated Pashinyan on winning the parliamentary elections and wished him success in forming a new government. A day earlier, Putin also spoke to Azerbaijani President Ilham Aliyev, it said.
ARMENIAN PM'S HUGE WIN A GAME-CHANGER
Armenian Prime Minister Nikol Pashinyan's crushing victory over nationalist opponents is now a real potential game-changer. With a solid mandate behind him, a final, lasting peace with neighbour Azerbaijan may be achievable, as well as with historical foe Turkey. This is all the more remarkable as Pashinyan's detractors had blamed him for losing major parts of Azerbaijan, which Armenia had occupied for nearly three decades until a late 2020 blitz by Baku's forces.
Pashinyan's "Civil Contract" party trounced the "Armenia" bloc led by nationalist ex-President Robert Kocharyan by 54-21 percent. Pashinyan, a journalist and writer, will command a more than two-thirds constitutional majority, with 72 of 105 seats in the National Assembly. Kocharyan's bloc got just 27, and a minor party led by an ex-security minister 6 seats.
The Organisation for Security and Cooperation in Europe (OSCE), which deployed 330 international observers on the ground, said the vote was  "free, competitive, and fair" and that only relatively minor irregularities were noted. This despite ex-President Kocharyan's claims of fraud.
Polls conducted before the vote showed a much closer race. However, many analysts said they were unreliable – as done by domestic organisations in landline interviews – such lines are increasingly rare in Armenia – and many Armenians are suspicious of them. In addition, ex-President Kocharyan's bloc seemed to come out of nowhere – he and his allies were behind by up to a 10-1 margin until just weeks ago in other polls, but he seemed to be more supported by Moscow and missed no chance to praise the Kremlin. At the same time, he vowed to re-occupy parts of Azerbaijan. This seemed a pipe dream and contradictory since Russia has 2,000 peacekeepers on the ground.
MANDATE TO DEAL WITH FINAL ISSUES WITH AZERBAIJAN, TURKEY
The prospect of a mixed result produced apprehension that no stable government would emerge, and thus paralyzing outstanding and critical issues with Azerbaijan still to be negotiated. Among them is the delimitation of the border between the two countries, already a source of tension, and ultimately establishing diplomatic and trade relations with Turkey, which would be historic.
But given the massive scale of his victory, Pashinyan will likely have a freer hand to try and mend fences with Azerbaijan and even Ankara.
Political analysts said the victory was a sign of fatigue with the 30-year long conflict. At least 40,000 people died on both sides, and just during the last six weeks of the war, Armenia says 3,700 plus troops were killed. Azerbaijan has put its losses at about 3,000, and at least 200 civilians were killed.
COLOUR REVOLUTION FIGURE PREVAILS, MOSCOW CAUTIOUS, BAKU MORE OPTIMISTIC
Pashinyan swept to power in 2018 on public frustration with corruption, poor living standards, and massive emigration. He walked from the north of the country to the south on foot for over a week, picking up supporters on the way. Once arriving in the capital and wearing sport or camo-style clothing, he amassed tens of thousands of supporters, who forced the old guard authorities, among which ex-President Kocharyan is associated, to quit. Pashinyan's political grouping then steamrolled its way to a victory in new elections.
He has never advocated NATO membership for Armenia and, on the surface, held congenial ties with the Kremlin. But as the leader of a so-called "colour revolution" in 2018 – events in others countries Moscow has labelled Western plots – he is not the type Moscow typically likes.
Pashinyan's decisive win in Sunday's snap poll stood logic on its head. Detractors accused him of "losing" the 30-year war to Azerbaijan – yet he emerged as a decisive winner. Some accused him of  "deliberately" ceding occupied Azerbaijani territories.
HARD ROAD AHEAD
The remaining issues are border demarcation between the two former Soviet countries. As well as the issue of re-establishing a trade and transit corridor between Azerbaijan's exclave of Nakhchivan, cut off from the rest of the country since 1991, via a 40-km strip of Armenian territory.
Pashinyan will likely tread carefully at first on these issues, but they may become less contentious as time goes on.
And there is the fate of what is to become of the former Azerbaijani Soviet autonomous district of "Nagorno-Karabakh" or "Upper Karabakh". Some parts are controlled by Armenian separatists and accessible via the main road through Azerbaijan.
WAR "LOSER" TURNED "WINNER"                                                              
Reversing 30 years of humiliation, in late 2020, Baku retook seven districts that Armenian forces had occupied since the early 1990s.
More than 600,000 Azerbaijanis were ethnically cleansed from the regions and the former Azerbaijani Soviet Nagorno-Karabakh region in the early 1990s. The areas were stripped of anything valuable, from sheet metal to bricks to electrical wiring.
Armenian forces did nothing with the huge swathes of territory, and they became a liability.
Pashinyan defied conventional wisdom by openly stating there was no way Armenian forces had the capability to hold onto the occupied Azerbaijani lands. He signed a Russian brokered armistice to end the six-week offensive, saying it was preferable to a worse fate for the country.
Pashinyan even dared to say in Parliament that despite the historical enmity with Turkey, Azerbaijan's ally, the countries were, after all, neighbours. This earned him shouts of "traitor" and "Turk" at rallies.
Turkish President Recep Tayyip Erdoğan visited Azerbaijan last week and signed an enhanced "military union" with Baku. He also visited Shusha, a sacred city of Azerbaijani intellectuals occupied for three decades by ethnic Armenians. Turkey helped build Azerbaijan's military over 25 years, and its role was decisive. Yet, Erdoğan has called for an end to a century of hostilities with Armenians.
REACTION FROM AZERBAIJAN
Azerbaijan's government expressed cautious optimism.  "Azerbaijan hopes that the new government of Armenia will analyze the causes of the internal political crisis in the country and draw the right conclusions, Foreign Minister Jeyhun Bayramov said. "Extraordinary parliamentary elections were held in Armenia…the formation of a new government is expected. We believe that the political leadership of Armenia will understand the real reasons for the internal political crisis, and after analyzing, will draw the right conclusions," Bayramov said.
MP Rasim Musambekov said the vote showed a rejection in Armenian society of "revanchism" and militarism, though he was careful not to praise Pashinyan.
"The Armenian people did not believe the sweet-talked promises these former leaders of Armenia [former presidents Kocharyan and Serzh Sargsyan] who chased their sons to slaughter. People chose a demagogue and amateur [Pashinyan] rather than thieves and murderers. Who for two dozen years robbed and raped the country," he told the Tribune.
"I think Pashinyan will fulfil the obligations reflected in the peace document of November 10, 2020, signed by the Russian Federation and Azerbaijan presidents. For all the hesitations and inconsistencies, Pashinyan learned the lesson that was taught during the Second Karabakh War. I think it will not be without difficulties. But the process of reconciliation in the region will move forward step by step," he said.
Musambekov added that work was intensifying on re-opening trade routes closed for 30 years.
Eldar Namazov, a former advisor to late President Heydar Aliyev, told the Tribune the results of Pashinyan's overwhelming victory would be profound. Many in the country's government feared a return of the "old guard" led by Kocharyan could bring more destabilisation.
"The results of the elections in Armenia will have a very serious impact."
"They … are moving towards peace with neighbours through gradual mutual recognition of borders, territorial integrity, and the opening of trade relations with Azerbaijan and Turkey," he said.