Azerbaijan, Armenia inch towards establishing key rail, road link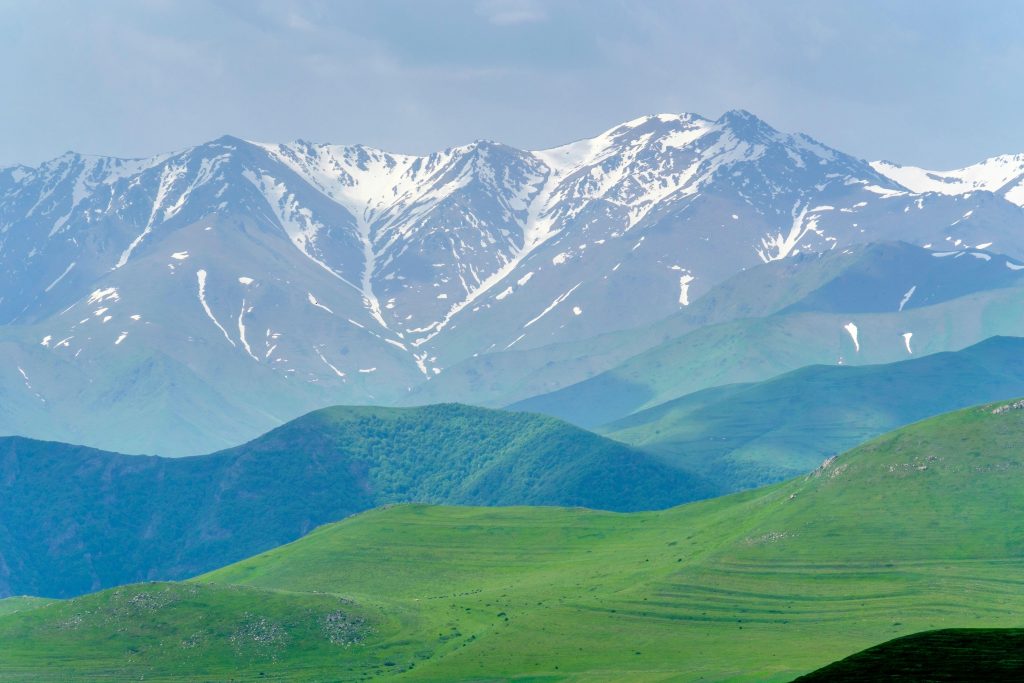 View towards Mount Kaputzukh within the Zangezur state sanctuary on the Armenia-Azerbaijan border, Syunik province, Armenia (Alamy)
Baku
By Lada Yevgrashina
Azerbaijan and Armenia inched towards setting up a key rail and road link crossing international borders, one of several fundamental issues to be resolved before the two ex-Soviet Caucasus neighbours can establish a durable peace after two major conflicts over three decades.
At issue is a route linking Azerbaijan with its Nakhchivan exclave – running through Armenian territory – known in Azerbaijan as the Zangezur corridor. Armenia has for months resisted calls to set up the link – and especially its designation as a "corridor" — but now has embarked on the initial steps to give it the go-ahead.
Azerbaijani President Ilham Aliyev and Armenia Prime Minister Nikol Pashinyan appeared to make some progress in two remarkably productive face-to-face meetings in quick succession late last year, though periodic outbreaks of violence hang over prospects for further discussions. Three Armenian servicemen and one from Azerbaijan died in a border altercation last week.
Armenia's government website said Pashinyan last week ordered the creation of a working group on restoring the Soviet-era rail line to Nakhchivan through Armenia's Meghri district – a reversal of longstanding objections to the project. The group was ordered to report to him every three months.
Aliyev presses for rail and road link
Aliyev has lobbied hard for an agreement to complete and upgrade Soviet-era infrastructure along the route to Nakhichevan – which is bordered by Armenia, Turkey and Iran but separated from the rest of Azerbaijan. He says Armenia stands to benefit from the link as well as other related projects in broadening its trade with other countries in the region and with Russia.
"Rail and road links will run through the Zangezur corridor," Aliyev said in an interview with Azerbaijani television channels last week. "Our plans also include running a power transmission line to Nakhchivan as we have great potential for exporting electricity."
Construction of a gas pipeline along the route was also possible, he said. And other projects would benefit from the link and construction of a power transmission line – a 240 MW solar power station in Jabrail district, two hydropower stations near the Iranian border and potential for solar power stations and wind farms.
"And that is why the Zangezur corridor must cover the entire Zangezur region," Aliyev said.
Azerbaijani transport expert Rufat Bairamov said the Armenian undertaking focused on a 43-47 km stretch of road crossing Armenian territory and enabling Azerbaijan to secure the link to Nakhchivan.
"Part of this section will be a new road, part of it has to be restored," Bairamov, coordinator of the Azerbaijani section of the Europe-Caucasus-Asia TRACECA road project, told The Tribune. "As for the work to be undertaken in Azerbaijan, a 100-km section of road…has been under construction since February 2021, the longest section of the route to Nakhchivan, blocked for 30 years on because of the…Armenian-Azerbaijan conflict."
Bairamov also said Turkey intended to build a road from its Igdir district to Nakhchivan, calculated to boost trade in the immediate region and in a broader East-West context.
Pashinyan, along with other Armenian officials, has long resisted agreement on the proposed link – and particularly its designation as a "corridor" on grounds it suggested extraterritorial status.
Aliyev says arrangements on customs and police checkpoints would have to be identical to those to be set up along the second tract of land, known as the "Lachin corridor" linking Armenia and Azerbaijan's region of Nagorno-Karabakh – focal point of decades of conflict between the neighbours.
Karabakh has a large ethnic Armenian community, but has long been internationally recognised as Azerbaijan's territory.
Armenian forces seized large tracts of Azerbaijani territory in and around Karabakh as Soviet rule was collapsing and evicted thousands of ethnic Azeris.
But Azerbaijan's stature and leverage in the region has grown considerably since last year's 44-day "Second Karabakh War" in which it restored control – or "deoccupied" — tracts of land held by Armenia since the mid-1990s. More than 50,000 displaced residents have returned.
A Russian-brokered cease-fire ended the fighting and 2,000 Russian "peacekeepers" remain deployed in sensitive areas, underscoring the key role Moscow plays in solving the regional conflict.
The link to Nakhchivan and industrial development
Rasim Musabekov, a political analyst and member of Azerbaijan's parliament, said Azerbaijan had in the past year staked considerable resources in moving forward with projects associated with Zangezur.
"Armenia is still afraid to call this transit route a corridor but that is exactly what it is," Musabekov told the Tribune.  "But the Armenians have to move forward with concrete actions. Roads need to be planned through Meghri district, estimates need to be clarified, financing found and tenders organised on Armenian territory."
And Armenia, he said, would have to agree on the principle of "symmetry" over the construction of a power transmission line – as a similar line already ran through the Lachin corridor taking Armenian power to Karabakh.
Other issues must also be resolved in order to forge a lasting peace – notably formal demarcation of the two countries' borders.
Russian Foreign Minister Sergei Lavrov last week reminded both sides that Russia wanted a commission created quickly to tackle the demarcation problem. Moscow was in a good position to move that issue forward as it had maps dating from various periods of the Soviet era that could help negotiators.
"We have come to believe during the time that this issue has been discussed that setting up this commission is the best way to proceed," Lavrov told a news conference in Moscow. "And its mandate should include all issues that need to be resolved first and foremost."
Also in Moscow last week, representatives of Armenia and Turkey held the first round of talks aimed at normalising their relations – the two sides have been at odds since the time of the massacres of ethnic Armenians by the Ottoman Turks during World War One. The border between the two countries has been shut since 1993.
Representatives of both sides agreed to set a time and venue for further discussions.
Armenian nationalists blame Pashinyan for the country's territorial losses in last year's conflict with Azerbaijan and criticise as unthinkable his overtures to Turkey. But he managed to secure re-election by a landslide in a snap election last June.