Azerbaijan-Armenia: Kremlin, loose ends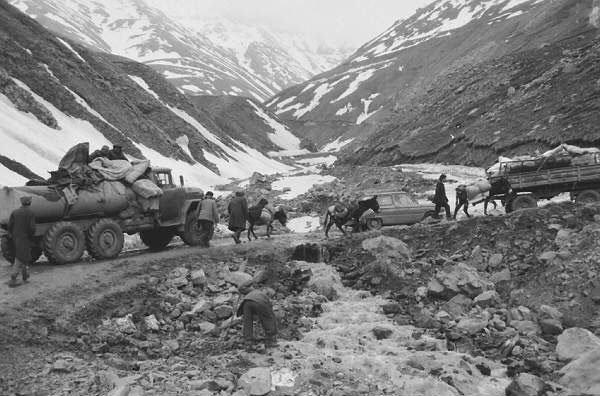 Refugees fleeing Kalbajar, Azerbaijan, April, 1993. The area was de-occupied from Armenian forces in 2020. Khalid Asgarov.
The war between Azerbaijan and Armenia was so old (nearly 30 years) that many people simply took it for granted. Something that was destined to be, something to be worked around despite the cost to both sides.
It now has been about 10 months since Azerbaijan swept to an overpowering victory.
Baku achieved all of its main objectives. It smashed Armenian defences, de-occupying huge districts captured and looted over a nearly three decade-run by Armenian forces. More than 600,000 Azerbaijanis were ethnically cleansed during the early 1990s.
NO FINALITY
Yes, Azerbaijan got almost all it wanted, despite the de-occupied territories being a wasteland of towns and villages stripped of anything of value.
While President Ilham Aliyev recently announced the districts would soon be able to receive some returnees, the ghost land is so strewn with landmines and so devoid of any real economic activity that in the near term, it is hard to fathom anything resembling normalcy.
Yet, a final peace – a formal delimitation of the border between the two ex-Soviet countries – seems as elusive as ever.
There is also still no real movement on the resumption of trade links, cut since the early 1990s, though Moscow-mediated agreements stipulate they should be re-opened.
ARMENIAN FLUX
Armenia has been in a state of political flux since the war defeat. However, Prime Minister Nikol Pashinyan, the 46-year-old writer, stunned many by calling snap elections in June and winning resoundingly.
Even with an overwhelming mandate indicating regular Armenians were fed up with the long war, he must continue to look over his shoulder at nationalists who won a quarter of the vote and, while in power before Pashinyan drove them out, ruled by fear and corruption.
Then there is Russia.
Pashinyan sings the right songs when needed, but anyone in Yerevan will tell you he is leery of the Kremlin and its objectives, which seem bent on maintaining some geopolitical control over the South Caucasus.
Therefore, he has domestic detractors to keep at bay and the deep-pocketed Armenian diaspora in the United States. Many of them have a Disneyland view of the Republic of Armenia and what real life is like for people.
His statements – apostasy by recent Armenian political rules – have included remarks – not the rehearsed stuff of standard protocol- that Armenia must eventually even come to terms with historical enemy Turkey.
MOSCOW-BAKU TENSIONS
While Moscow was occupied elsewhere, it obviously miscalculated badly.
The misstep is hard to overestimate.
Azerbaijan is formally non-aligned. It is not a member of Moscow's rump CSTO military bloc, formally including Armenia, Tajikistan, Kyrgyzstan, Belarus and Kazakhstan. Baku pursues what has turned out to be a flexible, arguably successful, "multi-vector"  foreign policy.
And yet it has of late made the hair stand on end of some Kremlin officials by joining NATO exercises in Georgia and in the Black Sea.
It maintained good ties with Russia – buying its weapons and making accommodations – while not allowing itself to become a vassal.
ANKARA FACTOR
It was common knowledge that NATO member Turkey had been helping Azerbaijan build an army from the ground up since the mid-1990s.
Ankara supplied advisors, hardware, and expertise. The assistance was no secret, but neither was it openly advertised.
Therefore, it was not entirely surprising when Azerbaijani President Ilham Aliyev made a splash on the Turkish language and content version of CNN – CNN Turk – by delicately slamming Moscow for duplicity.
This included foggy plans floated by some in Moscow to "re-arm" Armenia.
What sense this would make is not clear. The concept of Armenia re-occupying Azerbaijani lands is impossible to contemplate and logistically and militarily incomprehensible.
EMOTIONAL REACTION
Given the sudden appearance of obviously pro-Kremlin websites that pump out anti-Turkish conspiracy theories, some fixated on trashing the Turkish Intelligence Service MIT, Moscow is obviously seething with Ankara and its plodding but very successful approach in helping its ally in Azerbaijan. The two countries share linguistic and cultural ties, though they are quite distinct nonetheless.
Azerbaijan's Aliyev has become ever bolder in confronting the Kremlin. Though couched in diplomatic-speak, he openly slips in broadsides.
The most open was the interview he gave to CNN Turk. He accused the Kremlin of planning to arm Armenia and trying to sabotage attempts at formal border delimitation.
The border delimitation question has provided fertile grounds for armed incidents – many deadly – in the last few months.
In response, the Kremlin took an unusually harsh swipe – an obvious response to Aliyev's comments. Foreign Ministry spokeswoman Maria Zakharova said that "Baku and Yerevan as a whole highly appreciate the stabilizing role of the Russian peacekeepers located in Nagorno-Karabakh and the Lachin corridor."
But that was verbiage. She soon got to the point.
"I would like to note the absolute counter productiveness of the confrontational or even more militant rhetoric that politicians from the Transcaucasian countries sometimes resort to. It prejudices the achievement of a sustainable result," Zakharova said.
Commenting on the recent statements by Aliyev that Baku expects that Russia will not supply arms to Armenia, Zakharova noted:
"Russia's supply of arms abroad is its sovereign right. We read and hear a lot about this, but I would like to draw your attention to the fact that we have established this interaction with both Armenia and Azerbaijan. At the same time, we take into account the need to maintain the balance of power in the region," she said.