Azerbaijan marks victory in 2020 war against Armenia, but peace still distant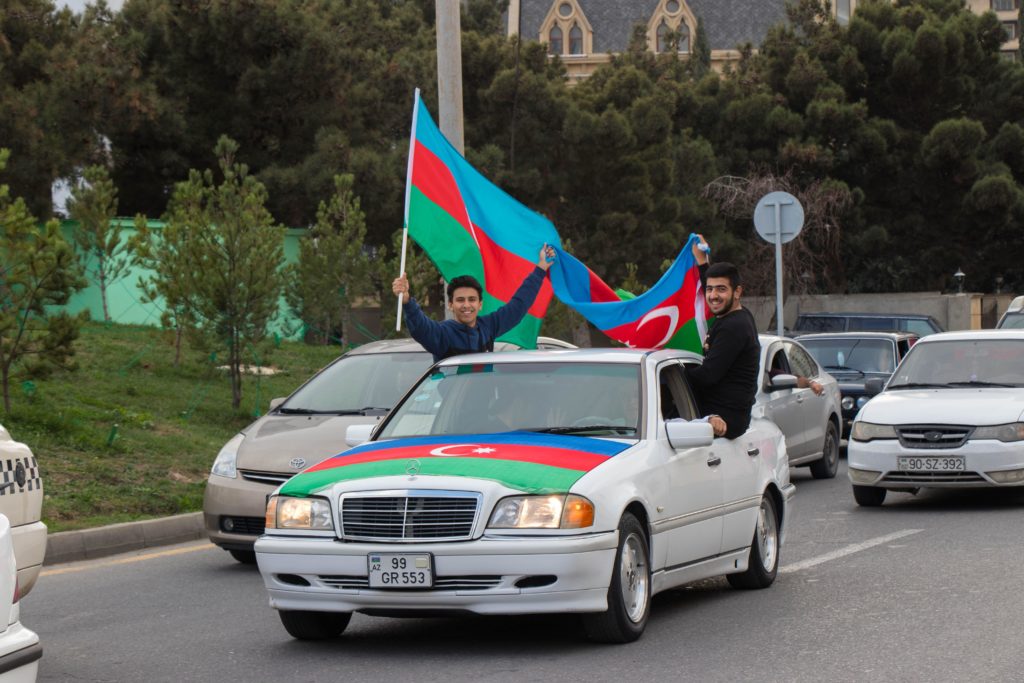 Alamy
BAKU
By Lada Yevgrashina
Azerbaijan held grandiose celebrations to mark victory in a brief war to de-occupy territory held for 30 years by Armenia, but a formal peace eludes negotiators and violent incidents still punctuate the region.
Azerbaijan's army, bolstered by support and weapons from Turkey and other allies, routed Armenian forces in a 44-day campaign to take back lands inside and near the disputed area of Nagorno-Karabakh, culminating in the capture on November 8 of Shusha.
The city, located just inside the territory, has long been considered Azerbaijan's and cultural capital and its release after 30 years under Armenian control was a source of great joy throughout the ex-Soviet state of just over 10 million.
Two days after the city fell, Armenia was forced to accept a Russian-brokered truce that handed a significant part of Nagorno-Karabakh and surrounding regions back to Azerbaijan. A Russian contingent of peacekeepers has since been deployed in sensitive areas.
Victory day and a warning
"We fulfilled our history mission – we expelled the enemy from our lands," Azerbaijani President Ilham Aliyev told a gathering in Shusha, one of the hundreds held throughout the country to mark 'Victory Day.' "We will henceforth remain through eternity in Karabakh and Eastern Zangezur."
And he warned: "Should any force in Armenia undertake any revanchist measures, they will once again see our fist!"
Azerbaijan has had internationally-recognised administrative control over Karabakh dating from the early days of the Soviet era in the 1920s.
But some mountainous parts of the region are populated mainly by ethnic Armenians and the first war focused on an attempt by Armenians to leave the region away from Azerbaijan. Armenian forces evicted ethnic Azeris from Karabakh and surrounding areas where they had lived for many generations
Zangezur is another key part of any bid to entrench peace between Azerbaijan and Armenia. Azerbaijan hopes to reopen a rail link through the region – passing through part of Armenia – to ensure free movement of traffic to its exclave of Nakhchivan. Armenia has so far refused to consider it.
In his remarks to the gathering, Aliyev recalled that the offensive had achieved what decades of negotiations had failed to produce – what Baku saw as the legitimate restoration of its control over land seized in the "first Karabakh conflict" in the dying days of Soviet rule and immediately after.
"The results were zero. On the contrary, the enemy became even more uncontrollable and insolent," Aliyev, speaking alongside members of his cabinet and Turkey's defence minister, told the crowd. "They (Armenians) believed that if they were able to hold on to our lands for some 30 years, they could make their occupation permanent. But they were mistaken."
Armenia marked the first anniversary of the end of the brief conflict with a different tone – several thousand demonstrators in the city's central square issued a new call for the resignation of the government. Prime Minister Nikol Pashinyan has been widely blamed for the army's losses in the 44-day conflict, but he still easily won a snap election last June to secure a new government mandate. 
Transit routes and the border
Establishing a durable peace depends on reopening the transport corridors and establishing a final demarcation of the border.
And frequent incidents shatter the uncertain peace – including several this week as the commemorations took place.
On 6th November, Armenian Defence Minister Arshak Karapetyan decorated a number of servicemen in Nagorno-Karabakh's main city Stepanakert (known as Hankendy in Azeri) – at the invitation of the region's own minister despite the fact that Azerbaijan recognises no local authority in the territory. He later visited another region in the Lachin district and declared it to be under Armenian control.
Azerbaijan protested against both visits, saying Armenia had "failed to acknowledge its total defeat in the second 44-day Karabakh war" and noting that Armenian security forces remained in areas formally under the control of Russian peacekeepers.
Armenian media reported that Azerbaijani forces had shelled workers repairing water pipes near Shusha on 8th November, killing one.
The Azerbaijani Defence Ministry, in turn, reported Armenian shelling the next day of a work team repairing roads intended to serve Azerbaijani army positions. No one was hurt.
And Azerbaijan's Defence Ministry reported its forces had captured a group of about 60 armed Armenian soldiers trying to set up installations in Lachin border district in Azerbaijani territory "with the aim of provoking a military confrontation". The soldiers were issued a warning and released, with Azerbaijan pledging to take "tougher and more active" measures if such incidents recurred.
Turkish Defence Minister Hulusi Akar, speaking in Baku during the commemorations, said he hoped Armenia would view the Azerbaijani President's peace proposals, including the opening of trade transit routes, as an "opportunity to maintain stability…the main issue, naturally, is Armenia's understanding here…that they will achieve considerable development in terms of security and prosperity."
Representatives of defence ministries from the three sides were due to meet in Moscow on 10th November with the Karabakh region certain to be high on the agenda.
Azerbaijani analyst Rasim Musabekov said he was confident an agreement was within reach, but time was needed.
"I believe that by the end of the year an agreement on transport corridors will be clinched and the three sides (Azerbaijan, Armenia and Russia) will sign such a document. And there will be progress on clarifying the border between Azerbaijan and Armenia," he told the Tribune.
"As for incidents between the two sides, sadly, these occur and will undoubtedly continue to occur."