Azerbaijani, Armenian leaders appear to move forward on disputed issues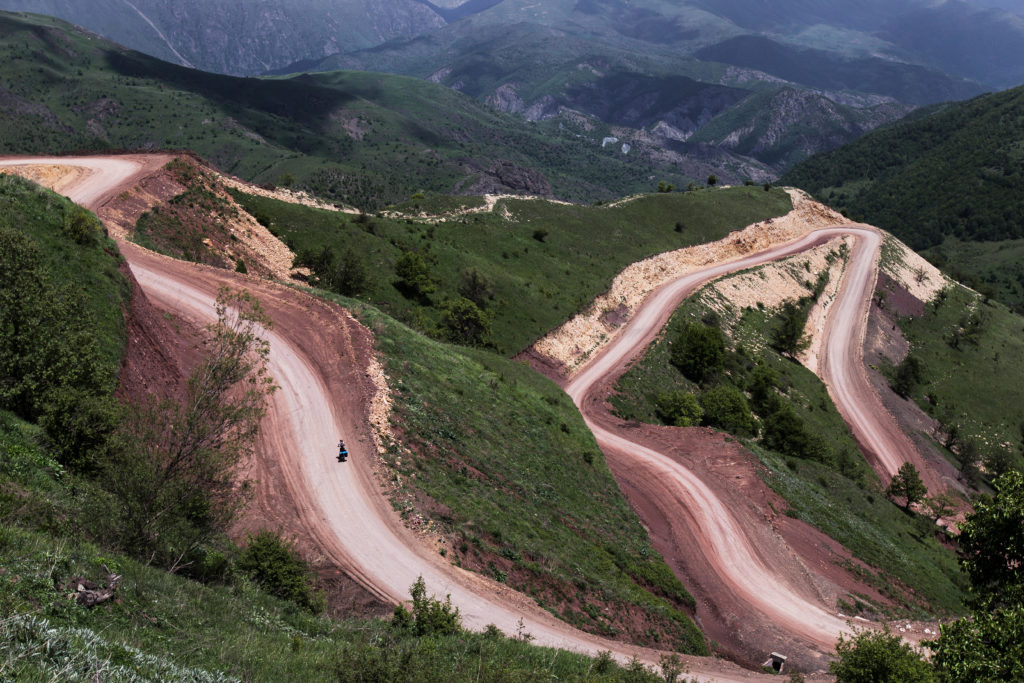 Nagorno-Karabakh (Alamy)
BAKU
By Lada Yevgrashina
The leaders of Azerbaijan and Armenia appeared to make progress on issues preventing the conclusion of a peace deal at their second meeting in a month, particularly the opening of disputed communications links, but key differences remain unresolved.
The tone of talks between Azerbaijani President Ilham Aliyev and Armenian Prime Minister Nikol Pashinyan appeared to have changed after talks in Brussels hosted by the European Union. The two sides got down to discussing formal details of issues still separating them and were moving away from nearly three decades of a system of negotiations that produced no clear results.
This week's EU-sponsored talks and a meeting last month arranged by Russian President Vladimir Putin took place in rapid succession a year after a fresh conflict – the "second Karabakh war" — culminated in major Azerbaijani military gains in "deoccupying" large areas held by Armenian forces since the mid-1990s. And serious clashes erupted – briefly – on the joint border a month ago.
Nagorno-Karabakh, legally part of Azerbaijan for decades but home to a large ethnic Armenian population, was the focal point of the first war between the two neighbours that erupted as the Soviet Union was collapsing. Armenian forces seized large swathes of territory in and around that region and systematically evicted ethnic Azeris. About 50,000 have now returned to their homes in the area.
Communications links and how they are to operate are at the heart of the discussions – along with formal demarcation of the border separating the two ex-Soviet states, demining operations and general efforts to install a measure of mutual trust.
Both sides to build on agreements
An EU account of the Brussels meeting said both leaders pledged to build on agreements reached at last month's meeting in the Russian resort of Sochi and European Council President Charles Michel "commended steps taken by both leaders to ensure the de-escalation of tensions". He said further action was required to instil trust and the EU offered to make available experts to help with border demarcation and demining.
Michel told journalists that he had left the two leaders on their own for a time as "it was important for them to speak directly to each other".
At issue for some time have been two communications links – a rail and road link between Azerbaijan and its exclave of Nakhchivan passing through Armenian territory and known as the Zangezur corridor — and a road link between Armenia and Nagorno-Karabakh passing through Azerbaijani territory and known as the Lachin corridor.
The agreement appeared to have been reached on the rail route to Nakhchivan and Aliyev said a similar agreement on a road connection along that route was in the making — though Armenian assent seemed far from certain.
"Armenia had objections to opening the road, but we persuaded them that this was inevitable and they agreed. There is an agreement," Aliyev said in an interview with the Spanish daily El Pais. "We are now discussing the legal arrangements for these corridors, including the Zangezur corridor,…There are still some unresolved issues."
Pashinyan acknowledged in a tweet that both sides had agreed to revive the Soviet-era rail link between Azerbaijan and Nakhchivan "to operate in accordance with the accepted international rules of border and customs controls". Armenia, he said, would have direct contacts with Iran and Russia.
But on his Facebook page the previous day, the Armenian prime minister had denounced as "unacceptable" Azerbaijani proposals to set up comparable legal regimes for the two corridors. Armenia has long rejected Azerbaijani customs checks along the corridor to Nakhichivan – on grounds that Armenia's Megri district to be used In the link would have "transnational" status.
Azerbaijani analysts nonetheless welcomed the outcome of the talks and the tone that dominated the meeting.
"No one spoke about the status of Nagorno-Karabakh. Everyone talks about an overall, durable peace and that coincides with the Azerbaijani position," commentator Rasim Musabekov told the Tribune.
"As for transport corridors, Azerbaijan is interested in routes passing through Megri and we will await a decision on that. Azerbaijan is ready to have passage through the Zangezur and Lachin corridors either free of controls or both subject to customs and border posts. We will insist that both corridors operate on a system that is symmetrical."
The positive atmosphere at last month's talks between the two leaders alongside Putin in the Russian resort of Sochi was later soured by a miscue at talks that had been due to take place last week in Sweden between the two countries' foreign ministers through the Organisation for Security in Europe (OSCE). Azerbaijan refused to attend when news emerged that Armenian parliamentarians had visited Karabakh, now firmly in Azerbaijani hands, without informing authorities in Baku.
Russia brokered last year's cease-fire and dispatched a 2,000-strong peacekeeping force that remains in place to prevent any new outbreaks of hostilities.
The outcome of last year's hostilities has strengthened the position of Azerbaijan in the region and dealt a blow to the authority of Pashinyan, blamed for the losses on the battlefield. But Pashinyan still managed to secure re-election by a landslide in a snap poll last June.
Attempts to nurture and promote dialogue remain fragile.
There was a brief outbreak of violence last month in border areas – halted after Russian intervention – with each side blaming the other for initiating hostilities. Azerbaijan said seven of its soldiers were killed and Armenia reported six dead and more than 30 servicemen captured.
The shooting was also reported in border areas last week amid mutual recriminations.
But some hopeful signs emerged ahead of the Brussels talks.
Azerbaijan returned to Armenia 10 servicemen detained in a border region since mid-November.
In exchange, Armenia provided Azerbaijan with a new map outlining areas where anti-personnel mines had been placed in areas it had previously controlled. Demining the areas now controlled by Azerbaijan has been a key issue in establishing security and proceeding with economic development.
Analyst Fikret Sadykov said a key element after the talks was the increased role of the EU in place of the OSCE, which had made virtually no headway in nearly three decades of mediation.
"It is interesting that at the EU there was a detailed discussion about people missing in the two Karabakh wars…And, overall, the outcome of the Brussels meeting includes the creation of working groups on the demarcation of the border and we expect that fair agreements will be reached on that," he said.
"The EU's participation in a final post-conflict settlement provides a significant contribution in tackling all the remaining difficult issues. Steps are being taken towards an all-encompassing agreement."