Azerbaijan's Aliyev says work proceeding on key link through Armenia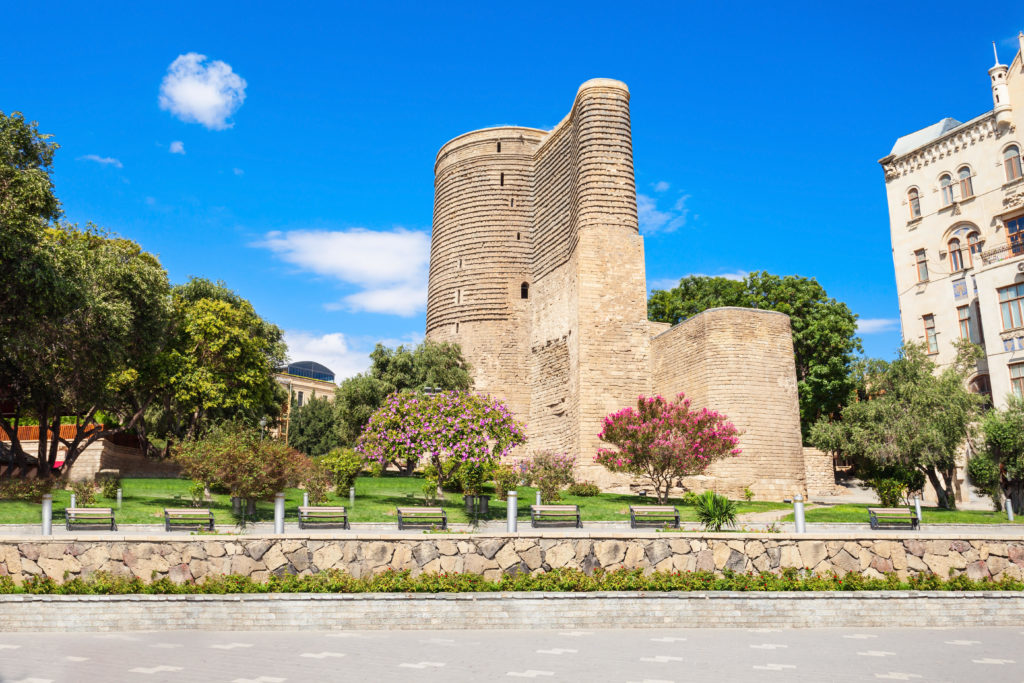 Baku, the capital of Azerbaijan (Alamy)
BAKU
By Lada Yevgrashina
Azerbaijani President Ilham Aliyev said work was proceeding rapidly on a rail and road link through Armenia, a key element in efforts by both ex-Soviet states to establish a durable peace after two conflicts that blighted the region over three decades.
Aliyev has long lobbied for the creation of what Azerbaijan calls the Zangezur Corridor – a transport link passing through Armenian territory enabling it to re-establish trade and other relations between Azerbaijan and its Nakhchivan exclave also bordering Turkey and Iran.
Armenia has dropped its opposition to the project – on grounds that a "corridor" would imply extra-territorial status — and is now actively moving forward with it. Aliyev's argument has long been that the link will be to Armenia's benefit – a little more than a year after Azerbaijan made major territorial gains in the "Second Karabakh War" or "Patriotic war", as Azeris sometimes call it, pitting the two countries against each other.
A key rail and road link
"Productive construction work is proceeding, both on the road and on the rail line," Aliyev said during a video conference with Iran's minister of roads and urban development. "We are also getting good news from Armenia. Armenia is also planning to give the go-ahead to the work to be carried out on its territory."
Armenia's government website last week said Pashinyan ordered the creation of a working group on restoring the Soviet-era rail line to Nakhchivan through Armenia's Meghri district. The group was ordered to report to him every three months.
The two sides are also expected to work out arrangements for a second link, known as the "Lachin corridor" between Armenia and Nagorno-Karabakh – a district of Azerbaijan with a large Armenian community and the heart of the three decades of conflict.
As Armenia and Azerbaijan move forward with peace plans, Armenia has been undergoing considerable political change.
President Armen Sargsyan resigned unexpectedly, saying he had the insufficient constitutional authority to influence policy – but analysts said he was unhappy with some of the diplomatic developments, including the agreement to proceed with the Zangezur corridor. Sargsyan was largely left out of the negotiations to end last year's hostilities.
And Armenian Prime Minister Nikol Pashinyan announced that he was forging ahead with efforts to establish formal diplomatic relations with Turkey – the country's historical adversary – and hoped to complete the process sometime this year.
Nationalists blame Pashinyan for last year's battlefield losses to Azerbaijan and are particularly alarmed by the prime minister's embrace of Turkey more than a century after the mass killings of ethnic Armenians by Ottoman Turks in World War One.
But the prime minister, who nonetheless won a snap election last June, is pressing on with his initiatives targeting improved ties with both Azerbaijan and Turkey.
Talks within regional grouping
In his discussions with the Iranian minister, Aliyev said it was logical to seize the advantage presented by eased tension in the region – citing in particular the recently-created "3+3" group bringing together Armenia, Azerbaijan. and Russia, as well as Georgia, Iran and Turkey.
"After the end of the Patriotic war, a favourable situation for cooperation took hold in the region," Aliyev said. "A very promising platform for regional development, 3 plus 3, has been created and the first meeting has already taken place. I am sure that these meetings will take place regularly and uphold the interests of countries in the region."
Aliyev said he hoped Iran would take part in development work now proceeding in areas of Azerbaijan "deoccupied" during last year's 44-day offensive in which the country's military brought under control Nagorno-Karabakh and other areas held by Armenian forces for three decades.
Karabakh has for decades been recognised as Azerbaijani territory, but as Soviet rule was collapsing in the 1990s Armenian forces took control of the region and adjacent districts, evicting large numbers of Azerbaijani residents. Tens of thousands have returned in the past year.
Last year's fighting ended with a Russian-brokered cease-fire and 2,000 Russian "peacekeepers" remain deployed in sensitive areas. Aliyev and Pashinyan have held two productive face-to-face meetings since last November, one hosted by Kremlin leader Vladimir Putin, and have agreed on the transport link as well as the critical issue of border demarcation.
Armenian and Turkish negotiators also held their first set of talks in Moscow this month aimed at establishing relations and opening their border, shut since 1993. Flights between Yerevan and Istanbul are to start operating next month.
Limited outbreaks of violence still punctuate border districts, but have failed to derail efforts to pursue negotiations.