Azerbaijan's Aliyev warns Moscow on Armenia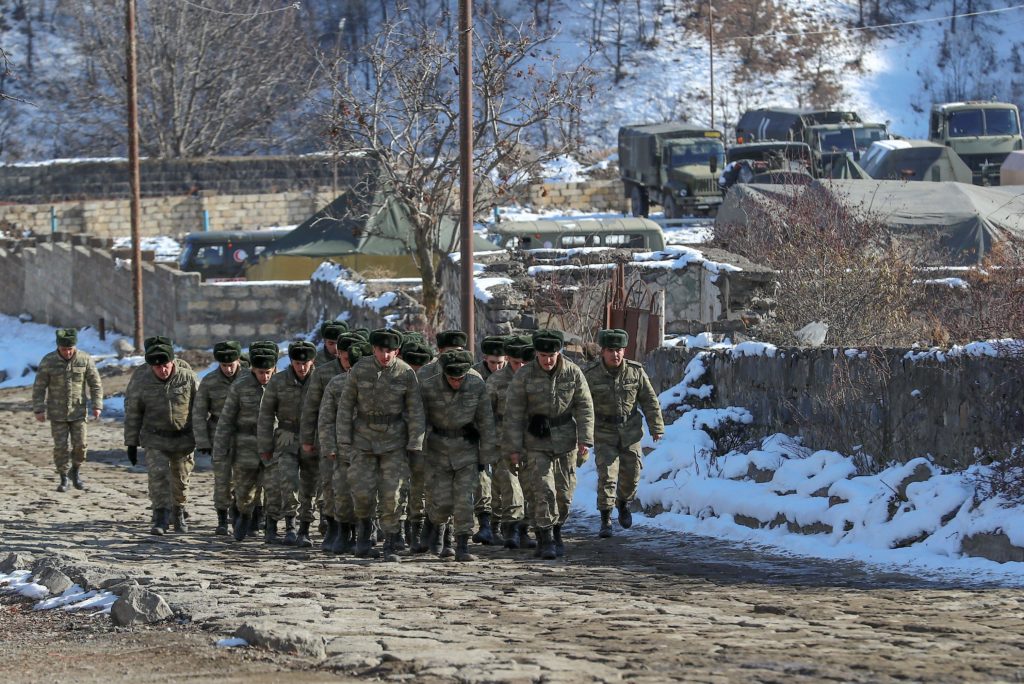 Alamy
BAKU/YEREVAN/MOSCOW
In a perplexing heightening of tensions, Azerbaijan's President Ilham Aliyev stepped up his cautious but direct criticism of Russia's "peacekeeping" role with Armenia over the weekend.
In an extensive interview with CNN Türk, he emphasised that statements by Kremlin officials that they want to help rebuild Armenia's devastated army – crushed during Baku's 2020 retaking of long-occupied Azerbaijani lands, "were devoid of logic".
Russian Defence Minister Sergei Shoigu visited Armenia last week and talked of helping rebuild the country's armed forces. While Yerevan is a formal member of the Kremlin-led Collective Security Treaty Organisation (CSTO), along with a few mostly poorer former Soviet republics like Tajikistan, Kyrgyzstan, Belarus, and richer Kazakhstan, it is viewed as a reluctant member.
The indications by Moscow that it wants to be at once peacekeeper and increase its levels of military presence in Armenia, where it has one long-standing military base and a presence at the country's key airport in Yerevan, evidently was enough for Azerbaijan's Aliyev to take off the gloves.
"It does not make any sense to arm Armenia. We do not see it happening yet, but there have been some statements by Russia. A few days ago, during a meeting with the Armenian defence minister, the Russian defence minister said that sending Russian weapons to Armenia had begun. This is a very worrying issue. Also, Armenia's new minister of defence made very irresponsible statements that if the Azerbaijani side trespassed the Armenian border by one centimetre, they would open fire. In other words, it seems that the second Karabakh war has not been a lesson for everyone yet. If this is the case, then we are ready to teach them another lesson. Therefore, we hope that Russia does not arm Armenia because there is no need for that," he told the network during the interview in Baku.
Aliyev's comments followed statements by his country's defence and foreign ministries late last week. While couched in diplomatic-speak, they suggested Moscow was complicating the situation. Moscow brokered an "armistice" between the sides which amounted to an Armenian capitulation late last year. But there has been no progress towards a formal peace or legally agreed delimitation of the border between the two countries or the re-opening of long-closed transit routes.
Shooing along the international frontier is reported on almost a daily basis, and along the frontier with Azerbaijan's Nakhchivan exclave, still cut off from the rest of the country. At the same time, road and rail connections remain shuttered.
ARMENIAN PM FACES OPPOSITION DESPITE ELECTION VICTORY
Some has to do with a long power vacuum in Armenia, which only ended with a resounding and unlikely victory by Prime Minister Nikol Pashinyan's Civil Contract party. Pashinyan is unapologetic about the war and its outcome, saying Armenia had no prospect of occupying Azerbaijani districts. His landslide victory was a clear signal of a country fed up with the almost three-decade conflict.
Though Aliyev criticised Armenia for not acting immediately to start border delimitation and open trade routes, it is abundantly clear that Pashinyan, whose party got 71 of 101 seats in the national assembly during the June snap poll, still faces a strong component of angry ultranationalists. The 46-year old writer and former journalist has put on a good face and repeatedly travelled to Moscow or kept in touch with Russian President Vladimir Putin, as has Azerbaijan's Aliyev.
But both in different ways have signalled elements of distrust with the current Kremlin leadership.
Armenian PM Pashinyan has repeatedly stressed the need for his country to develop closer ties with the EU. He also last week stressed the internationalisation of the current Russia-only peacekeeping force. He has also stressed the need for Armenia to come to terms with its neighbours, even Turkey, saying despite historical enmity, the two countries were neighbours and that an eventual normalisation was necessary.
Late last week, he also said he wanted direct talks with Azerbaijan's Aliyev without mentioning Russia.
Earlier, he made similar statements.
"It is unacceptable to further deepen hostility and confrontation in the region. This is a threat not only to regional but to international security as well," he said according to official news agency Armenpress.
"Armenia believes that establishing normal relations with neighbours and their improvement plays a key role in long-term peace, security, stability, and development. The settlement or development of relations with neighbouring countries will be a major direction of the government's foreign policy," he said.
Aliyev seemed to acknowledge this during the interview with CNN Türk.
"The people of Armenia have come to terms with this situation. The Armenian government has also come to terms with its own defeat, and the recent parliamentary elections in Armenia showed that. So the people have already given preference to a defeated party. This is an unprecedented sight in history when a defeated party receives popular support," Aliyev said.
But Russia, despite its "peacekeeper" role, is deeply suspected of wanting to cling to a geopolitical hegemony in the South Caucasus, where it has a centuries-long on and off presence. And though it brokered the "armistice", this was effectively an Armenian capitulation after almost three decades of occupying Azerbaijani lands. Only a much smaller part of the former Azerbaijani Soviet Socialist Nagorno-Karabakh district remains under de facto separatist control. But estimates are that only 25,000 people in the area remain. The rugged area is only accessible by one reliable, winding road connection via Azerbaijan.
RUSSIA AND TURKEY
Part of the desire to cling to a presence in the region is undoubtedly seething but quiet anger with Turkey. Turkey helped build Azerbaijan's army from the ground up for the better part of a quarter-century.
Some online publications believed linked to Russia have lashed out at Ankara and sneered at the Turkish main intelligence service, known by its acronym MIT.  Yet the Kremlin is obviously not enthused with the prospect of a direct stare down with the NATO member country of 85 million.
As is characteristic of any engagement with Russia, Ankara has remained quiet but is now a fully-fledged ally of Baku and would almost certainly counteract any moves by the Kremlin to stirring up real trouble with Azerbaijan.