Bakuriani: Georgia's premier ski resort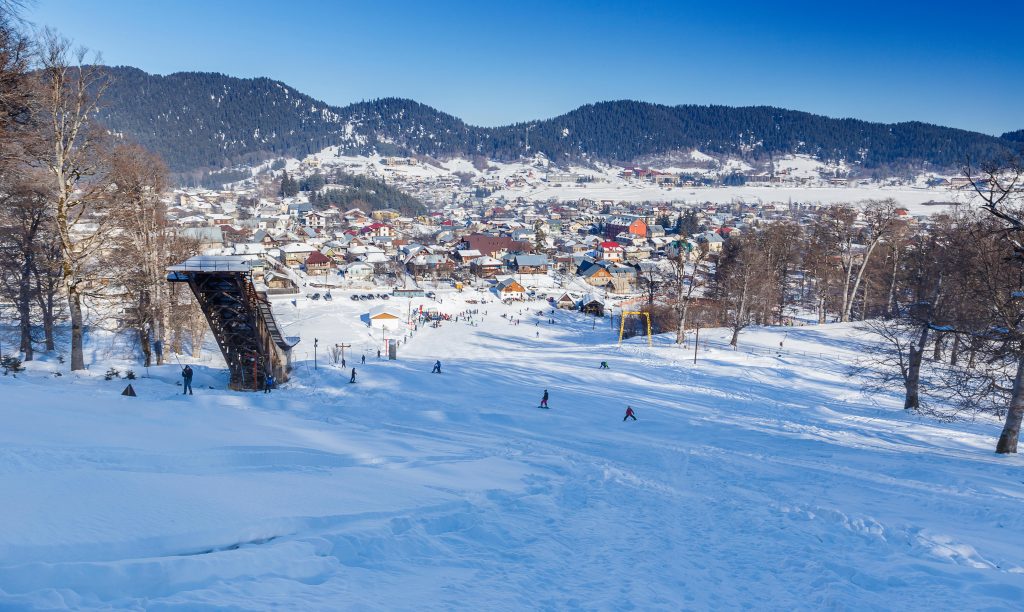 Ski slope in Bakuriani, Georgia (Alamy)
Located on the northern slope of the Trialeti Range, at the footsteps of the breath-taking Caucasus mountains, just north of Georgia's capital Tbilisi, Bakuriani ski resort is a paradise for skiers and snowboarders alike due to its long winters, which last up to five months.
The area where the ski resort sits today gained popularity in the late 19th century from the Russian royal family, which built a summer palace and sulfur baths in the region. To connect Bakuriani with the spa town Borjomi, famous for its mineral water, the Romanovs ordered the construction of a railway line. The train that runs along this line is called "Kukushka" and is so famous that there is a children's song written about it. Bakuriani railway is an engineering marvel — in order to cross the Tsemistskali river, the Romanovs commissioned Gustaf Eiffel, the genius behind the Eiffel tower, to design the railway bridge. The construction was brought to Georgia in pieces and installed across the river in 1902, completing the railway line.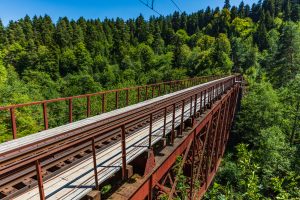 Bakuriani was born as a ski resort in 1935, when the value of the village and the surrounding nature was appreciated by the Soviet authorities. One of the founders of the resort was Soviet party official Andrey Zhemchuzhnikov. He and his friends went skiing there regularly and enjoyed it so much that Zhemchuzhnikov promoted the idea of Bakuriani as a ski resort. By the 1970s, the resort was established as a base for a Winter Olympics training ground. Many Soviet skiers were trained there and Bakuriani hosted slalom, bobsleigh, biathlon, and ski flying sporting events.
Since Georgia's independence, thousands have flocked to Bakuriani to ski, sledge, explore the nearby hills and slopes, practice cross-country skiing or just to relax and breathe in the mountain air. The infrastructure has been renovated, turning Bakuriani into the largest and most popular ski resort in Georgia.
How to get there:
If you want to travel on to the ski resort from Borjomi and take the Kukushka train, it runs twice daily. From Borjomi, trains run at 07:15 and 10:55. Trains return from Bakuriani at 10:00 and 14:15. The journey takes 2 1/2 t2.5 hours and costs 0.60 euros.
Tbilisi airport is a three-hour drive from the resort. You can take a taxi for 65 euros or hire a car, but make sure it has winter tires. The airport is served by airlines from Europe, the Middle East, and Central Asia from approximately 30 destinations.
Time of year to visit:
In 2022, the season will run from January 19 to April 3. The weather in Bakuriani is snowy in winter. There is  usually a layer of up to 60 cm on the slopes. To extend the season, some runs have snowmakers, which enables the resort to ensure a consistent quality of snow. The best month to visit is February, when it is moderately snowy, cool, and sunny. The area around the resort is generally sunny and temperatures generally range between -6°C and -8°C. Avalanches, landslides, and mudflows are unheard of in this part of the Trialeti Range.
Documents:
Citizens of 93 countries may visit Georgia without a visa for a year. This includes all EU countries, the U.S. and UK.
Activities: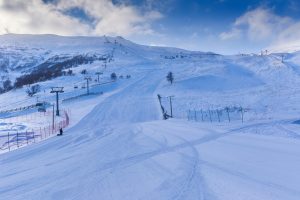 There are five ski tracks in Bakuriani: Didveli, Chrystal, Tatra, Mitarbi, Kokhta and a 25-metre track for beginner skiers. Their total length is approximately 20 kilometres and the highest slope is 2,700 meters above sea level. The ski lifts at the resort are able to lift 10,000 skiers and snowboarders every hour. Ski passes cost 12 euros for adults and 7 euros for children. You can hire ski equipment for 3 euros per hour and 10.50 euros per day.
The most popular track on the resort is Didveli as it is well equipped and suitable for both beginners and advanced skiers. The Didveli track is 4,000 meters and has three lifts. It's suitable for amateurs at the lower lift levels and professionals closer to the top. However, as it is the highest track, it is worth for everyone to go up there just to admire the view. The colourful lights that are set up along the full length of this track allow for night skiing, available on Friday, Saturday, and Sunday from 17:00 until 22:00.
At each lift stop along Didveli, there are cafes where staff prepare various sweets and homemade mulled wine. A small playground has been built at the first stop and a 1,350-metre toboggan run departs from the Didveli trail – price 3 euros.
Another famous track at the resort is Crystal — 2,056 metres in length, Crystal is a blue track for competent skiers but also has branches that are interesting for advanced skiers. Next to Crystal's ski lift is a special lift to take you to the top of the sledging route. At the lower lift station, there is a cosy cafe with a fireplace and delicious food. The opposite is a playground with carousels, trampolines, and swings to keep children occupied.
Tatra is a two-level track with a length of 500 and 1,800 metres. It is suitable for both beginners and confident skiers and its highlight is the passage through the forest. Kokhta is also a two-level track with a sit-down lift. The first level of 1,400 meters is suitable for beginners, the second 2,000 metres only for advanced skiers. There is also a 25-metre trail which is suitable for learners and where most of the skiing lessons take place. The price of a lesson with a skiing instructor is 15 euros per hour, for snowboarding – 18 euros per hour.
In 2016, another track was opened in Bakuriani called Mitarbi. It is a very old track and was closed for 30 years, but has now been renovated and equipped in the likeness of Didveli with a two-level open lift. This newly refurbished track is reserved for advanced skiers. For the most adventurous, there are ski jumps of 45, 70 and 90 metres.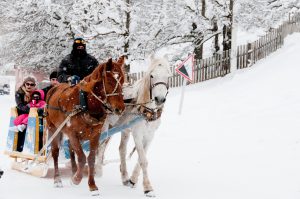 There are many off- slope activities involved in at Bakuriani – ice skating, snowmobiles, an amusement park, horseback riding, the newly renovated cinema Didveli, named after the main ski track, and the funicular to breathe in the fresh air, and admire the mountain views.
Accommodation: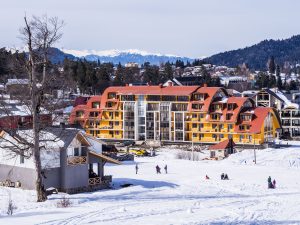 There is a wide range of accommodation at Bakuriani. You can stay at the large hotels in the resort, or at the boarding houses and private homes in town.
Rooms Hotel Khotka is the newest addition to the Rooms Hotels family – a Georgian collection of trendy and design-led hotels. Prices start from 150 euros per night and offer ski-to-door access, a restaurant, 24-hour concierge service and ski equipment to hire.
The Bakuriani Inn is a modern and trendy 5-star hotel with a restaurant, indoor swimming pool, spa, and fitness centre. The rooms start from 120 euros per night and are modern and spacious enough to accommodate small families.
Snow Plaza Hotel is located close to Bakuriani town centre and is one of the most popular hotels in the area. The hotel has a restaurant, fitness centre, an indoor swimming pool and a playground for kids. It also offers free bikes and ski gear to hire. The rooms at Snow Plaza start from 150 euros, are spacious and decorated in a modern style, have a balcony and some rooms even have their own jacuzzi.