Biden predicts Russian move into Ukraine, but U.S. presses on with diplomacy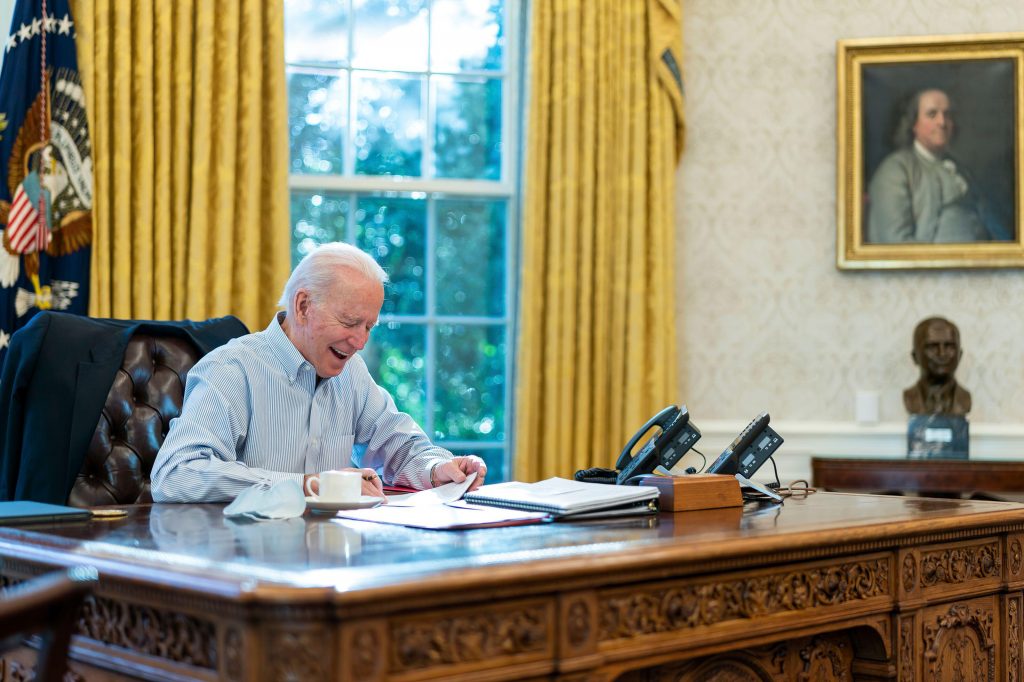 U.S. President Joe Biden in the oval office (Alamy)
U.S. President Joe Biden predicted that Russia, with tens of thousands of troops massed near Ukraine, would make a military move into its smaller neighbour, but the United States pressed on with a feverish diplomatic drive in Europe in the hope of preventing any such intrusion.
Both Biden and Secretary of State Antony Blinken, starting his tour of Europe in the Ukrainian capital, issued fresh warnings that Kremlin leader Vladimir Putin would pay a high price for launching an attack. Blinken's tour will feature consultations with European allies in Berlin and culminate in a meeting on Friday in Geneva with veteran Russian Foreign Minister Sergei Lavrov.
And the U.S. president appeared to nuance a Western response, making a distinction between "a small incursion" and a full-blown invasion.
A senior Russian negotiator, Deputy Foreign Minister Sergei Ryabkov repeated Moscow's position that it had no intention of launching an invasion. But he said the Kremlin remained steadfast in pressing its core demand – that NATO must not expand its membership to Ukraine.
Biden told reporters during a two-hour White House news conference that months of the positioning of Russian troops on the Ukrainian border meant that Putin was bound to proceed with some sort of military move into the country.
"Do I think he'll test the West, test the United States and NATO, as significantly as he can? Yes, I think he will," Biden said. "But I think he will pay a serious, and dear price for it that he doesn't think now will cost him what it's going to cost him. And I think he will regret having done it."
Asked whether that meant he believed an invasion was coming, the president said: "My guess is he will move in. He has to do something."
Western response to depend on scale of Moscow's action – Biden
But a Western response, he suggested, was contingent on the scale of Moscow's action.
"And it depends on what it does. It's one thing if it's a minor incursion and we end up having to fight about what to do and not do," he said.
In Kyiv, Blinken said that Russia's position of forces made it possible for the Kremlin to launch a quick strike against Ukraine.
"We know that there are plans in place to increase that force even more on very short notice," he said, "and that gives President Putin the capacity, also on very short notice, to take further aggressive action against Ukraine."
A senior U.S. official said that Biden last month approved the provision of $200 million in additional defensive security assistance to Kyiv – but no further details were provided. Britain this week said it had begun supplying Ukraine with anti-tank weapons to help it defend itself from a potential invasion.
The latest round of diplomacy followed a week-long series of talks between Russia, the United States and other Western countries focusing on Putin's call for the West to provide "security guarantees"  — focusing on a bar on Ukrainian NATO membership and limits on NATO deployments in east European states that have been Alliance members since the mid-1990s.
Russian negotiators pronounced last week's talks to be a failure, with one saying they pushed relations into a "dead end". They said they were particularly disappointed at the failure by Washington to provide a formal response to its call for security guarantees – and it is not clear whether any such response was being prepared.
U.S. negotiators have said progress was unlikely in that some of the Russian demands were "non-starters", particularly the notion that Moscow could tell its neighbours which alliances it could or could not join.
But Washington and others pledged to pursue talks with Moscow on those and on other issues more likely to yield results, such as disarmament and more openness in disclosing troop movements and exercises.
Key talks with Lavrov in Geneva
Blinken said he was hoping for more clarity in his forthcoming talks with Lavrov.
"It's not clear what Russia's central demand is," he said. "I think we'll have a better idea, maybe, after Friday."
The mass buildup is the second such Russian deployment in less than a year.
Russia seized Ukraine's Crimean peninsula in 2014 after mass protests in Kyiv drove out the country's Moscow-friendly president from office. Russian proxies took control of large swathes of eastern Ukraine's Donbas region soon after, with more than 13,000 dead in seven years of conflict.
Diplomatic efforts have made no progress in settling the dispute over Donbas and Putin refuses any direct talks on the issue with Ukrainian President Volodymyr Zelensky, saying he is under the sway of Washington.
Other NATO allies have been active this week in pressing diplomatic options.
Germany's new Foreign Minister, Annalena Baerbock, told Lavrov in Moscow that there was "no understandable reason" for the Russian troop buildup, which was "hard not to take as a threat".
French President Emmanuel Macron, in a speech marking the beginning of France's six-month presidency of the European Union, said it would be expedient for Europe to pursue its own line of talks with Moscow.
"I think that it is good for there to be coordination between Europe and the U.S., but it is vital that Europe has its own dialogue with Russia," Macron said.
He called for the resumption of the "Normandy Format" – bringing together France, Germany, Russia and Ukraine – to tackle the Donbas issue. Moscow has rejected any new Normandy meeting, clearly preferring to deal directly with Washington.
In Moscow, Kremlin spokesman Dmitry Peskov told reporters that Friday's talks between Blinken and Lavrov were "extremely important".
Fresh concerns about Moscow's actions focused on a new deployment of an unspecified number of Russian troops in its neighbour and close ally Belarus as part of military exercises.
Russia's Deputy Defense Minister Alexander Fomin said the joint drills with Belarus would involve practising a joint response to external threats. It was not known how long the exercises will last.