Biden, Putin trade threats in new phone conversation, set stage for formal talks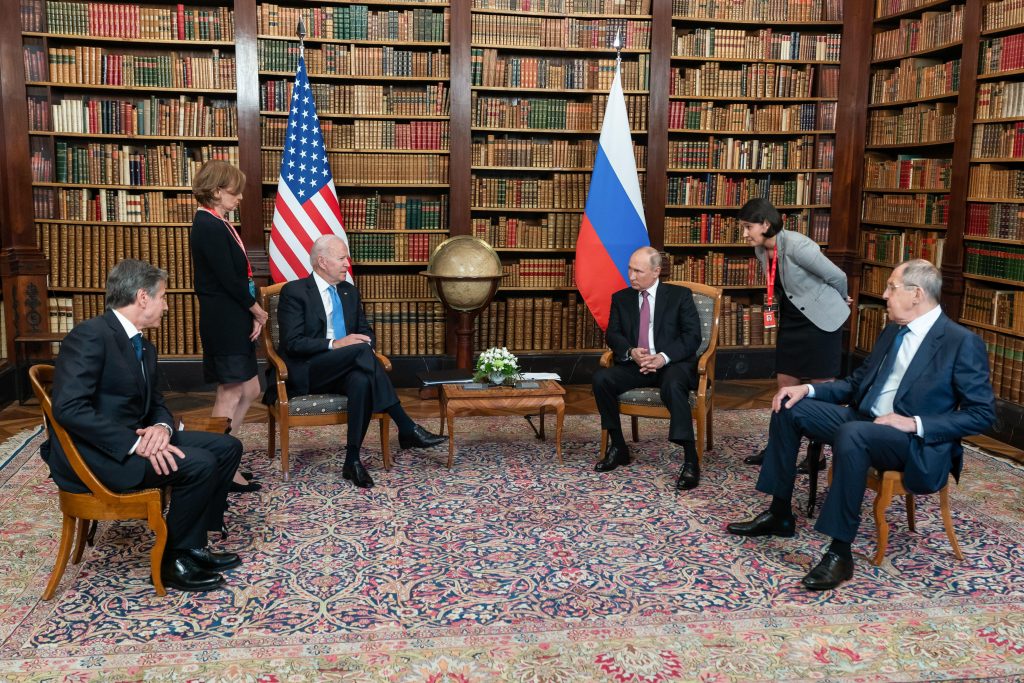 U.S. President Joe Biden and Kremlin leader Vladimir Putin meeting in June 2021 (Alamy)
U.S. President Joe Biden and Kremlin leader Vladimir Putin traded threats during their second virtual conversation in less than a month, but accounts of their discussions described them as substantive and appeared to show that both sides were working towards formal meetings due to take place in the New Year.
Putin appeared to have been more forthright in the 50-minute exchange, telling the U.S. president that the imposition of further economic sanctions on Russia – in response to any sort of Russian incursion into Ukraine — would precipitate a complete breakdown in relations between Moscow and Washington.
Ukraine and Western analysts say 100,000 troops have been deployed around the border – though Russia this week said 10,000 men were sent home after completing exercises.
Putin has said nothing about any new incursion more than seven years after Russia annexed the Crimea peninsula and Moscow proxies took over large chunks of eastern Ukraine – 14,000 people have died in the ensuing conflict.
But Putin accuses Kyiv of being under NATO's sway and has submitted formal proposals prior to next month's talks demanding that the Alliance renounce any further eastward expansion to include ex-Soviet Ukraine or Georgia.
White House press secretary Jen Psaki said Biden "urged Russia to de-escalate tensions with Ukraine" and "made clear that the United States and its allies and partners will respond decisively if Russia further invades Ukraine".
Putin's response, as outlined by Kremlin foreign policy adviser Yuri Ushakov, was blunt.
"Our president immediately responded that if the West decides in this or other circumstances to impose these unprecedented sanctions which have been mentioned then that could lead to a complete breakdown in ties between our countries and cause the most serious damage to relations between Russia and the west," Ushakov told reporters.
"Our president also mentioned that it would be a mistake that our descendants would see as a huge error."
More Western sanctions?
Western sanctions were slapped on Moscow after it seized Crimea in the aftermath of mass protests in Kyiv that culminated in the Russia-friendly president fleeing the country.
But after their first virtual meeting in early December, Biden warned of new, unprecedented sanctions – and officials cited economic measures like disconnecting Russia from the SWIFT international payments system.
Officials in Germany's new government have suggested that an invasion could prompt Berlin to halt operations on the still to be approved Nord Stream 2 pipeline taking Russian gas to Western Europe, seen as a major project in both Moscow and Berlin.
Despite the firm stand taken by both leaders, a White House official described the discussions as "serious and substantive", with more effort devoted to setting the tone for the New Year meetings rather than breaking new ground.
Ushakov told reporters Putin was "pleased" with the conversation which had created a "good backdrop" for future talks.
In a holiday message before the latest call, Putin told the U.S. president he was "convinced" the pair could work together based on "mutual respect and consideration of each other's national interests".
Russia and the United States are to discuss the Russian security proposals on 10th January in Geneva. Russian negotiators will meet later in the week with NATO officials in Brussels and in Vienna with the Organisation for Security and Cooperation in Europe (OSCE), a 57-member pan-European body also including the United States and Canada.
Putin and Biden are not expected at any of those discussions.
Russia has expressed particular concern about NATO drills and the deployment of weaponry close to its borders – and Putin has drawn comparisons to the current discussions with the Cuban missile crisis of 1962 when the United States refused to accept the deployment of Soviet missiles in Communist Cuba.
Last week, Russia test-fired Zircon hypersonic missiles, a move Russian officials said was meant to help put Russia's push for security guarantees into sharper focus.
Washington – and NATO – have made it plain that demands in terms of NATO expansion and deployment of weapons are unacceptable and say they will not countenance any notion of Moscow dictating to its neighbours what policies it might pursue and the allies it might choose.
Ukraine: no immediate threat of invasion
In Kyiv, the head of Ukraine's national security council, Oleksiy Danylov, downplayed the notion of an imminent large-scale Russian incursion and suggested that the number of troops was not increasing right now.
"At this time, we don't see any great danger from what is happening on our borders," Danilov told a briefing. "This may be big news to some in the West, but for us…since February 2014, these are things that, to our great regret, take place every day."
Ukrainian President Volodymyr Zelensky's office said he had spoken to U.S. Secretary of State Antony Blinken ahead of the new Moscow-Washington discussion. Blinken expressed Washington's "unshakable" support for Ukraine's territorial integrity.
Since 2014, the United States has provided a steady flow of defensive weaponry to Ukraine.
A senior U.S. administration official, speaking on the eve of Biden's new chat with Putin, said Washington had "made plans to reinforce NATO's force posture and allied states in the event of an invasion. Further "adjustments" would be required "to NATO forces and capabilities, especially on the eastern flank".
Washington has said it will unfailingly consult its European allies in Europe while negotiating with Moscow – a point stressed by senior European officials.
At his annual end-of-year news conference last week, Putin displayed a mix of belligerence towards Western countries and satisfaction at the anticipated start of talks.
He aired grievances that Ukraine was positioning itself in an "anti-Russia" camp, bolstered by "aggressive" NATO actions. He gave no guarantees that Russia might make a new incursion into Ukraine.
"It's you who must give us guarantees, and give them immediately, now," Putin told a British reporter.
"Were we the ones who placed missiles next to the U.S. borders?" Putin said, responding to another question. "No. It is the U.S. with its missiles who came to our home and are on the threshold of our home. … Is it an unusual demand? Do not place any more assault systems next to our home? What is unusual about We didn't come to the U.S. or UK borders, no, they came to ours…The ball is in their court, they have to give us some response."
Putin has systematically rejected Ukrainian President Zelensky's calls for direct talks on seven years of conflict in Donbas and told him to negotiate directly with the unrecognised statelets set up by the separatists.
France and Germany have both called for a resumption of four-party talks on Donbas, known as the "Normandy format" but Russia says such talks are impossible as Kyiv is failing to fulfil parts of two agreements meant to help resolve the talks and calling for elections in the separatist-held territories.