Critics doubt Zelensky intent in backing U.S. anti-oligarch sanctions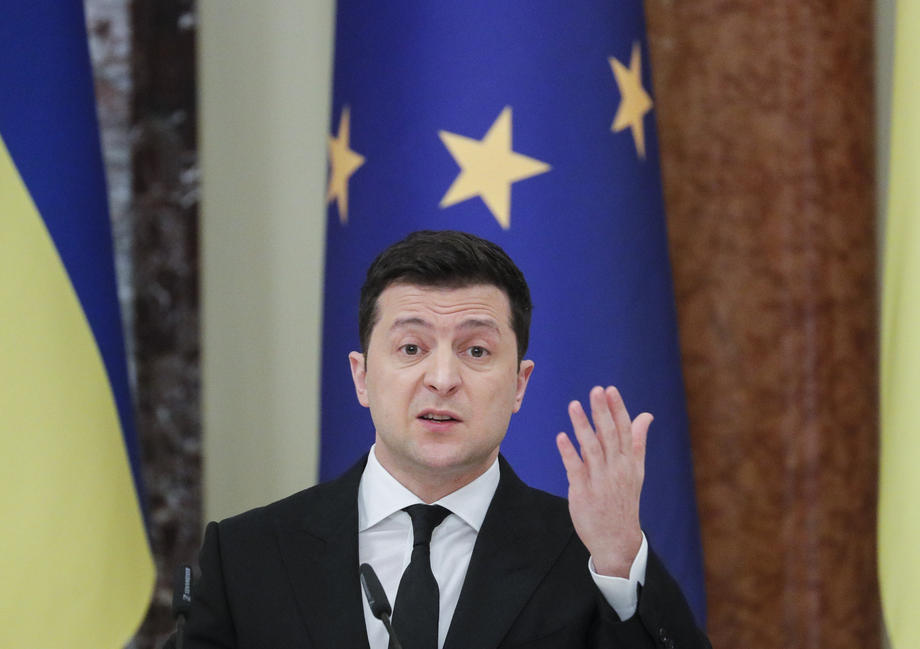 EPA Sergey Dolzhenko
President Volodymyr Zelensky approved U.S. sanctions aimed at Ukrainian oligarch Ihor Kolomoisky, but analysts said his actions aroused suspicions over whether he would truly facilitate Washington's bid to bring to heel an industrialist long viewed as his backer and mentor.
The sanctions against one of the country's most influential magnates jolted the Ukrainian capital as they focused on allegations of corruption against a man associated with the president in a series of projects, notably his role as owner of the television channel that made comic actor Zelensky a household word long before his 2019 election.
Kolomoisky was one of the owners of PrivatBank, nationalised under the president's predecessor and chief antagonist, Petro Poroshenko amid allegations of money laundering. He also faces sanction in connection with actions undertaken while he was administrative head of Dnipropetrovsk region in central Ukraine.
In a television address last Friday after a meeting of Ukraine's Security and Defence Council, Zelensky said he backed U.S. action intended to uproot the corruption and oligarchic control that critics say bedevils Ukraine's economy and politics since independence from Soviet rule in 1991.
Oligarch Short List
But he pointedly refused to refer directly – or at least separately – to Kolomoisky, reciting instead a list of industrial magnates that might be subject to punitive action.
"As for U.S. sanctions against the former owners of PrivatBank, we support this decision and are working to return the funds to Ukraine. To return justice to Ukraine," told viewers.
"Names are not important here: (Viktor) Medvedchuk, Kolomoisky, Poroshenko, (Rinat) Akhmetov, (Viktor) Pinchuk, (Dmytro) Firtash or anyone else. What's important here is this – are you ready to work in a legal, transparent way or do you still want to create monopolies, control the media and influence parliamentarians and other functionaries?
"The first one gets our support. The second one is coming to an end."
Analysts said this amounted to little more than ritual agreement. A failure to fall in behind Washington in anything more than nominal terms.
"How should a responsible leader have acted? He should have initiated an investigation on those issues that are of importance to our allies as it is their intention to fight corruption by oligarchs,"  analyst Vitaly Portnikov said on his telegram channel.
"Not recite a list of people to fight against….but rather start with the one who is suspected of committing specific acts of corruption. And not mix up the problem as if it did not exist. You cannot simply put Ihor Kolomoisky, the object of personal U.S. sanctions, in the same line-up as other oligarchs, industrialists and politicians that Volodymyr Zelensky simply doesn't like."
"He is afraid to say Kolomoisky's name aloud and straight away," echoed opposition member of parliament Mykola Knyazhitsky on Espreso TV. "… And then he uses the name in a completely different way than that used by our partners who imposed the sanctions. He is afraid to say it."
The U.S. launched the sanctions as Ukraine tries to repair ties with Washington, hit by four years of strain under Donald Trump and the ex-president's attempts to enlist Zelensky's help to improve his electoral chances against the eventual winner of the U.S. presidential election, Joe Biden.
Relations with the President, IMF credits
President Biden knows Ukraine well from his time as the point man for the country as Barack Obama's vice-president, but has so far kept Zelensky at arm's length.
Ukraine is also making efforts to secure fresh credits from an International Monetary Fund loan programme after a Fund mission to Kyiv resulted in no agreement to release funds.
The Ukrainian Security Council meeting that prompted Zelensky's television address also revisited other areas that the president has stressed in recent weeks to burnish his image – mainly action to blunt pro-Russian sentiment in the country and portray himself as a staunch defender of national interests.
Last Thursday, that included an investigation into whether 236 members of parliament committed treason in backing a 2010 agreement to prolong the authorisation for Russia's Black Sea Fleet to remain in Crimea. That accord is now cited as the first in a string of events that eventually allowed Russia to overwhelm and annex the peninsula in 2014 amid the turmoil of "Maidan" mass protests.
The Council also decided to nationalise aircraft engine manufacturer Motor Sich – majority-owned by Chinese companies. Nationalisation, deemed vital for national security, had been under discussion since the U.S. blacklisted Chinese company Skyrizon on grounds that the company could try to transfer sensitive technology to Beijing.
The meeting also approved in principle a five-year strategy to recover Crimea from Russia and re-establish the peninsula fully as Ukrainian territory, though commentators criticised what they said was a failure to publicly announce in detail just what that strategy was.
Zelensky, long accused by liberals and nationalists of failing to act against Russian interests, has propped up his sagging popularity in recent weeks with moves to shut down three television channels linked to parliamentarian Dmytro Medvedchuk – widely seen as the most prominent advocate of those interests. Authorities subsequently introduced sanctions against Medvedchuk himself.
But it was the link between the president and Kolomoisky that remained front and centre.
The Washington Post, in a weekend editorial after Zelensky's address, urged the president to "show greater commitment" to the fight against corruption.
"He should press for judicial reforms, restore independence to the central bank and rule out any move to weaken the National Anti-Corruption Bureau," the Post said.
"He should break unequivocally with Mr. Kolomoisky and support criminal charges against him. Having survived a U.S. president who sought to corrupt him, Mr. Zelensky now has the opportunity to forge a partnership with Mr. Biden that could decisively advance Ukraine's attempt to break free from Russia and join the democratic West. He should seize on it."
The alternative, according to analyst Portnikov, was a bleak diplomatic outlook for Kyiv.
"What more does the U.S. president have to do to make President Volodymyr Zelensky understand the situation?" he said on Espreso TV. "They will stop giving credits and they won't talk to Zelensky."