Daria Shapovalova: eco-friendly fashion for the digital age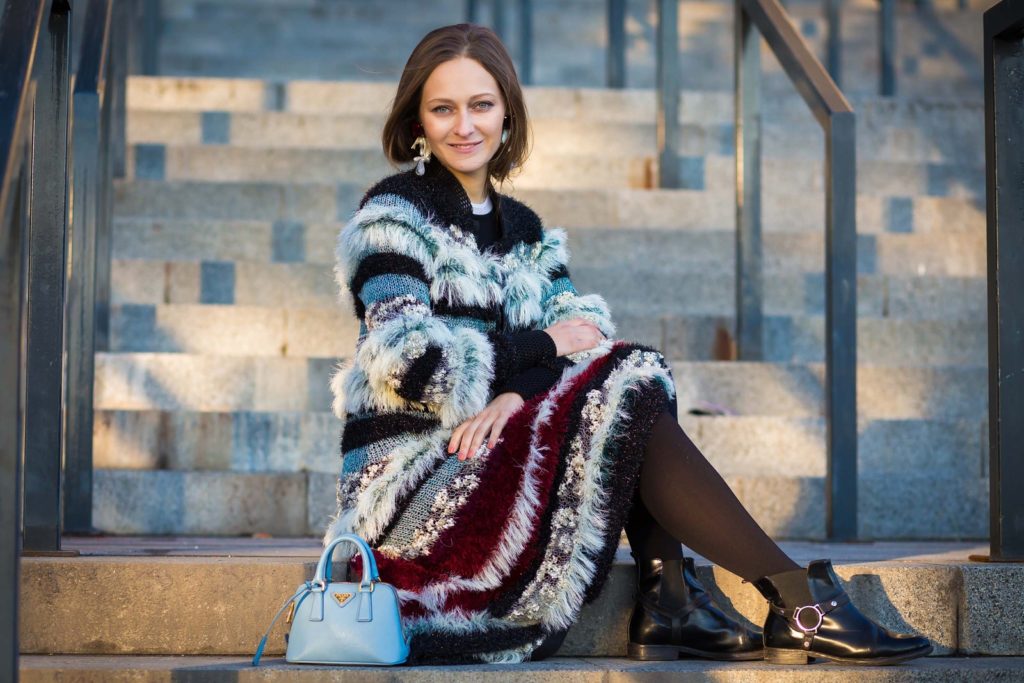 https://www.vogue.com/article/ukrainian-street-style-daria-shapovalova-winter-fashion
Age: 34
Origin: Kyiv, Ukraine
Based in: Los Angeles, U.S.
Education: Taras Shevchenko National University of Kyiv & Hult International Business School (MBA)
Occupation: Co-Founder – DressX
Daria Shapovalova was born in the Siberian city of Novosibirsk but at the age of one, her family moved to Kyiv where she spent the rest of her childhood. She knew she wanted to work in the fashion industry from a young age after receiving fashion books from her mother, her biggest inspiration. She graduated from the Alexandria gymnasium and in 2004 began her university studies in Journalism, PR, and marketing.
While studying, Shapovalova got the opportunity to do an internship with Anna Della Russo, the editor-at-large of Vogue Japan. This experience allowed her to discover up and coming Ukrainian designers whose contacts would become useful at a later date. At 19, she launched her own television show, 'Fashion Week with Daria Shapovalova,' on Ukrainian TV and from there, she began contributing to the Ukrainian editions of Elle and Harper's Bazaar, as well as Vogue Russia. Shapovalova also ventured into multimedia journalism in her role as a video director for the French fashion website, Nowfashion, her own Russian-language fashion website, Fw-Daily and her eponymous fashion blog.
From 2010 to 2017, she was the co-founder and creative director of Kyiv Fashion Days, a part of Kyiv fashion week. Due to the conflict taking place in eastern Ukraine, buying fashion was not a priority for Ukrainian Shapovalova decided that instead of bringing Ukrainian fashion designers to the attention of Ukrainians, she would use Kyiv Fashion Days to bring Ukrainian designers to international markets. Shapovalova has been very successful in the promotion of Ukrainian fashion. It it is now common for Ukrainian designers such as Anna K, Paskal, Anton Belinskiy and Anna October to showcase their collections in Paris, Milan, and London. "It was always important for me to elevate the image of Ukraine and I am glad we did it through empowering designers," Shapovalova explains. Her hard work has paid off as Kyiv has now become the capital of Eastern European fashion.
In 2014, she co-founded the More Dash sales and PR agency which works to connect Eastern European designers with new markets and buyers. She hosts showrooms across Europe and the U.S., where store buyers come to the showroom to see samples of next season's collections, make a choice, and place an order. At these showrooms, Shapovalova opened up a content creator studio, where influencers would pay $10 to wear any of the clothes they had at the showroom and take pictures and videos wearing them, before returning the clothes.
In 2016, Shapovalova moved the focus of her fashion career into the technology industry, holding the very first fashion-technology forum in Ukraine. At this forum, Shapovalova spearheaded discussions focused on bridging fashion with technology. Shapovalova also got involved in the fashion education sphere by founding the Kyiv Fashion Institute, a private school with a reputation as one of Ukraine's top fashion centres.
Her efforts were recognised in 2017 when Forbes included her in their 30 under 30 list in the arts category. That same year she left Ukraine behind and travelled to America with a one-way ticket and two suitcases to begin a master's in San Francisco at the Holt International Business School. Her decision to study in San Francisco was not random. Shapovalova wanted to move to the technology capital of the world as she understood that in order for her business More Dash to expand, she needed to connect fashion with technology. Living in San Francisco allowed her to meet and collaborate with people who had been involved in tech for a long time. She believes the most interesting projects in business are born at the intersection of different industries, in her case it was to be fashion and technology.
The idea for Shapovalova's newest venture, DressX, started with the concern of the environmental impact of the fashion industry and the increasing consumption of fashion for the sole purpose of digital content creation. Barclays Bank did a survey of their credit card customers and found that 9% of those that bought clothes tried them on once and then returned them to the store. Having worked in the fashion media industry for some time, Shapovalova knew that serious fashion influencers only wore their clothes once on social media in order to keep a newness to their online persona, but she also knew that there could be a more environmentally friendly way of going about it. The lockdown in spring 2020, where almost everybody's lives moved online and the realisation that retail would never be the same again after the pandemic turned into the perfect time for Shapovalova to launch DressX. Shapovalova concluded that: "If the images are digital, why do (we) need to buy fashion at all?"
DressX is the first and biggest multi-brand retailer of digital-only clothes. The DressX team is made up of 2D and 3D artists who manually "dress" the customer who uploads a picture of themselves on which the digital garment is placed. The turnaround to create these digital clothes takes two days. Shapovalova recognises that garment construction knowledge is absolutely necessary to turn fashion sketches into valid digital garments, so people who come from a pattern cutting background are hired at DressX. Shapovalova's unique business is eco-friendly as "the total carbon footprint of producing one digital item is 95% less than the average production for a physical garment".
The goal of DressX is to introduce automation and sell one billion digital items in the first 10 years. On day one, the company had 2,000 unique users and a week later the numbers were doubling every day. Shapovalova is predicting that in three to five years, every fashion lover will have their own digital wardrobe alongside their physical one. In July 2021, DressX raised $2 million in a Seed round led by The Artemis Fund and Alpha Edison. Other investors included Unlock Venture Partners, One Way Ventures, Signal Peak Ventures, TLF Ventures, Startup Mavericks, and strategic angel investors from fashion, tech and blockchain communities. DressX has been covered extensively in the press thanks to Shapovalova's connections with fashion media outlets and the November cover of Vogue Czechoslovakia featured Maye Musk, Elon Musk's mother, wearing a DressX digital outfit. DressX is integrating fashion into AR (augmented reality) and is already testing AR on calls through Google Meet in beta and will start using it widely next year.
Quote: "Digital fashion is the new fast fashion. If we really want it fast, it should be digital."
Sources: Dell, my.ua, Forbes, Financial Times, glossy.co, business of fashion, Harper's Bazaar, Linkedin.