Differences persist at Russia-U.S. talks, but Moscow vows no Ukraine invasion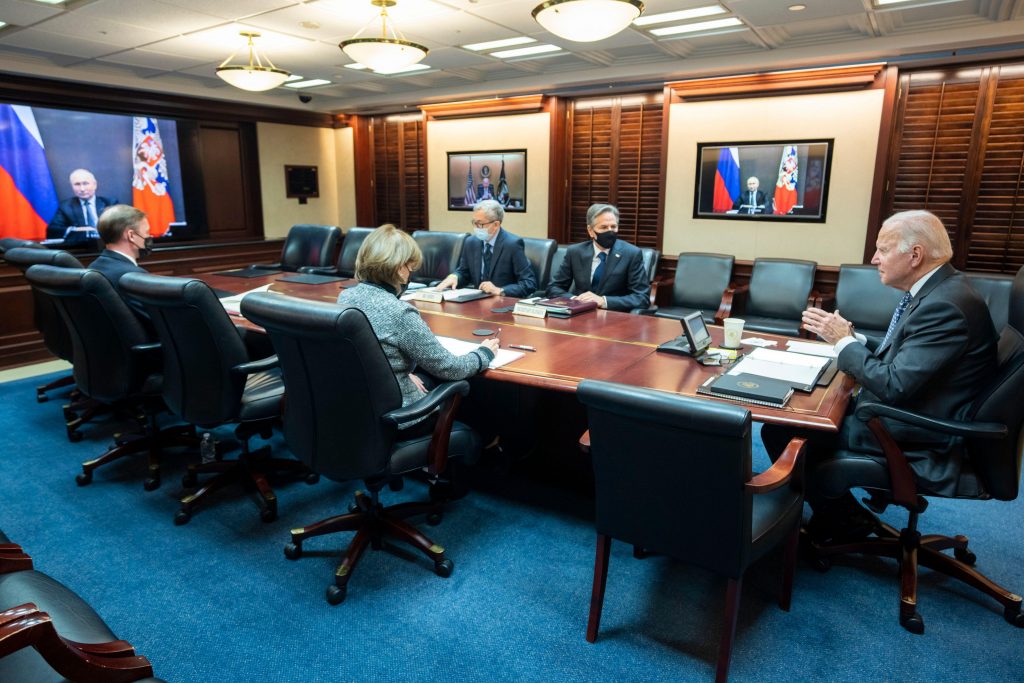 U.S. President Joe Biden holding video Putin in December 2021 (Alamy)
Russia and the United States opened a series of talks on the future of Europe-wide security with little evidence of an easing in differences, but Washington said it had secured assurances that Moscow would launch no invasion of Ukraine.
The meeting – the first of three East-West encounters this week, was prompted by the deployment by Ukraine's border of tens of thousands of Russian troops and Moscow's submission last month – at Kremlin leader Vladimir Putin's behest — of documents seeking "security guarantees" from the West. Among them is an undertaking that NATO will make no further eastward expansion to include Ukraine.
After eight hours of talks in Geneva, neither side appeared to give any ground. But both expressed willingness to keep talking.
"The talks were difficult, long, very professional, deep, concrete, without attempts to gloss over some sharp edges," Russian Deputy Foreign Minister Sergei Ryabkov told reporters after the session concluded. "We had the feeling that the American side took the Russian proposals very seriously and studied them deeply."
Ryabkov said no progress had been made on Moscow's call to keep Ukraine out of NATO – a key element in ensuring the success of future talks, though he said that the tone of the talks "makes one more optimistic".
And he added: "We explained to our colleagues that we have no plans, no intentions, to 'attack' Ukraine. There is no reason to fear some kind of escalatory scenario."
His U.S. negotiating partner, Wendy Sherman, Deputy Secretary of State, said Washington ruled out any consideration of Russian proposals that were "non-starters", including a bar on NATO membership for NATO or any other country.
Nor would it agree to Moscow's call for the Alliance to roll back its presence in East European countries that had joined in its eastward expansion in the 1990s. Any discussion of Europe's security, she said, had to include Europe as a direct participant.
No negotiation on NATO's "open door"
"We will not allow anyone to slam closed NATO's open-door policy, which has always been central to the NATO alliance," she said on a conference call. "We will not forego bilateral cooperation with sovereign states that wish to work with the United States. And we will not make decisions about Ukraine without Ukraine, about Europe without Europe, or about NATO without NATO."
Sherman said the U.S. side had "certainly urged Russia to de-escalate, to create an environment that was conducive to the diplomatic track. But we will see."
She acknowledged that the meeting amounted to "a discussion, a better understanding of each other and each other's priorities. It was not what we would call a negotiation."
Putin refers to Ukraine and its president Volodymyr Zelensky in disdainful tones, saying they are under the influence of the West and right-wing nationalists and clearly preferring to discuss relations with Kyiv strictly with Washington. Russia annexed the Crimea peninsula and helped proxies seize large chunks of eastern Ukraine in 2014 after mass protests forced the ex-Soviet state's Russia-friendly president to flee.
Zelensky came to office on pledges of doing a deal with Putin but now says NATO membership is the only way to ensure his country's security. Both the United States and NATO say any proposal to limit the right to join NATO is tantamount to returning to a Cold War-style division of Europe into spheres of influence.
Putin has welcomed the willingness of the United States and NATO to discuss its proposals but has also darkly suggested Moscow could resort to a military response if its demands are not met.
Earlier on Monday, EU foreign policy chief Josep Borrell said he believed a Russian invasion was still possible – and any discussion of European security required close consultation with the 27-nation bloc.
"There are 100,000 Russian troops on the other side of the border," Borrell said. "I suppose they haven't gone there to drink coffee!"
Discussing the Soviet-era INF treaty
In Geneva, Sherman also said the two sides had discussed ways of reviving the Intermediate-Range Nuclear Forces Treaty dating from Soviet times but abandoned by the United States in 2019 on grounds that Russia was violating its provisions.
She also the United States had indicated it was open to discussing "reciprocal limits on the size and scope of military exercises and to improve transparency about those exercises". The United States, she said, was willing to hold further meetings soon.
Moscow has said its massing of troops along Ukraine's borders – the second such deployment since spring 2021 – was strictly to conduct exercises and was necessitated by NATO's "aggressiveness".
Further discussions are scheduled for later in the week – on Wednesday as part of the NATO-Russia Council which has been inactive for more than two years and on Thursday as part of the 57-nation Organisation for Security and Cooperation in Europe, one of the continent's most prominent security bodies.
Putin and U.S. President Joe Biden have held two meetings in the past month by video link, talks described by aides as substantive and preparing the ground for this week's discussions.
But the last 50-minute encounter on 30th December was also punctuated by threats issued by both sides.
Putin said any new imposition of U.S. sanctions on Russia – like those introduced after Moscow's annexation of Crimea – would lead to a complete breakdown in relations.
Russia has expressed particular concern about NATO drills and the deployment of weaponry close to its borders. Since 2014, the United States has provided a steady flow of defensive weaponry to Ukraine and Putin has drawn comparisons to the Cuban missile crisis of 1962 when the United States refused to accept the deployment of Soviet missiles in Communist Cuba.
Biden has repeatedly said that Washington would resort to tough punitive measures if Russia engaged in any new incursion into Ukraine. He has cited economic measures, like disconnecting Russia from the SWIFT international payments system.
Officials in Germany's new government have suggested that an invasion could prompt Berlin to halt operations on the still to be approved Nord Stream 2 pipeline taking Russian gas to Western Europe, seen as a major project in both Moscow and Berlin.