"Disappointed and angry" Zelensky rails against Russia's near finished Nord Stream 2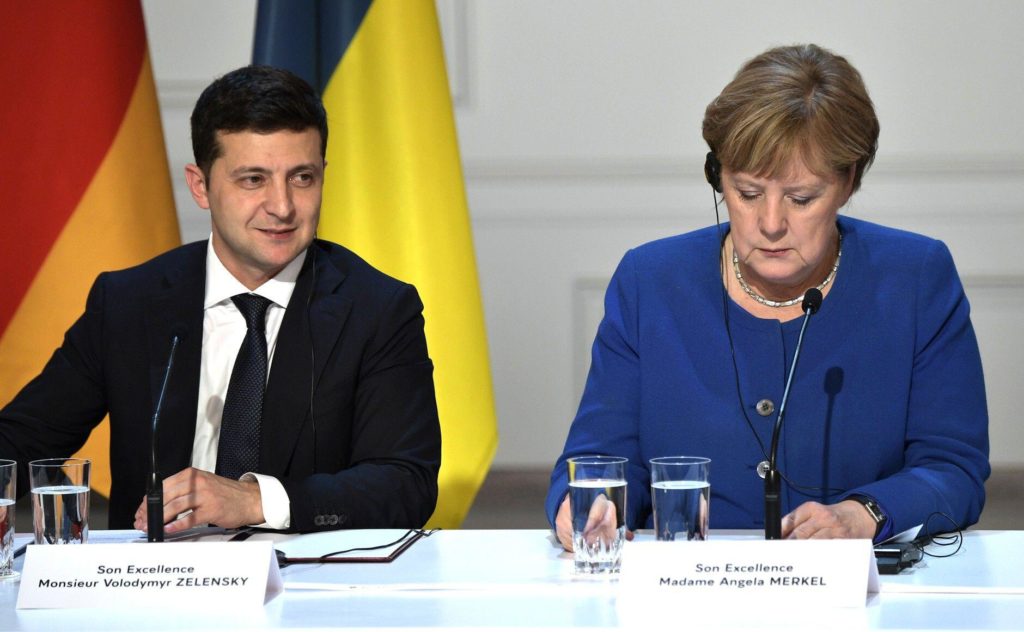 Alamy
KYIV
Ukrainian President Volodymyr Zelensky fulminated to the last over Russia's nearly completed Nord Stream 2 gas pipeline to Germany, but in the end, was able to do little in enlisting the United States to stop what Washington described as a "fait accompli".
Zelensky raged against U.S. President Joe Biden's decision to abandon sanctions against the pipeline and begged the U.S. leader to meet him before a Russia-U.S summit in Geneva on June 16.
In the end, Zelensky settled for a consolation prize proposed during a telephone call with Biden — a White House audience in July, well after the U.S. president sits down with Kremlin leader Vladimir Putin.
It was a clear defeat for Ukraine – and Putin reveled in his announcement in front of an elite audience of dignitaries that the laying of the pipeline's first branch had been completed.
But Ukrainian officials put a brave face on matters – pointing to the July meeting and Biden's assurance in a telephone call that he would do his utmost to defend Ukraine's interests.
Ukraine sees Nord Stream as a threat to its security on grounds that Russia, no longer having to use its neighbour as a transit site for shipping gas westward, will feel free to apply more pressure on Kyiv.
Ukraine will also lose billions of dollars in annual ground-based natural gas pipeline transit fees.
UKRAINE TOLD US CANNOT STOP NEAR COMPLETE PROJECT
Secretary of State Antony Blinken told the House of Representatives Foreign Affairs Committee that Nord Stream 2 was indeed a "fait accompli". And that allowing the pipeline to go ahead was in the U.S. national interest by cementing good ties with Germany after four years of sporadic bellicosity from Donald Trump.
"I would have preferred it if Biden met with our president before meeting with Putin, but it is better than no meeting," Yuri Vitrenko, the new head of Ukrainian oil and gas company Naftogaz, told the Atlantic Council think-tank.
"It's a good sign and important because Ukrainians felt abandoned. At least we are now being shown that we are still an important partner for the U.S."
A Naftogaz delegation is currently in the United States pressing officials to take further action against the pipeline. But it was far from clear what that mission might accomplish.
Zelensky's anger, bordering on despair, was apparent in an interview he gave to U.S. media outlet Axios this week, begging to meet Biden "at any moment and at any spot on the planet" in order to halt the progress of Nord Stream 2.
"This is a weapon, a real weapon … in the hands of the Russian Federation," Zelensky told Axios. "It is not very understandable … that the bullets to this weapon can possibly be provided by such a great country as the United States."
LATE IN THE GAME
So why take on the problem so late in the game? And why the United States to try and stop the gigantic mega-pipeline, a matter between Germany and Russia?
Even if there were one percent of the project left, Zelensky said, "it would still be possible to stop such a serious leverage that Russia will have in future on energy security and Europe in general … Moreover everything is in the U.S. president's hands only."
He told Axios that he viewed the U.S. president as the "Michael Jordan of politics". Evidently meaning the one-time comedian would outwit his Russian counterpart in the nick of time.
Ukraine pursued its diplomatic offensive in Germany too, with Foreign Minister Dmytro Kuleba making plain his discontent with Berlin's stand on the pipeline.
"I regret very much that Ukraine and Germany gave different positions on this project," Kuleba was quoted as telling his German opposite number Heiko Maas. "We have good reasons to doubt Russia's ability and willingness to keep to its agreements."
Upholding the sanctions against the company building the pipeline and its German general director – Matthias Varnig, a longstanding partner of Kremlin leader Vladimir Putin would have been an 11th-hour undertaking, to say the least.
Biden's administration shares the view that Nord Stream 2 increases Europe's dependence on Russian resources, but favours talks with Berlin, rather than pressure.
In the meantime, Russia is completing the project.
Putin told the St. Petersburg International Economic Forum that the second and final branch of the pipeline would be completed within two months.
PUTIN AND UKRAINE'S "GOOD WILL"
Putin took the issue of keeping Ukraine as a transit country for Russian gas head-on – noting that Russia was ready to discuss terms after the pipeline was completed and the existing transit agreement ran out. But Kyiv, he said, had to demonstrate "good will" and show it wanted to develop its economy rather than "maintain its army with the intention of using force to solve the problems of Donbass" – in eastern Ukraine where separatists — Russian proxies – have occupied large swathes of territory since 2014.
That again confirmed Zelensky's point that as long as gas transits through Ukraine, "Russia is obliged to talk with Ukraine, to talk with Europe at the same table. If they build a pipeline bypassing Ukraine it is clear that Ukraine from that moment forward will be denied that lever."
Putin and his ally, Gazprom chief Alexei Miller, have long seen as critically important the construction of a pipeline that would deny Ukraine its status as a transit country key to sending Russian gas westward. It was not long after Putin took office, that his allies forced out Gazprom's management from the era of his predecessor Boris Yeltsin and secured control over the company.
A long series of projects was proposed to satisfy that goal.
There was "Nord Stream 1", "South Stream" – later transformed into "Turkish Stream."
Gazprom has already secured control of Belarus's gas pipeline system – the sole, if far less powerful, alternative to Ukraine's network dating from Soviet times.
And it was Putin who played the role of a chief lobbyist for each of these projects, persuading leaders of transit countries to take part in construction, making visits if a project stalled and turning to a new route.
For Putin, bypassing Ukraine was a tantamount to completing the project of a lifetime.
One can only imagine how he intends to use the benefits of his success and the extent of pressure he might apply to Ukraine when Nord Stream 2 comes on line, which seems likely inevitable, but with still the prospect of political haggling.
Both Washington and Berlin prefer to talk about compensation for Ukraine – rather than increased pressure on Moscow.
Blinken said discussions on compensating Ukraine's financial losses were underway in Germany if gas no longer passed through the country.
"We are actively engaged with (Berlin) to look at what can and should, and I believe must be done to…make sure that the transit fees that Ukraine at some point in the future may lose as a result of this pipeline … (is) made whole," Blinken told the U.S. House Committee.
But compensation for increased political pressure might not be such a simple matter if, as Kyiv fears, the pipeline becomes a political weapon rather than an economic tool.
THE GREENS AND THE PIPELINE
And that is precisely what Germany's Greens – one of the favourites in the election later this year – are saying.
Unlike the two parties now making up Germany's "grand coalition" – Chancellor Angela Merkel's Christian Democrats and the Social Democrats – the Greens have consistently opposed the new Russian pipeline from both a political and environmental standpoint.
Analysts believe the Greens will do well enough in the autumn poll to enter a new governing coalition — most likely replacing the Social Democrats. And due account will have to be taken of their stand.
Zelensky could well be proven wrong – ironically, Nord Stream 2 could be stopped not by U.S. actions, but by German actions.
But for the moment that could be more wishful thinking than a realistic series of events.
Zelensky's view is that it is vital to be prepared first and foremost for Nord Stream 2 to be completed. And, so the logic goes, President Putin's intentions will become clear.
And if that is indeed the case, much will depend on whether the West is prepared to support Ukraine in opposing the new pipeline once its important transit resource is taken away.