Drowning in Orchards: De-occupied Azerbaijan's Minjivan – a personal diary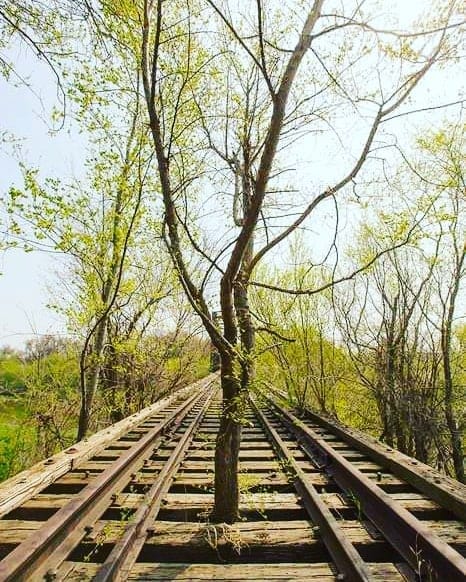 Railway in de-occupied Zangelan region of Azerbaijan (Courtesy of Aybaniz Islmailova)
BY AYBANIZ ISMAYILOVA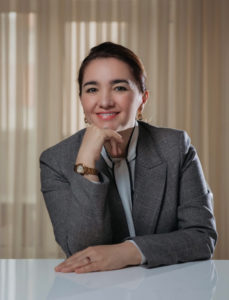 Aybaniz Ismayilova leads outreach and fundraising efforts of the Karabakh Revival Fund to "Build Back Better". With 20 years of experience in international development, she brings a unique perspective – as a woman and a displaced person from the recently de-occupied Karabakh districts.
Ms Ismailova is an author of more than 50 stories about the region, its people, cultural heritage and socio-economic development.
In this personal story, Aybaniz Ismayilova describes her hometown of Minjivan in the Zangelan region of Azerbaijan – a town now cheering its de-occupation, yet a deeply wounded one destroyed during 27 years of occupation. She tells of her deep attachment to this multicultural, colourful, and geopolitically important Eurasian town.
MINJIVAN: Drowning in Fruit Orchards
Minjivan literally drowns in fruit orchards. Our town hugs the Araxes River along the border with Iran.
I was born here in 1976. My childhood was carefree, seemingly idyllic. The lives of our extended family revolved around our Grandfather's home.
Aybaniz, age 2 and a half, with her father and mother
That is, until like hundreds of thousands of others in the broader Karabakh region, the last residents were forced to leave when Armenian militant groups moved in. Minjivan was looted, dismantled, and destroyed during the ensuing 27-year occupation.
 "BORDER" LIFE
Our town thrived as a railway junction connecting Baku with Yerevan.
The rails themselves now lie decayed and rusted.
My Grandfather was Dr Karam Mammadov.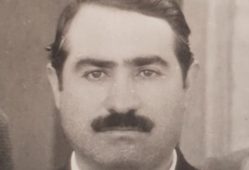 His sprawling two-story home was surrounded by a lush collection of fruit trees—peaches, mulberries, apples, and cherries. And amid them, we held out family gatherings – birthdays, weddings, and holidays. The family events always included long feasts and seemingly endless socialising.
Though we lived close to the administrative border with Soviet Armenia, in those times, the so-called frontier was little more than a theoretical one. When we did occasionally cross the administrative border, we barely noticed the happy Soviet-style welcoming signs preaching the "fraternal friendship" between Armenians and Azerbaijanis. Crossing back and forth between the two then-Soviet republics was an afterthought.
Our Minjivanis would often head over to the Soviet Armenian side to sell fruits and vegetables. Being close to the Araxes River, our climate was green and lush and thus a veritable hothouse for growing produce.
The town on the Armenian side was Kafan, and given Armenia's more arid, dry climate, the produce could fetch more Soviet rubles there than at home. In a kind of exchange due to the vagaries of the USSR's byzantine central planning system, some coveted goods ended up in Soviet Armenia in greater abundance or were produced there.
I was told that my grandfather took my mom to Kafan, on the Armenian side, to buy her gold and clothing for the wedding.
A few Armenians lived in our town of about 5,000. They were mostly women who had married Azerbaijani men. No one batted an eyelid about this. After all, we had many common traditions. My parents – if they did – talked of Armenians as simply ordinary neighbours.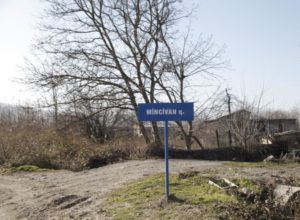 Yet sometimes I would hear occasional talk by my grandparents about Armenian "adversaries" – perhaps due to perceptions among some in Armenia that Azerbaijanis were the same "Turks" who had driven them from the Ottoman Empire in 1915. So, while in general there was normalcy, there was a lurking, latent historical enmity among some in the older generation.
RAILROAD TOWN
Minjivan was at the critical railway junction of the borders of Azerbaijan, Armenia, and Iran, and a big proportion of people in our town worked in some capacity related to it.
My father was one of them.
He worked as an engineer on the train route from our town to Nakhchivan, an Azerbaijani exclave separated from the rest of the country by a 40-km strip of Soviet (and now independent) Armenia.
The rails were of particular importance to us – it was the straightest and shortest road to the nearest villages.
As children, my brother Karam and others jumped from sleeping platforms in the train wagons. This was our unique fun. Of course, we had no mobile phones. And many people did not even have a landline.
A main form of communication emanated from the railroad terminal in the form of voices from a giant loudspeaker.
"Machine driver A, your shift starts at B time, please come to the station."
If the driver did not hear the edict, neighbours who did would pass it on.
When our family boarded the train for outings to outlying towns, locals stood selling fruits on the platform to those travelling to Nakhchivan or Kafan on the Soviet Armenian side.
On the train platforms, sellers hawked cherries strung on skewers. Their brilliant colours mesmerising, the sun's rays reflecting from them. Everyone seemed to be smiling. It was such a vibrant life. But it would be soon cut short by the looming war.
I later heard from many internally displaced people from the Zangelan region that for a long time, their dreams were full of audio hallucinations – the sound of the clattering rails – as if trains were still passing. In the dreams, they were tormented by being separated from their homes.
REFUGEE LIFE
In the Balajari district in Baku, many of us Zangelanis went to live. Ironically perhaps, not by chance – trains pass to Baku via Balajari station. By 1990, relations between Azerbaijanis and Armenians were deteriorating fast. The majority of ethnic Armenians in the former Azerbaijan Soviet Autonomous District of Nagorno-Karabakh in 1988 started demanding union with Armenia or independence. Isolated violent incidents increased. Locals formed armed militias.
Yet, we still managed to travel from Baku to Minjivan when we could, though gradually, the taken-for-granted normal ties frayed.
LAST TRIP
My last trip to my hometown was in August 1992, to attend my uncle's wedding.
By now, Azerbaijan and Armenia were both officially independent countries. The USSR, by then, had collapsed. And the former USSR republics were now openly at war. The hostilities had long since begun in other places – for instance, the Azerbaijani town of Khojaly in February 1992.
Almost all the people in our town feared for their lives. We travelled by night train: in the evening, we departed from Baku, and in the morning, we were already in Minjivan.
When we arrived, and it was no longer the village that I remembered as a child. There were a lot of military men. The atmosphere was gloomy and dark.
As a group of 20 women, we went for our henna bridal decorations – a pre-wedding custom. It was done in complete darkness. We did not even dare light candles because everyone said that it was too dangerous.
My memories of those times are deeply ingrained.
I vividly remember how it affected me because I no longer felt the taste or the summer fragrance of the bountiful fruits.
And just as it affected me, the people I knew changed as well.
Despite my uncle's wedding celebration, the guests wore no smiles on their faces.
So stark was the situation that we have not a single photograph from the wedding. All the local photographers had left for the war zone.
Months later, the same trains my father had been responsible for – going to Kafan – also completely stopped. My hometown being so close to the now "official" border, was an obvious target for occupation. Our army at the time was poorly organised and poorly equipped.
As tensions increased, more and more of the townspeople left. The final blow came on October 28, 1993, as the Armenians closed in. Many of those who had remained fled – often barefoot – through the Araxes River on the Iranian border.
Minjivan suffered the same fate as many such towns in the occupied territories, which the Armenians were finally forced to relinquish in late 2020. Looted down to bricks, wiring, metal, anything that could be re-sold.
A fearless few tested their luck and remained, mostly the elderly. Those who eventually made it out reported instances being frog-marched into forced labour for Armenian troops, tortured or held as hostage-bait to be later exchanged for Armenian POWs.
30-YEAR OCCUPATION
Like hundreds of others, my town was systematically looted, dismantled, and destroyed during a nearly 30-year occupation by Armenian armed groups.
Having become internally displaced, we lost everything that we had gained. Our lives were turned upside down. We also lost our friends and neighbours because everyone was forced to flee in different directions, depending on where they had relatives or opportunities.
In Azerbaijan, it is said that "a close neighbour is closer than a distant family". And now we were scattered around as if a bomb had detonated, throwing us in different directions.
In our place of refuge in Baku, everything was different.
The taste of the tea was not the same. The meat tasted different. The greens and herbs unique to Minjivan were not to be found.
We managed a four-room apartment in Baku. With 50-60 relatives. They had nowhere to go.
In the mornings, there was a long line of people to use our tiny toilet. After a while, the relatives were able to resettle – the lucky to simple cottages or "dachas" outside the city, others to converted dorms, or even half-built houses.
This all coincided with my final school year.
My family dreamed of me becoming a doctor, like my grandfather.
But life with dozens of other relatives in an extremely cramped apartment made it impossible to properly prepare for medical school admission.
We clung to the expectation that we would return home at any moment. But even as the years passed, our conversations were never hopeless.
Every round of talks by the international mediators – the OSCE "Minsk Group", gave us hope that the conflict would be resolved peacefully.
We talked about the house in the present tense all these long years. When planting seedlings in pots, my father, now 70, and grandmother, now 93, still hoped to replant them in our garden in Minjivan.
Women from our community always hoped to settle the conflict peacefully. After all, we didn't raise our sons to send them to war.
HOUSE STILL STANDING
Azerbaijan, in the end, had no choice but to reclaim its lands by war.
After the occupation ended, my cousin returned to see what was left of our town.
By a small miracle, our extended family home of my grandfather was still intact. Evidently, it was considered attractive enough that some Armenian occupying troops used it as a base. While it is in deplorable condition, it is still there, ready to be renovated and enjoyed again.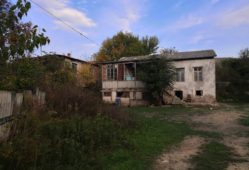 Grandfather's home, one of few still standing in Minjivan
Perhaps more amazing still, my Grandfather's gravestone was not pilfered to be sold off as expensive stone.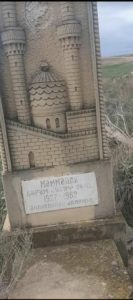 Few in the town were left like this. The reasons it was left undamaged are unclear, though he did come from a long line of Seyyids, people accepted as descendants of the prophet Muhammad and son-in-law Ali ibn Abi Talib. Such people are considered to have special powers.
My grandmother's house, by contrast, had been dismantled to its brick foundations. It was overgrown with weeds, and a large tree had sprouted in the middle.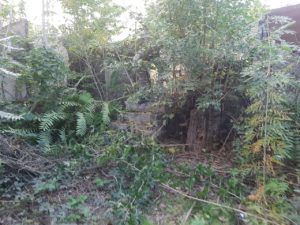 No one has returned to permanently live in our town, let alone the larger region of Zangelan, even eight months after the liberation of territories. After all, landmines have killed many. Almost all homes were systematically looted down to their baseboards.
Only infrastructure workers, soldiers, and border troops are now there. There is a huge construction site for rebuilding houses and the destroyed infrastructure.
After 30 years, the heritage railway is being rebuilt even better, the groundbreaking reconstruction of the 100-kilometre-long Horadiz-Agbend railway underway. This is of great importance for transporting passengers and freight to the liberated territories.
For 30 years, we have lived in an uncertain time. But on November 10, 2020, everything suddenly fell into place. Now we are thinking about transferring part of our business to Karabakh, about opening schools and hospitals. After all, we need to catch up. We are not the refugees or "IDPs"s of the 90s who went through those difficult days of the collapse of the Soviet Union and the first Karabakh war when we lived in hardship.
Now refugees, or IDPs, live scattered in different cities. Many want to return and bring the region to a higher economic level. And I wait impatiently for the day I will go home, my happy childhood memories filling my head.