Last mile hardest in Armenia-Azerbaijan war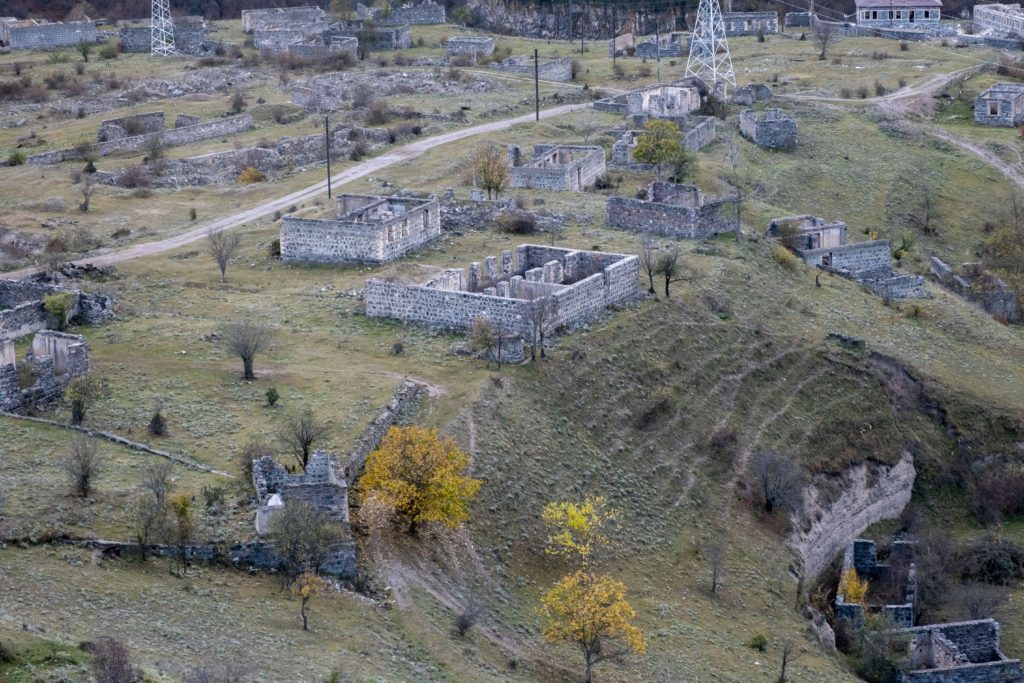 Aybaniz Ismailova
BAKU/YEREVAN
There is no doubt about it: Azerbaijan swiftly and decisively reversed three decades of occupation, humiliation, and ethnic cleansing by routing Armenian forces in late 2020. It took all of six weeks, and at least 7,000 dead – almost all military – on both sides.
Yet nearly nine months have passed, and the final chapter has yet to be written.
Thorny issues regarding a lack of formalistic border demarcation, seemingly senseless skirmishes along the frontier, closed transit and trade routes that should have been re-opened, the shocking state of the de-occupied territories, districts held by Armenia turned into apocalyptic areas of total destruction, and full of a head-spinning amount of land mines they left behind, rendering them uninhabitable. Add geopolitical games.
There is also the state of affairs in vanquished Armenia, where political disorder could at any time render the leadership unable to adequately deal with the challenges – or threats from within – that it faces.
Periodic shootouts have increased along the border, where a kilometre here or a metre there apparently is enough reason to unleash heavy calibre weaponry. Or just out of spite, or out of some other incomprehensible reason.
Azerbaijan says its forces have repeatedly come under fire in recent days along with border areas of its de-occupied Kalbajar region, once a picturesque area of hot springs, health spas, and quiet relaxation. Most of it turned stripped of anything of value, burned, and looking now like a scrapyard – full of unmarked landmines left behind – as Azerbaijan begins to rebuild it and the other de-occupied areas, ethnically cleansed of more than 600,000 Azerbaijanis.
The Azerbaijan Defence Ministry said its forces came under fire from Armenian units using machine guns and sniper fire to shoot across the border.  It reported one of its soldiers was killed before it suppressed the attack.
It is not clear what Armenia has to gain by instigating more fighting. It is fantasy to think it could somehow re-occupy the Azerbaijani districts. However, war rarely involves clear logic and can be complicated by a lack of command and control.
There was no acknowledgement of the reported incident from Yerevan. It, however, alleged Azerbaijani drones had crossed into its airspace a few days ago, a charge Baku not only denied – it denied it even had any drones airborne in recent days. It also said Azerbaijani troops had fired on areas along its side of the frontier.
Baku seems increasingly impatient and said it "reserves the right to establish border positions on its own", accusing the Armenians of refusal of taking part in tripartite Russian-Armenian-Azerbaijani talks aimed at a full agreed demarcation, the establishment of a formal peace, and the reopening of trade routes.
KREMLIN REPUTATION ON THE LINE
Russia brokered an armistice last year – basically an Armenian capitulation after the staggering losses. It has 2,000 peacekeepers in the area as part of the agreement. But Moscow expressed "worry" over the tensions this week. Just a few days previously, it had declared that negotiations to end the border incidents as well as a full bilateral peace agreement were going well. But a flurry of diplomatic activity suggests it is losing any control over events. Last week, Azerbaijani President Ilham Aliyev made another trip to meet Vladimir Putin. A few days earlier, Armenian Prime Minister Nikol Pashinyan did the same.
The Kremlin, which since the demise of the USSR in 1991 has regarded the Caucasus as its exclusive strategic sphere of influence, is evidently confused as to what to do. Its reputation is in tatters across the region.
First of all, the fact that Azerbaijan was for 25 years hugely supported by NATO member Turkey could not have come as a surprise. What was a surprise is just how sophisticated the military help was and how badly it embarrassed the Russian leadership. Armenia is technically a member of the Russian-led Collective Security Treaty Organisation (CSTO). Still, it did nothing to help, citing the fact the fighting was taking place on internationally recognised Azerbaijani territory.
Though Moscow has vowed to help bring an official end and peace treaty to the conflict, it has been unable to attain this despite repeated visits to Moscow by both leaders.
To drive home the point that the Kremlin no longer calls the shots, Azerbaijani soldiers unexpectedly joined NATO exercises in Georgia this week, which will continue into August. All of the other participating countries – the USA, Italy, Georgia, Romania, and of course Turkey – amid more – are either members of the military bloc or close allies. There was no reaction from Moscow. The silence speaks volumes.
Azerbaijan's Foreign Minister said it had offered Armenia steps to end the conflict once and for all but had heard nothing.
"Azerbaijan has offered various proposals," Foreign Minister Jeyhun Bayromov told journalists. "This means the resolution of the border issue with Armenia as a route to border delimitation issues. Moreover, an offer – which the President has sounded many times – the readiness of Baku to sign a peace agreement with Armenia. Unfortunately, we have not received a reaction from Armenia regarding our suggestions," he continued.
ARMENIAN DISORDER
One reason for the lack of reaction, if that is the fact, may be ongoing political issues in Armenia and its relations with Russia.
Moscow "ally" Armenia is at best a reluctant one. If that was not clear enough, PM Pashinyan brazenly appointed a new foreign minister recently whose views are openly sceptical of Moscow's intentions. Then earlier this month, his acting defence minister quit, the acting head of the army who was also acting in his role quit, and police arrested some old-guard business types long seen as close to the earlier government, which lost a 2018 election in a wipe-out and again in June a snap parliamentary poll.
Pashinyan, 46, and a former journalist and a writer, seems undeterred, though it is a risky game.
His defeated nationalist foes continue to hint they will seek some sort of revenge in a country notorious for murky political murders, which then go unsolved. Many of the nationalists have refused to take up their coming parliamentary mandates, suggesting further trouble.
To add a comic-opera element to the drama, titular President Armen Sargsyan – an old guard ceremonial President – appointed and with little power except for his fraternal relations with nationalists – suddenly went to Japan to develop "Japanese-Armenian relations." The news was greeted with a mix of laughter and incredulity.
Pashinyan himself is in an "acting" role until early August, when his government is likely to be approved.
"Until all of this happens [the new government taking up formal powers], his hands are essentially tied," said one regional diplomat.
FILLING THE DIPLOMATIC GAP
Evidently sensing an opening, the EU also sent its highest-ranking foreign policy official, Council President Charles Michel, to both Yerevan and Baku for the second time in recent weeks. The Council is the bloc's policy-making wing, while the other branch, the European Commission, executes those policies. The U.S. recently also expressed deep concern over the latest tensions.
Illustrating the sensitivities in the region of any word or term, he criticised the EU Council President Michel for referring to the border areas as "disputed".
"Charles Michel (during his recent visit to Yerevan) called the border territories disputable. To be honest, I disagree with this expression since we consider these territories to be ours," Aliyev said in an interview on state TV. He did praise Michel for not referring to the former Azerbaijani Soviet Autonomous District of Nagorno-Karabakh's "status" – the original spark for the conflict.
"A very wise step". "We appreciate this, and Armenia must make a result from this. There is no status, no Nagorno-Karabakh," Aliyev stressed.
"There is no territorial unit called Nagorno-Karabakh in Azerbaijan, and the fact that Charles Michel did not use this expression should be perceived as respect for our position.