Fresh border violence threatens fragile Azerbaijan-Armenia peace talks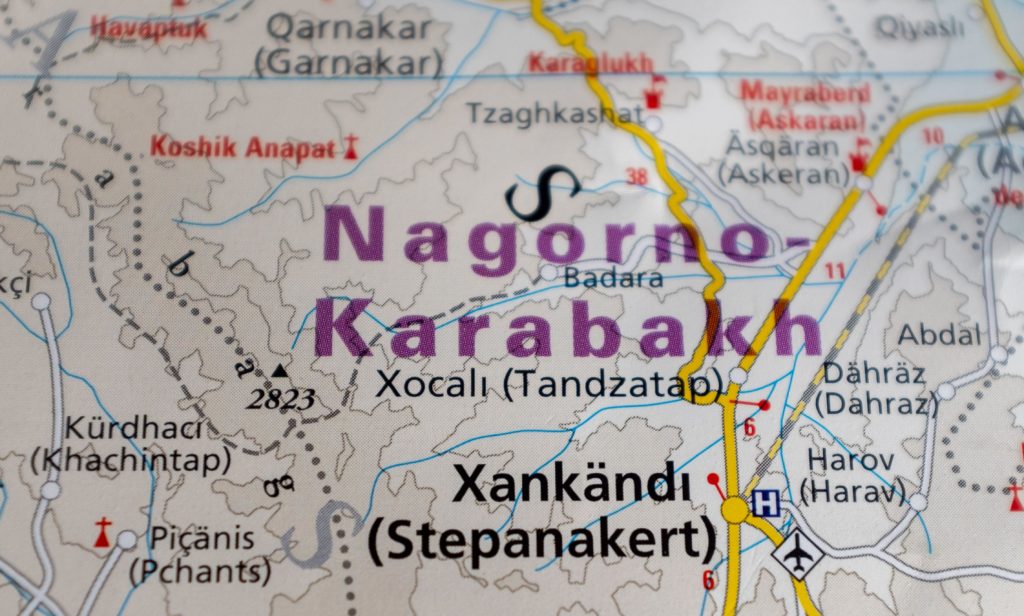 Alamy
BAKU
By Lada Yevgrashina
A fresh outbreak of deadly border clashes sparked a torrent of recriminations between Azerbaijan and Armenia and threatened fragile peace talks between the two Caucasus neighbours more than a year after their second post-Soviet conflict ended with Azerbaijan "deoccupying" land held by Armenia for three decades.
Azerbaijani President Ilham Aliyev lashed out disdainfully at Armenia's "military provocations" and said the country's leaders – past and present – were engaging in deception and refusing to accept his country in its current, recognised borders. Armenia's Defence Ministry accused Azerbaijan of starting the skirmishes by firing artillery and using drones across the border.
A day of clashes on the border separating Armenia's eastern Gegharkunik province and Azerbaijan's Kalbacar district left three Armenian servicemen and one Azeri dead – mere weeks after the leaders of both countries – in two face-to-face meetings – abandoned antagonism and appeared to begin making progress towards a durable peace deal.
In 44 days of conflict last year ended by a Russian-brokered armistice, Azerbaijan recaptured areas in and around the region of Nagorno-Karabakh, including Shusha, considered Azerbaijan's cultural capital.
 Karabakh, internationally recognised as Azerbaijani territory for decades but with a large Armenian community, was the focal point of the first war in the early 1990s. Armenian forces captured the territory and adjacent areas and expelled large numbers of Azeri residents, many of whom have since returned.
In two remarkably upbeat meetings late last year, Aliyev and Armenian Prime Minister Nikol Pashinyan appeared to make some progress on the key issues separating the neighbours – demarcation of their border and the establishment of transport links across each other's territory.
But after this week's incidents, Aliyev was scathing in denouncing Armenian motives, citing a list of incidents he said Armenia had sparked in recent months.
"We cannot rule out that there will be more of these in the future…Let me repeat that we must never allow ourselves to be deceived by words uttered by (Armenia's) current authorities," the president said in a freewheeling interview with Azerbaijani television channels.
 "We must never forget the sort of neighbours we have next to us. And the provocations on the border are linked to this – they keep wanting to test us."
Azerbaijan, he said, did not want a "third war".
"We want to put an end to the war period. We want Armenia to recognise at last Azerbaijan's territorial integrity," he said. "But if we see a threat…we will destroy that threat right where it is."
Aliyev expressed satisfaction at the work of 2,000 Russian peacekeepers deployed in sensitive border areas while peace efforts proceeded. But he said the peacekeepers had been lax in keeping watch on unauthorised visits to Karabakh by Armenian officials and other visitors they had escorted there. 
Aliyev cited, in particular, a visit in secret last month by conservative French presidential candidate Valérie Pécresse.
"Had we known that they were there, it is clear we would not have allowed them to leave just like that," he said. "…These instances are absolutely unacceptable, and must be stopped."
A second French presidential candidate, far-right politician Eric Zemmour, also visited Karabakh last month. Both presidential hopefuls were clearly appealing to voters among France's 600,000-strong Armenian community.
The November meeting between Aliyev and Pashinyan was hosted by Kremlin leader Vladimir Putin, a clear indicator of the prominent diplomatic role played by Russia in resolving the conflict. Their second set of talks was held at the Brussels headquarters of the European Union.
The positive atmosphere contrasted sharply with three decades of a system of negotiations that produce no clear results under the Organisation for Security and Cooperation in Europe (OSCE) – whose efforts have been heavily criticised by Azerbaijan.
The OSCE expressed concern at the latest incidents and pledged further conciliation efforts.
As relations improved in recent months, both sides released prisoners of war. Armenia handed over a map of some of the many mines left over in areas it had long controlled.
The disputed communications links lie at the heart of the talks — the talks have focused on a rail and road link between Azerbaijan and its exclave of Nakhchivan passing through Armenian territory and known as the Zangezur corridor — and a road link between Armenia and Nagorno-Karabakh passing through Azerbaijani territory and known as the Lachin corridor.
An agreement appeared to have been reached in Brussels on the rail route to Nakhchivan and Aliyev said a similar agreement on a road connection along that route was in the making — though Armenian assent seemed far from certain.
The outcome of last year's fighting has strengthened the position of Azerbaijan in the region and dealt a blow to the authority of Pashinyan, blamed for the losses on the battlefield. But Pashinyan still managed to secure re-election by a landslide in a snap poll last June.
Armenia has also been seeking improved relations with its historic rival, Turkey, with mistrust dating back to the mass killing of ethnic Armenians by Ottoman Turks in 1915-1916.
Ankara has long-established cultural and linguistic links with Azerbaijan and played a major role in providing military support for authorities in Baku in last year's conflict with Armenia.