Gazprom may halt supplies to Moldova if payment deadline not met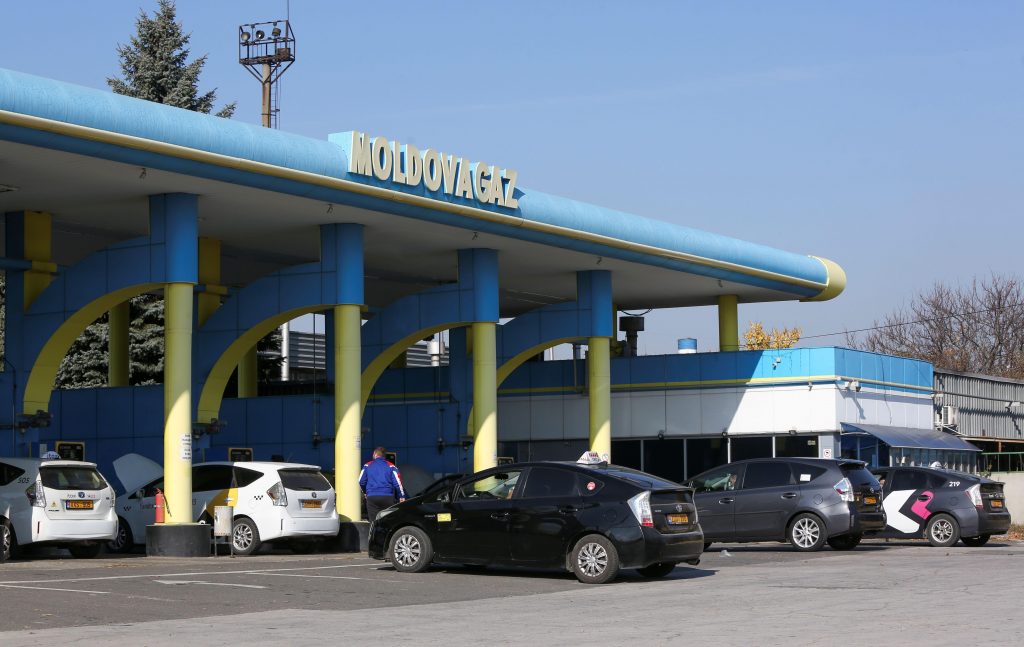 Moldovagaz logo on display at a filling station in Moldova (Alamy)
CHISINAU
By Dmitry Chubashenko
Russian energy giant Gazprom pledged to halt gas deliveries to Moldova unless the government meets a 20th January deadline to pay its bill for deliveries in the first half of the month.
The threat in the dead of the Central European winter is the latest jolt in months of turbulent relations between the Russian company and one of Europe's poorest countries, wedged between Ukraine and Romania.
And analysts said the recurring financial dispute could have political repercussions as well for the country's pro-Western government as it grapples with the geopolitical realities of being dependent on Russia to keep its 2.5 million people warm.
Pro-European President Maia Sandu, elected just over a year ago after defeating her Russia-friendly predecessor, has spent much of her time rallying support from the European Union and spearheading a campaign to uproot corruption. The EU has provided generous funding to her government, including a 60 million euro grant in case the talks failed.
Analysts had suggested that Gazprom's hard line in last autumn's talks reflected a bid by Moscow to secure a change in Moldova's policy to draw nearer to the EU. Ukraine has also complained that Moscow intends to use gas as a political lever, particularly once the Nord Stream 2 pipeline carrying Russian gas to Germany is approved and goes into operation.
Under the terms of a contract signed in November after intense negotiations, Moldovagaz, Gazprom's local affiliate, must pay its bill by the 20th of the month for supplies received the previous month as well as an advance payment for the first half of January. December's bill has already been settled, but Deputy Prime Minister Andrei Spinu said Moldovagaz still owed $25 million of its $63 million January advance.
"There is truly a risk that natural gas supplies will be halted and Moldovagaz is working with the government to ensure that such a turn of events does not occur," Moldovagaz said in a statement.
The government also acknowledged that a gas cut-off was possible.
After a meeting of Moldova's State of Emergency Commission, the government said it was encountering difficulty marshalling the funds – largely because the cost of imported gas has risen substantially while the price charged to domestic consumers remained the same.
"The supplier will no longer accept negative financial deviations," the government said in a statement. "There is, therefore, a risk that natural gas supplies will be halted if payments are not made in accordance with the conditions of the contract."
It was the third time in four months that Moldova faced the threat of a halt to Russian gas supplies.
Valeriu Pasa of the WatchDog civil society think-tank said the row over prices and debt was purely and simply "an operation amounting to a hybrid type of aggression by Russia aimed at Moldova.
"This is being done not just to make us poorer, but clearly so that we will be unable to proceed with development. And to destabilise the situation in the country."
The previous gas supply contract with Gazprom expired in September and the Russian giant threatened to cut off supplies if no new contract emerged by 1st November.
At the very last moment in October, the contract was extended for five years – but the price paid by Moldova calculated according to a formula linked to market prices and a basket of oil products, soared from $127 per 1,000 cubic metres at the beginning of the year to $430 in November.
Moldova's s energy regulator boosted the domestic consumer price from $260 to $615 per 1,000 cubic metres – but the price of imports climbed further to $450 in December and $646 in January. Moldovagaz intends now to seek a further increase in the domestic tariff from February to keep pace with the price of imports.
To compound matters for the government, Gazprom demanded immediate payment of long-term back debt for gas supplies. Gazprom estimated the debt at $433 million – or $709 million including late-payment penalties. The Chisinau government agreed to pay off the debt over five years once an international audit of the Moldovan company is completed by 1st May.
Gazprom issued a second ultimatum in November linked to Moldova's ability to pay for supplies for October and the first half of November. Amendments to the state budget bill were rushed through parliament in order to ensure funds were allocated to meet the $74 million bill.
Settling the latest bill
The government and Moldovagaz are now examining different ways of raising funds to settle Gazprom's latest bill for the first half of January. One option would be to offer Moldovagaz an exemption from payment of 8 percent VAT — to provide the company with $7 million to be sent to Gazprom.
Moldovagaz is to hold a meeting next week of its Supervisory Board at which the government intends to seek a postponement from Gazprom in setting its January advance payment until the end of the month.
"We find ourselves up against an emergency situation," said Radu Marian, a parliamentarian from Sandu's Party of Action and Solidarity (PAS). "We have inherited a situation in which we are completely dependent on one (gas) source."
Gazprom holds 50 percent plus one share of Moldovagaz, the Moldovan government holds 35 percent and 13 percent belongs to Moldova's separatist Transnistria region – though authorities there have ceded their portion to Gazprom. Transnistria, closely linked to Russia since breaking away from Moldova in the 1990s, receives about two-thirds of the gas supplied by Russia and has debts of its own of about $7 billion. It is also the site of the power station that generates electricity for the entire country.